Plan Your Next Adventure on Kauaʻi's Royal Coconut Coast
From paddling the Wailua River to ziplining over tropical rainforests, adventure awaits.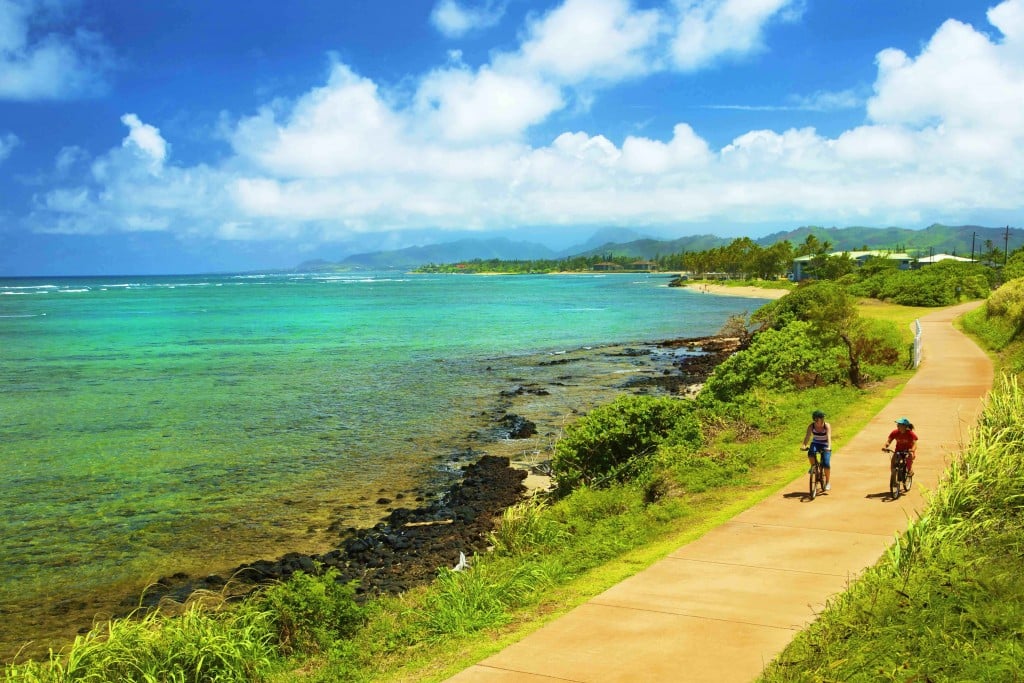 With the pristine ocean, green valleys and serene Wailua River, there's an activity for just about every type of thrill-seeker on the Royal Coconut Coast of Kauaʻi. The area encompasses the districts of Wailua and Kapaʻa on Kauaʻi's eastern shoreline and is aptly named for the groves of coconut trees there and historical ties to Hawaiian aliʻi nui (paramount chiefs and rulers). On the Royal Coconut Coast, exhilarating activities provide adventurous visitors with rare perspectives and connections to this historical area. Experience a bird's-eye view of the island by soaring down a zipline, or venture onto waterways dug by hand by sugar plantation workers. The next time you're on Kauaʻi, add these five Royal Coconut Coast activities to your itinerary. No doubt these epic experiences will create great stories to share. And for additional tips on planning activities and booking accommodations along the Royal Coconut Coast, visit royalcoconutcoast.org.
1. Paddle a Kayak or Board on the Wailua River
The island's east side is home to the magnificent 12-mile Wailua River. The waterway weaves peacefully through lush jungles and is the largest navigable river in Hawaiʻi. Kayak Kauai provides several scenic tours, including a 2-mile kayak trip followed by a moderate hike to the jaw-dropping waterfall known as Uluwehi Falls, also called "Secret Falls." Paddlers can also rent kayaks or stand-up paddleboards for solo journeys on the river.
2. Tube through a Historic Waterway
Grab a tube and don a headlamp for an unforgettable experience floating down a former irrigation canal. Winding through the most beautiful and remote parts of the island, these ditches and tunnels were hand-dug over a century ago by sugar plantation workers. In these one-of-a-kind tubing tours by Kauai Backcountry Adventures, visitors witness the Garden Isle's extraordinary natural surroundings while learning about a fascinating period in Kauaʻi's history.
3. Descend a Mountain by Zipline
In addition to its tube tours, Kauai Backcountry Adventures also offers the chance to zipline over 17,000 acres of former plantation lands, lush tropical forests and emerald valleys. Zipliners descend a mountain through a series of seven ziplines down to the valley floor. The adventure ends with snacks in a bamboo grove and refreshing dip in a natural swimming pool.
4. Explore Kauaʻi on Two Wheels
Round up your ʻohana for a bike ride that everyone will enjoy. Don't fret, you don't need to be an experienced cyclist. Kapaʻa-based bike rental service Hele On Kauai offers beach cruisers ideal for relaxing rides along the Ke Ala Hele Makalae coastal paved path and side streets. The rental company also offers tandem bikes, trailers for children and electric bicycles.
5. Hike through the Island's Tropical Terrain
Outdoor enthusiasts can take a walk on the wild side by exploring Kauaʻi's tropical rainforests, stunning mountains and breathtaking waterfalls. On the island's east side there are a variety of hiking options for every skill level, with kid-friendly paths as well as challenging treks through streams and mountain ascents. Nounou Mountain, also known as Sleeping Giant, lies just west of Wailua and Kapaʻa. The out-and-back trail is a favorite among residents and visitors, with panoramic views of the island throughout its 3.5 miles. Popular among mountain bikers, the Kuilau Trail is also great trek through the the Keahua Forestry Arboretum. Visitors can grab a guidebook and head out on trails on their own or jump on a tour with Kayak Kauai, complete with expert guides.
For more information about activities along the Royal Coconut Coast and the area, check out royalcoconutcoast.org.