Point Taken: Exploring Oahu's Remote Kaena Point
See one of the last intact sand dune ecosystems in the main Hawaiian Islands.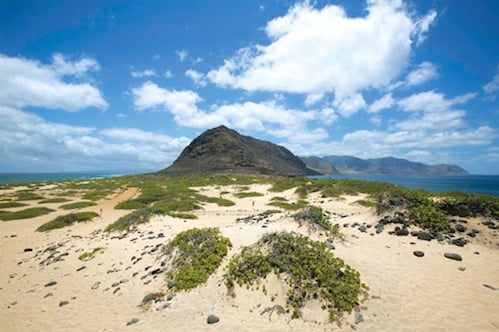 We weren't even three minutes into the craggy dirt roadway to Kaena Point Natural Area Reserve when one of our companions busted a tire on his bicycle. A not-exactly welcome, if unexpected chance to absorb my surroundings.
It was the first time in years I had been on the coastal trail traversing remote Kaena Point, one of the last intact sand dune ecosystems in the main Hawaiian Islands. Oahu's westernmost promontory, Kaena Point rewards hearty hikers with sweeping views of the island's still rugged north and leeward coastlines.
The uneven 5-mile trail around Kaena Point can be entered from two locations—Keawaula Beach (aka Yokohama Bay) at the end of Farrington Highway on Oahu's western coastline, or Mokuleia at the same highway's north coast endpoint. Far removed from Oahu urbanity, Kaena Point is one of the island's last easily accessible pockets of nature left largely untouched. For more than a quarter century, the state has protected nearly 60 acres of land at the point, first as a nature preserve and, more recently, as an ecosystem restoration project for endangered and protected coastal plants and seabirds.
With motorized vehicles verboten in the reserve, the Kaena Point Trail is well suited for hiking and biking—the latter, preferably on durable mountain bikes. Straddling the coastline from our Keawaula Beach starting point, the trail passed steep cliff faces dropping into the ocean and stands of bright green beach naupaka shrubs. On our two-hour trek to the point, we encountered shoreline fishing enthusiasts and families with kids playing in shallow tidepools.
A wedge-tailed shearwater takes flight above Kaena Point's sand dunes.
The coastline, in fact, appeared largely unchanged since the last time I explored it save for one new feature we found as we reached Kaena's sand dunes. There was now a large fence stretched across the entirety of the peninsula.
In April 2011, the Hawaii state Department of Land and Natural Resources installed a 6.5-foot-tall fence to keep out predatory animals and invasive plant species that had been devastating native and endangered flora and fauna. Painted to blend with natural surroundings, the stainless steel, fine-mesh fence, which crosses a half-mile of the peninsula from the south to north coast, had an immediate positive effect. The area's population of wedge-tailed shearwater fledglings increased from 300 to more than 1,700 within a year of the fence's installation. Laysan albatross fledgling populations are up 25 percent this year and native plants such as ohia and sandalwood are now covered in fruit.
People can enter and leave the point through two-door pedestrian gates. Nothing else threatening can.
"There are a lot more people who visit the point now, but there are also many more seabirds and native plants that have begun to flourish," says Lindsay Young, a wildlife biologist and coordinator of the ecosystem restoration project. "Hawaiian monk seals have begun to pup there, and there is just a lot more of everything."
A protective fence surrounding the point keeps out predatory animals and invasive plant species.
Some residents and visitors have complained that the fence, despite its nature-blending color scheme, is still something of an eyesore. But the nature-related positives of having the fence in place have trumped aesthetic negatives.
"There's been a lot more awareness of how special the place is," says Young. "The average visitor to the area is much more informed than they used to be."
A walk around Kaena Point offers a grand visual lesson in Native Hawaiian ecology. The area is abundant with native coastal plants such as ilima, naio and hinahina ku kahakai. A total of 11 plants found at Kaena—including awiwi, puukaa and dwarf naupaka—are on federal endangered species lists. In addition to seabirds, the reserve is a haven for the rare Hawaiian monk seal, and honu (Hawaiian green sea turtles) can often be found resting along the coastline. In the deep waters, just off the point, spinner dolphins play and hunt for food. During winter and spring months, humpback whales are a familiar sight offshore.
A Hawaiian monk seal suns itself on the point's rocky shore.
Steeped in history and legend, Kaena Point is also an area of rich cultural significance. Early Hawaiians believed the point was a sacred place where souls departing the mortal world would leap into the spirit world to join the souls of their ancestors. Though long uninhabited, Kaena was once an important community for fishing, feather-collecting and salt-making. Many plants native to the area were utilized in cultural practices.
Hiking proved a bit easier for our group than biking, as parts of Kaena Point Trail were too rocky or narrow for a comfortable ride. We were forced to carry our bikes, in few places, over small ravines and rocky patches. None of this was exceptionally grueling. Still, on the summer day we were on the trail Kaena did manage to live up to the meaning of its name—Hawaiian, for "the heat." Over our four-hour hike in and out of Kaena Point, we chugged several bottles of water.
The Kaena Point light tower nearly disappears amidst the sand dunes.
As the trail morphed from jagged rock to smooth sand dunes near Kaena Point, we took off our hiking shoes and made a beeline toward the shore. Between long gazes at the point's stunning mauka (toward the mountain) and makai (toward the ocean) views, I searched for the large rock—known as leina a ka uhane, or "spirit leap"—from which, I'd been told, departing souls passed into the next world. All I could find was an unmanned, acetylene light tower erected in 1919 by the Bureau of Lighthouses.
"Is this it?" one of my friends asked, pointing toward a basalt outcropping further away that reached into the churning ocean. "Is this where we're supposed to jump?"
"Maybe," I answered. "But I think I'd rather eat lunch first."