Popular Lava Tube on Hawaiʻi Island Reopens
Nāhuku, or Thurston Lava Tube, in Hawaiʻi Volcanoes National Park has reopened for the second time in two years after shutdowns due to natural disasters.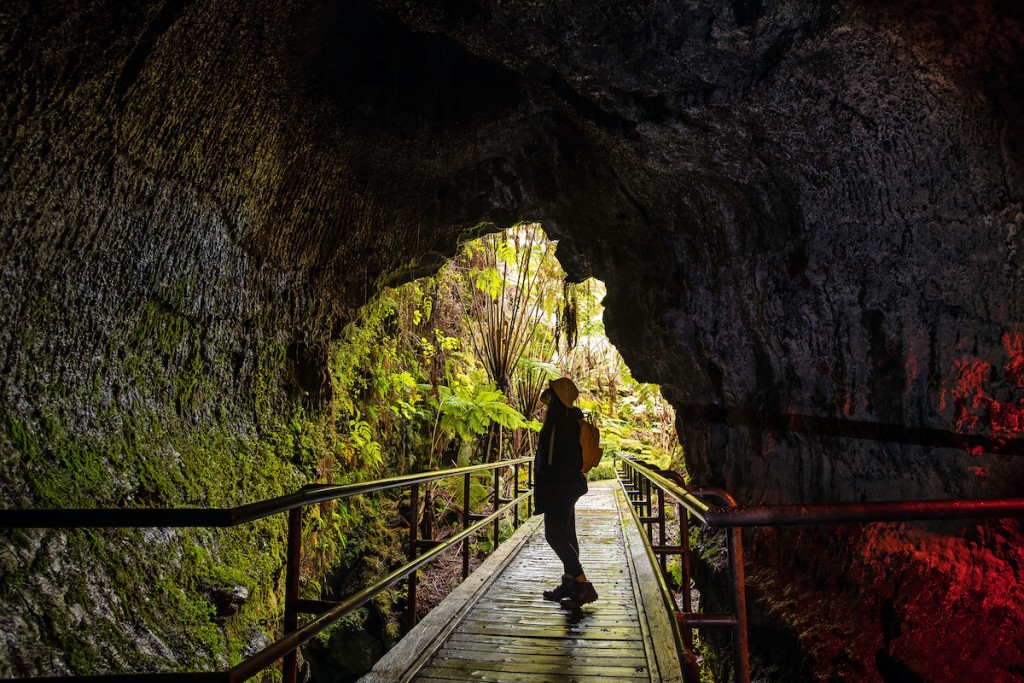 In February 2020 Nāhuku, more commonly known as Thurston Lava Tube, reopened at Hawaiʻi Volcanoes National Park on Hawaiʻi Island after nearly two years of closure due to the 2018 Kīlauea eruption.
Then COVID-19 happened.
The popular walk-through lava tube and rainforest trail—one of the top attractions at the national park—closed just a month after reopening due to the pandemic.
Well, on March 26, it has reopened again.
Now, you can explore the lava tube on a signed, one-way trail intended to keep visitors safely distanced apart; masks are recommended when people get too close to each other.
The half-mile loop trail goes counter-clockwise through beautiful native rainforest, into the lava tube and back out through the rainforest.
"We are excited to again share the incredible experience of walking through native rainforest into a lava tube that was formed during a Kīlauea eruption more than 500 years ago," said Hawaiʻi Volcanoes National Park Superintendent Rhonda Loh in a news release.
Nāhuku is open 24 hours and is lit from 8 a.m. to 8 p.m. Bring a flashlight or head lamp if visiting during dark hours. Restrooms near the lava tube are open from 9 a.m. to 5 p.m. and a new vault toilet is available a ½ mile away at the Kīlauea Iki parking lot.
All lava tubes present potential risks, including rockfall, low ceilings, standing water, tripping hazards and low light.
In 2018, Nāhuku was closed due to the unprecedented and destructive Kīlauea eruption in 2018 that forced the longest shutdown in the park's history (134 days). The lava tube was closed for even longer—658 days. It has been one of the most popular attractions at the 323,431-acre national park on Hawaiʻi Island.
Nāhuku is a 500-year-old lava cave located at 3,900 feet on Kīlauea Crater. A lava cave forms when a river of lava gradually builds solid walls and ceilings, which, in Nāhuku, are more than 20 feet tall in some places. The native rainforest surrounding Nāhuku is home to endemic plant, bird and insect species, including the Happyface Spider.
The lava tube was first publicized in 1913 by Lorrin Thurston (hence the more commonly used name), a Honolulu publisher and proponent for establishing the national park. Nāhuku means "the protuberances" in ōlelo Hawaiʻi, and possibly refers to the lava stalactites that once covered its ceiling but were taken by souvenir collectors. During the recent closures, long, delicate roots from ʻōhiʻa trees that grow on top of the underground tube now reach the floor in some areas. Colonies of white microbial matter thrive on the cave walls. Visitors are urged to protect these resources for future generations by not touching the roots or cave walls.
For more information, visit the Hawaiʻi Volcanoes National Park website here.