POW! WOW! annual Hawaii street art festival returns to color Honolulu's Kakaako district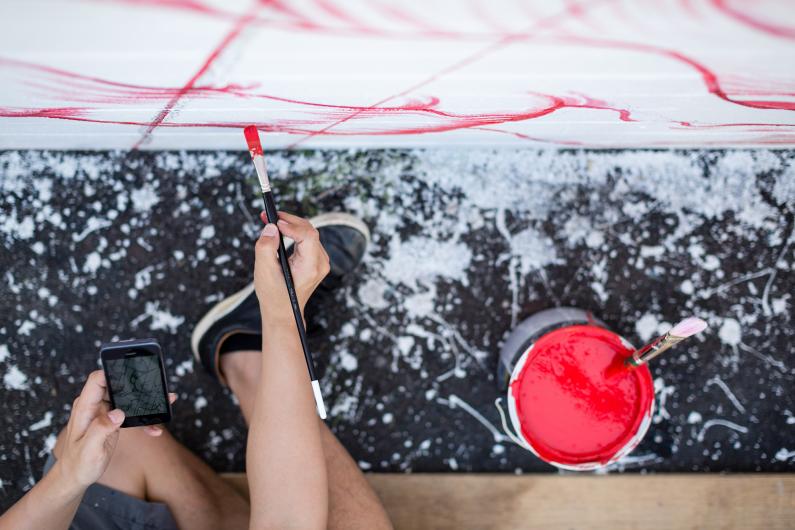 Honolulu's walls are canvases to Hawaii-based artist collective POW! WOW! For the next week they, along with dozens of invited artists from around the world, will literally paint the town.
This year's POW! WOW! Hawaii kicks off Sat., Feb. 7 with its opening party, painting commences Feb. 9. Artists will reimagine 38 walls in public spaces throughout Kakaako—the gentrifying Honolulu commercial district sandwiched between Ala Moana shopping center to the east and downtown Honolulu fronting Honolulu Harbor to the west. The same walls are repainted year after year, bringing a fresh face to the community annually.
The street art festival runs until Sat., Feb. 14 and, in addition to mural painting, includes art-minded lectures, parties, gallery exhibitions, live art installations and live music.
Forty invited visual artists from countries such as the U.K., Germany, Egypt, Israel, Mexico, Lithuania and states throughout the U.S. will join the Hawaii-based collective to participate in the event. Curators, photographers, videographers, musicians and designers will work alongside the visual artists to create and document art. Over 100 artists are expected to contribute to the weeklong festival.
To see the artists at work, all you have to do is wander through the area between Feb. 9 and 14 during the daytime. The bulk of the action will take place along Pohukaina and Auahi Streets with other murals painted on scattered spaces nearby. The collective's studio on Lana Lane will serve as a pop-up shop selling art and POW! WOW!-logoed goods.
In addition to mural painting, other event highlights include a presentation and panel discussion with Urban Outfitter's former global creative director and visual ad artist Kevin Lyons on art and the media industry (Wed., Feb. 11 from 6 to 8 p.m. at Agora, Kakaako), and a similar event the following night with DC Comic cover artist and visual illustrator James Jean whose panel discussion will focus on the music industry (Thurs., Feb. 12 from 6 to 8 p.m. at Agora, Kakaako). There will also be a free workshop in which artists will guide participants through the creation and printing of an art magazine (Feb. 14, 10 a.m. to 4 p.m., details here).
The public is also invited to attend POW! WOW!'s opening party with a line-up of surprise special guest DJs (Buho, Feb. 7 from 6 p.m. to 2 a.m.) and its finale block party in conjunction with Honolulu Night Market along Cooke Street (Sat., Feb. 14 from 6 to 11 p.m.).
For a complete schedule of 2015 events, click here.
This is the fifth year the group has hosted a mural painting event in Kakaako over the week of Valentine's Day. The success of the Hawaii event has seen POW! WOW's repertoire expand to include new and upcoming street art festivals in other countries—including Taiwan, Singapore, Jamaica, Israel, Germany and New Zealand—and U.S. cities such as Washington D.C. and Long Beach, Calif.