Princeville Ranch on Kauai is a Keiki (Kid's) Wonderland
Kauai's mountains and streams set the stage for even young keiki to have outdoor adventures like nowhere else.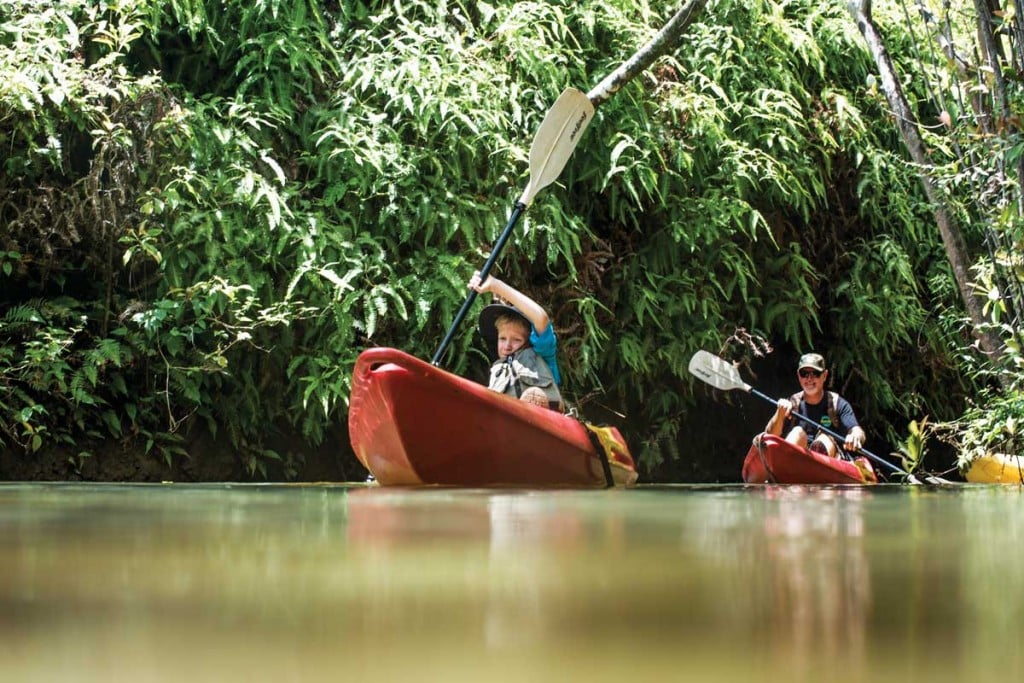 Birdsong and the quiet splash of my paddle: Those are the only sounds I hear as I kayak upstream against a gentle current.
Bright orange hau blossoms float in the eddies. Fish dart in and out of still, sunlit stretches of water. To either side, there are fern-covered hillsides and rain forest greenery in the hallucinatory hues north Kauai is known for. This corner of 2,500-acre Princeville Ranch is one of the lovelier places you can reach easily with a bunch of kids in tow.
Yes, a bunch of kids. Paradisiacal peace and quiet is the last thing I expected from a two-family vacation. Soon, I hear shouts and laughter approaching in the distance, and splashes of many paddles as our preteens race their kayaks around a curve. Finally, my husband rounds the bend with our 5-year-old perched in front of him in the kayak, followed by Jestin, one of our two guides. Everyone's smiling and having fun.
Like so many of Hawaii's traditional cattle operations, Princeville Ranch (established during the reign of King Kamehameha III) now shares its spectacular Hawaiian landscapes with visitors. It was one of the first in the state to offer a zipline course.
Adventure tours have taken off in a big way, but most, with long ziplines, bumpy ATV rides and challenging hikes, only accept older children. It's not often you find one even little kids can do, so, when I saw that the ranch's Jungle Valley Adventure accepts adventurers 5 and older, I picked up the phone.
Princeville Ranch's Jungle Valley Adventure has a bit of everything: Hiking, kayaking, ziplining, a suspension bridge, a waterfall with a swimming hole, and a picnic lunch, all packed into 4 1/2 hours.
I had a few questions. Would we feel rushed? Would it be gentle enough for a 5-year-old? Would it be challenging enough for a teenager? Would it matter that some of us are seasoned kayakers and zipliners, while others are dubious about the whole prospect?
"Things always seem to work out," ranch owner Jeff Guest told me on the phone, when I mention that the 5-year-old is planning to sit out the zipline because it sounds too scary.
On arrival, we load our water bottles and sun hats into the clean backpacks provided by the ranch, and rent the ranch's comfortable Keen-style cutout sandals (occasional full-foot immersion is part of kayaking).
Packed into an air-conditioned van, we are taken to a dirt track past the ranch's horseback operation, down a long avenue lined with java plum and eucalyptus. It feels like driving into Hawaii's bucolic past. Our first mini hike is a gentle downhill walk through radiant green pastures. Jeff points out old-growth ohia and koa trees. A cowgirl, complete with Stetson-style hat, rides up behind us, and we are reminded that Princeville is very much a working ranch. Then we crest a rise and see below us a flowing stream and a row of brightly colored kayaks. The kids break into a run.
Some of our kayak newbies take to it like ducks to water. Others wrestle with their paddles and bounce from bank to bank. But we all get there, and nobody has to be towed (which does happen).
After disembarking, it's an uphill trek to the Uluhe Fern Ridge, where two ziplines and breathtaking views of the surrounding Kauai mountains await. At around 450 feet, the lines for this activity are not the ranch's longest, but that's what makes them good for smaller children (longer ziplines require more weight to make it across), while still being plenty of fun for adults.
Jeff was right—things work out. When the time comes, the 5-year-old dons her safety gear and launches into space without hesitation. The ziplines traverse a little valley with the Kalihiwai Stream, blooming waterlilies and a rushing waterfall below. Even better: it's a birds-eye preview of the private swimming hole we're headed to later. Whoops, hollers and huge grins all around.
Just as we're getting hot and need a break, it's time to descend to the swimming hole, where Jestin lays out a mid-afternoon picnic while everybody swims beneath twin waterfalls, leaps off the jumping platform, and has the kind of good time that makes it onto your Facebook profile and stays there for years. There's even a hammock, from which I watch the clouds passing overhead through the branches of spreading trees, while the kids and other parents cannonball into the cool, deep water and beetle around in inner tubes provided by the ranch.
I have time to reflect on how hard it is to find that Goldilocks travel experience when you're moving around with a big, multi-age group—everybody has their own version of not too this, and not too that—but this one feels like it really hit the mark.
All too soon, it's time to go, and we retrace our trail. A second downstream kayak session is just what the kids need to consolidate their newfound steering skills.
In no time, we're back at the ranch headquarters. It's great to hand back a bunch of mud-streaked backpacks and rental shoes for someone else to wash. It's also great to hear what we hear that evening: When asked what their favorite part of the Jungle Valley Adventure was, five different kids give five different answers. Ziplining. Kayaking. The swimming hole. But they all want to know when we can go back.
Princeville Ranch's Jungle Valley Adventure
The Jungle Valley Adventure tour departure times vary by season. Princeville Ranch, 5-4280 Kuhio Hwy., Princeville, Kauai, (808) 826-7669, princevilleranch.com.