Private collection of rare Niihau shell lei on display at Bishop Museum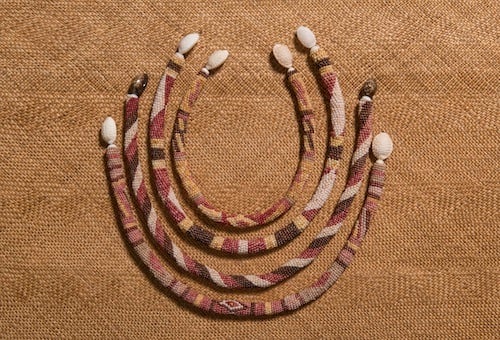 Lei made from tiny, colorful shells carried by surf onto the beaches of the island of Niihau are among the most prized in the world.
A master artisan may take years to craft a multi-strand Niihau shell lei like the ones pictured here, with much of that time spent combing beaches for the desired colors and sizes. Add to that equation the fact that the shells wash up on shore infrequently and access to the privately owned island is extremely limited, and its no surprise that authentic Niihau shell lei often sell for thousands of dollars.
An exhibit opening this week at the Bernice Pauahi Bishop Museum on Oahu, offers a rare glimpse of a private collection of the rare lei and the manufacturing history and craftsmanship involved in making these intricate Hawaiian lei.
The exhibit, "Niihau Shell Lei: Ocean Origins, Living Traditions," is a showcase of more than 60 pristine lei made from shells traditionally gathered from Niihau's beaches over the last two decades. The lei are from the Rick and Chuna Niihau Shell Collection, loaned from private collectors. In addition to the opportunity to see the detail of finished lei up close, microphotography exhibits will help gallery visitors see how tiny mollusks—most commonly, Leptothyra verruca, Euplica varians and the intriguingly named Graphicosa margarita—build the shells that serve as their miniature homes on the ocean floor and—after their demise—the beautiful shells treasured by lei makers.
Leptothyra verruca
There are three different shells commonly used to make Niihau shell lei: kahelelani, momi and laiki. A fourth, kamoa, is frequently used to add contrasting color. The color of the shells range from bright pink to pale yellow, and can have various types of markings on them.
The term "Niihau shell lei" has been protected by Hawaii state law since 2004. Sellers are not allowed to use the term to describe a lei unless 100 percent of the shells used to craft it were collected from the island of Niihau and the lei was crafted entirely in Hawaii. (You can check out the exact terms of the law here.)

The exhibit will be open to the public through Jan. 27, 2014.