Pro surfer Bethany Hamilton continues to inspire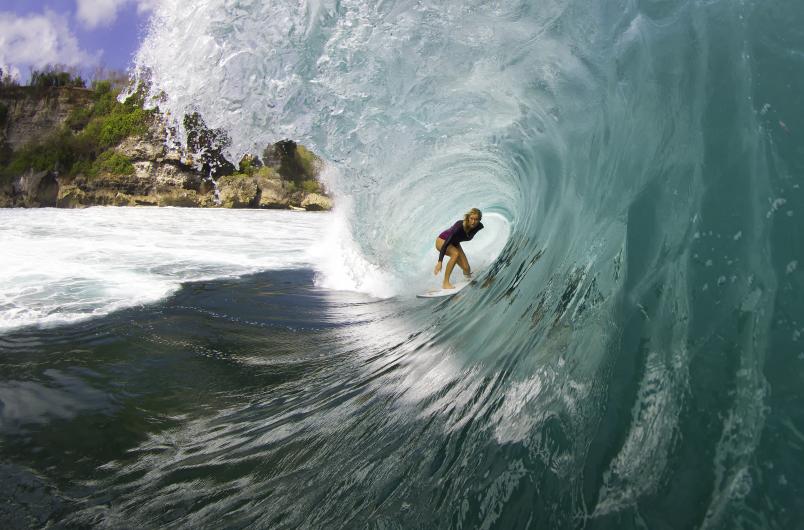 At only 25 years old, pro surfer Bethany Hamilton already has several lifetimes of experience and adventure under her belt. This year, she and her husband, Adam, just had their first son. Last year, they almost won CBS' "Amazing Race" and she also released her fourth book, "Body and Soul: A Girl's Guide to a Fit, Fun and Fabulous Life." Add that to a 2011 feature biography that gave an in-depth look to her journey back to competition after she lost her left arm from a shark attack on Halloween in 2003. Hamilton was also recently awarded a wildcard entry to the Swatch Women's Pro last month at Lower Trestles in California where she made it to Round 3 before being eliminated.
We caught up with Hamilton to talk about her return to competitive surfing, motherhood and the future of her career.
What was it like putting on the contest jersey again at the Swatch Women's Pro last month?
Bethany Hamilton: I was super excited when I received the wildcard to compete at that event and I was really nervous. I felt good going into the event and positive towards it. I've been phasing out of competition the last two to three years and mainly just because I was losing my passion for competition. I've been doing a lot more surf trips so it's actually been a lot of fun to go surf and travel the world for really good waves versus travel the world for competing in bad waves, because most contests are in really [lousy waves and subpar conditions]. It's been a change in my career, but an awesome one.
After the "Amazing Race" did you continue to call your husband "Honey Buns" when you got home from the CBS show?
Yeah, I still call him that (laughs). I kind of call him it a little less lately, but I definitely still call him "Honey Buns" and I always have some sort of nickname going for him. It's usually not very masculine, which he is not stoked about, but he can't help it. I think it was definitely a bonding experience, and it was a fun adventure and challenge where we really had to work together and encourage each other. We came out of it very still in love and I think it will be fun memories looking back in the years to come.
How does the "Amazing Race" compare to the adventure of being a new parent?
I think being a mom and dad is harder in a sense, but the joy and beauty in it is so amazing. We are loving being parents and we love our little son. It's pretty exciting and I think [parenthood] will be a lot more rewarding in the long run. I always looked forward to having kids … and I knew I would like being a mom. But, I like it even more than I thought I would. There are definitely challenges, but those challenges are so well worth it. I see [parenthood] as such a joy and children are such a gift from God.
Besides the new bundle of joy, we saw that you have a new sponsor. Why did you want to be a brand ambassador for Jamba Juice?
I'm very health conscious and last year I wrote a book for teen girls to encourage them in their health journey in a really positive and uplifting way, a more realistic way of approaching health. Nowadays, so many young girls struggle with their body image and health so it's really something I'm passionate about.
You've already got several books published, a feature biography film and a reality TV show under your belt. Where do you want to take your career in the future?
Well, I'm really passionate about surfing right now and have some goals of improving my surfing. I have a new film project, documenting my surfing career and where my surfing is at nowadays so that is my passion project over the next year or two. My husband and I are doing a bit of public speaking: motivational speaking all over the U.S. and other than that just being mom and dad and husband and wife, too.
Where is your favorite place to take a first-time visitor to Hawaii and why?
Well, I would say Hanalei, Kauai is pretty spectacular and special and just being on the beach there and looking back and seeing the mountains surrounding you is pretty insane. It's a great place to walk the beach, go for a swim and take on surfing.