Puna Music Festival spotlights sounds of Hawaii this week on Big Island's east side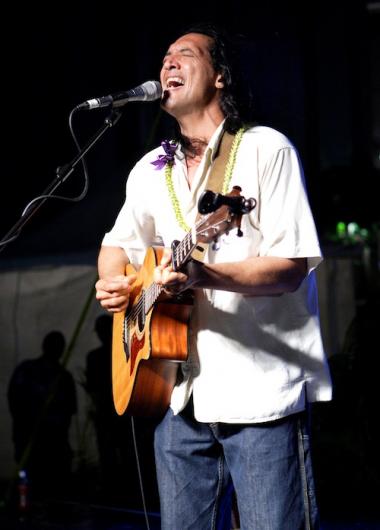 The third annual Puna Music Festival is under way this week on the Big Island's east side.
The fest spotlights more than 100 local performers. Among the headliners slated to perform later this week are John Cruz the Big Island's Nahko and Medicine for the People.
Among the featured events is "Kanikapila in Old Town Pahoa," during which musicians will perform in the windows, balconies, and storefronts throughout old Pahoa town. Kanikapila is the Hawaiian term for an informal jam session. Attendees will be treated to a wide range of musical styles during this whimsical event, held from 5 p.m. to 8 p.m. on Friday (May 10). More than 20 businesses from the Mainstreet Pahoa Association will be taking part.
The kanikapila event will be followed by An Intimate Evening with John Cruz, 8 p.m. at the historic Akebono Theater. Cruz (pictured, right) has been described as the closest thing Hawaii has to the mellow, guitar-strumming James Taylor. In 1997, Cruz, who grew up in Oahu's Palolo Valley, won a Na Hoku Hanohano Award (Hawaii's Grammys) for most promising artist with his debut album, Acoustic Soul, which included the hit tune Island Style.
The fest's closing concert will feature Nahko and Medicine for the People. The band hails from the Big Island's east side. It recently toured Indonesia and has plans in the works for an extensive tour of the U.S. mainland. Other fest offerings range from a storytelling performance about the history of Hawaiian music to a celebration at Wednesday's Kalapana Night Market showcasing Hawaii musicians. For full schedule of events, concert ticket information and details about workshops focused on Hawaiian culture, click here.