Punahou Carnival, a longtime Hawaii tradition, begins Feb. 6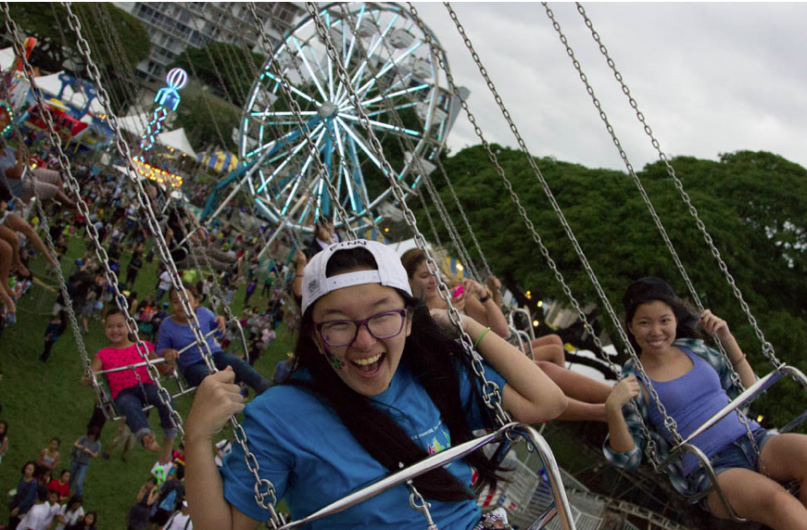 It's a February tradition 83 years in the making. The Punahou Carnival returns this weekend to the grounds of the prestigious K-12 school, President Barack Obama's alma mater, with carnival rides, food booths, entertainment and more.
The event has become an Oahu institution and a gathering place for residents of all ages, with attendance numbering in the thousands, rain or shine.
This year's carnival will take place Fri., Feb. 6 and Sat., Feb. 7 on the Punahou School's lower campus in Manoa Valley, and last both days from 11 a.m. til 11 p.m.
Visitors can expect more than 60 carnival rides and activity and food booths just beyond the main gate at Punahou Street and Wilder Avenue. The two-day event also includes live music, a popular variety show put on by the private academy's graduating class, a white elephant sale and a gallery displaying 1,000 pieces of art created by more than 300 Hawaii artists.
Entry to the carnival is free and open to the public, but you'll want to bring some cash. The carnival is a fundraiser for the school's financial aid program. Rides, activities and food booths are all run with scrip—rides cost between $1 and $2 and activities start at $0.50—which you can purchase off Palm Drive, just to the right of the carnival's main entrance.
When you're there, don't miss the sugary, fried malasadas and canned mango chutney, both popular and more than 50-year-old carnival traditions. If you arrive early enough—within the first few hours of the first day—head straight for the booth selling the mango chutney. It's handmade by students during summer mango season and sells out fast.
The 2015 theme is "Island Style: Carnival No Ka Oi (is the best)," and was selected by the school's junior class, who are also in charge of organizing, planning and executing the event. An all-volunteer staff of thousands—including parents, students, alumni, faculty and staff—run the Carnival.
Founded in 1932 as a means for students to fund the printing of their yearbook, the Carnival has become an annual tradition for the school and has grown to become the largest fundraising carnival in the state.
Can't make it this year? While nothing can beat the actual Carnival experience, the school has published its prized recipes for malasadas and mango chutney on its website so you can try to recreate these popular treats at home. Then, start planning for next year—the Punahou Carnival always begins the first Friday in February.
For more information on this year's Carnival, visit the school's website.