Punahou School Carnival, a longtime Hawaii tradition, returns for weekend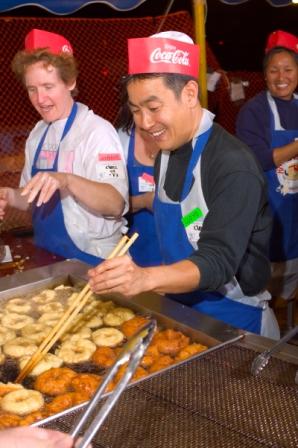 The students of Punahou School are at it again.
Last month, band members from the Oahu private school marched in the inauguration parade for President (and 1979 Punahou alumnus) Barack Obama. This month, the school's junior class will be sponsoring its annual Punahou Carnival, which kicks off today at 11 a.m.
Punahou School's grounds will be transformed into a midway with EK Fernandez rides, food booths, games and entertainment. This year's theme: Lights! Camera! Carnival! Keepin' it Reel. Expect Hollywood-inspired decorations and signs around the carnival grounds.
Started in 1932 as a means for students to foot the printing costs of their yearbook, the carnival has become an annual tradition at the school, and in Hawaii. The largest fundraising carnival in the state, the three-day-event these days pays for student financial aid at the prestigious school. One of the most heralded beneficiaries of Punahou School financial aid? President Barack Obama.
One of the most famous attractions at the carnival is Punahou's malassada booth. According to the school, more than 5,000 lbs. of sugar have been donated for this sweet treat. It'll cost you 50 cents (two scrips) for one malassada; $5 (20 scrips) for a dozen.
Hungry for more? There will be Hawaiian plate lunches, Portuguese bean soup, chili, nachos and Greek gyros sandwiches. Plus, fresh produce, haku lei, ceramics, plants and an art gallery. Proceeds from the event help Punahou's financial aid program.
The Punahou Carnival runs from 11 a.m. to 11 p.m., today (2/6) and tomorrow (2/7). Admission is free. The school grounds are located in Honolulu, on the corner of Wilder Avenue and Punahou Street.
It's easy to take TheBus to the Punahou Carnival, but if you're driving, here's a list of places you can park:
• Central Union Church (1660 S. Beretania St.)
Friday and Saturday:
$8 (grass parking)
$10 (pavement parking)
• St. Clements Church (1515 Wilder Ave.)
Friday and Saturday:
$13 (all day)
• Lutheran Church of Honolulu (1730 Punahou)
Friday and Saturday:
$10 (all day) 9:30 a.m. to 11:30 p.m.
• Maryknoll School
Friday (fundraiser for Sacred Hearts Church Boy Scout Troop 42):
$30 all day reserved parking pass (lot opens 7 a.m. for reserved)
$10 for 4 hours
Saturday (fundraiser for Maryknoll Grade 5 neighbor island trip):
No all day passes
$10 for 4 hours
• Punahou Fitness & Spa (1212 Punahou St.)
Friday (after Noon): $4 covered parking
Saturday (all day): $4 covered parking
For more information and a list of food, ride and game prices, click here.
Insider's tip: It often rains during the Punahou Carnival—it is winter, after all. Bring a jacket and wear shoes that you won't mind getting mud on.