Punahou School Carnival, a longtime Oahu tradition, under way this weekend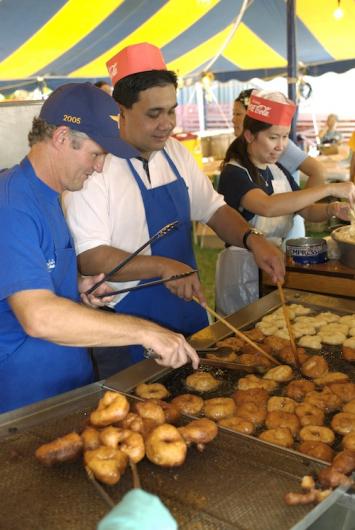 Dozens of jumbo-sized tents and tarps have popped up on Punahou School's manicured grounds in the Manoa Valley area on Oahu. About a week ago, the big-and-bulky midday rides arrived. And by sunrise this morning, scores of alumni as well as students and their parents were busy patrolling the transformed campus and making final preparations for the annual Punahou School Carnival (2012 theme: To Carnival and Beyond: A Futuristic Fantasy, presented by the Class of 2013.)
The carnival will be under way today until 11 p.m., and from 11 a.m. to 11 p.m. tomorrow on the Punahou School's lower campus, near Punahou Street and Wilder Avenue.

Started in 1932, the annual carnival is now a hugely popular Oahu tradition. By the time the midway closes tomorrow night, thousands of island residents will have wandered the carnival grounds in search of games, rides, plant and white-elephant sale treasures, and edible treats such as handmade mango chutney, freshly fried doughy malasadas (
pictured, right
) and Portuguese bean soup.
Away from the big crowds, Hawaiian food — poi and kalua pig to lomi salmon, hulihuli chicken and haupia — is being served up in Dole Hall. There's also a lineup of live music performances slated for a stage at the hall. Another nearby entertainment attraction: a variety show presented by the school's senior class. It typically includes a mix of theater, music, dance and comedy performances.

Staffed entirely by volunteers—more than 4,000 students, parents, alumni and faculty and staff, the event is the largest fundraising carnival in the state. Proceeds go the private K-12 institution's financial aid program. President Barack Obama is an alumnus, but he is not expected to attend this year. There's always next year. You never know…
For more information about the Punahou School Carnival, click here.