Q&A: Award-Winning Hawaiian Musician Mark Yamanaka
Yamanaka swept Hawaii's 2019 Na Hoku Hanohano Awards, but he's not letting it get to his head.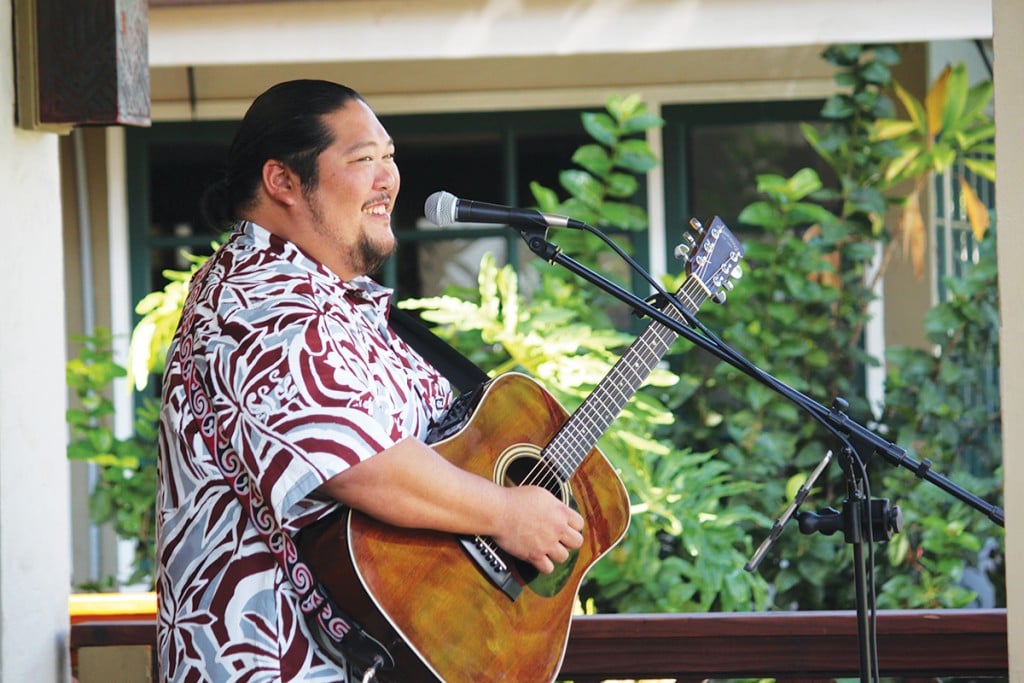 For some musicians, "making it" is the ultimate goal: winning awards, touring the world, being adored by fans. But for Mark Yamanaka, a Hilo-based musician who won big at the 2019 Na Hoku Hanohano Awards, it's all about staying grounded. And although Yamanaka has undoubtedly made it with his latest solo release, "Lei Lehua," which earned Album of the Year and Island Music Album of the Year, Yamanaka, who was also named Male Vocalist of the Year, is much more invested in his 18-year-old son's recent graduation from high school.
Your most recent album, "Lei Lehua," was such a hit but came five years after the release of your second solo album, "Lei Maile." Why the wait?
It was a last-minute decision to release it because I got married last year in June 2018. My team, Kellen and Lihau Paik of Hulu Kupuna Productions, and I had been talking about something, but we didn't know when. I just wanted to ride out "Lei Maile." I was also just kind of being lazy, living the life as well as being a family man. It was just a matter of my team telling me, "Hey, you've got to do it now."
What was that like, recording and producing "Lei Lehua" after such a long hiatus?
It was just about getting back in the groove and being nervous all over again. The music, on a personal level, it's like exposing yourself, especially when it comes to the originals you compose. It was kind of like learning the ropes again. You got to self-promote and almost reintroduce yourself. Five years is quite a long time, and there are so many new Hawaiian music fans who don't know who you are.
But everyone loved it! And it was received so well at the Na Hoku Hanohano Awards.
And I wasn't there! I was at home. My son (Jorden) had graduated on the same night as the awards at Kamehameha Schools and, of course, that's first and foremost. In all honesty, I didn't have a choice, there was no decision to be made. Being there for my son was the only option.
You've won Na Hoku awards before. Was it different this time watching it from home live after your son's graduation?
It was still a nail-biting experience, a lot of anticipation. I was still very nervous throughout the evening, waiting for the categories that I was involved in. It was nice, though, because I had a lot of my family there that has never got to share the success with me in person. Also, we didn't have to dress up! We were totally casual.
And after all that, you went back to work at Aiona Car Sales. For being such an award-winning musician, why the day job?
I started my position at Aiona Car Sales before I released my first album, and I see the value in having a day job. A musician's life is a tough one, as far as being able to support yourself. It's just so up and down and very inconsistent financially. And honestly, for me, it's just about maintaining normalcy and staying grounded. It's the way my parents raised me, and humility is a big deal. I just enjoy what I do as far as the music, but I don't let it get to my head.
Is it hard, juggling a job, music career and a family?
It is difficult, but it's been a normal thing for me for so long. Family is No. 1 for me; I try to maintain it as my top priority. The balancing act gets tough, but I make it work. I've got a good wife, that's why. She keeps me in check and really helps me out, big time.
So what's next for Mark Yamanaka? Another long hiatus?
I haven't even really thought about it. As far as the traditional Hawaiian and lei theme, I think that's come to a close. I really love doing contemporary and country music, too, so I think my next release will be a contemporary, country-type album.
Keep up with Mark Yamanaka on Instagram @markyamanaka.