Q&A: Barrio Vintage shop owners talk vibrant florals and tropical prints
The allure of vintage is strong in this fun retro boutique in Oahu's Chinatown.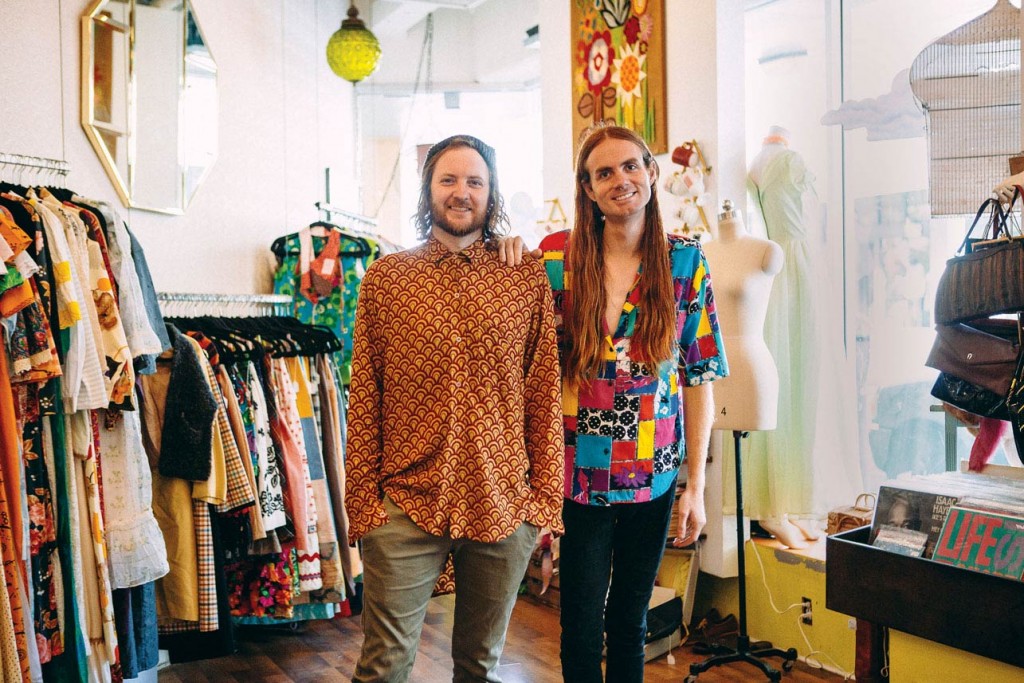 For Bradley Rhea and Jonathan Saupe, the owners of Oahu's fashion favorite Barrio Vintage, thrifting is second nature. Their discerning eye for design and detail make the store's shopping experience unlike anywhere else in the nation.
What's the allure of vintage?
Bradley Rhea: The quality. It's just lasted the test of time. We have stuff here from the '40s and '50s—that's 75 years ago and it's still here in absolute perfect condition, which is a true testament, for sure.
How would you summarize the Barrio Vintage racks?
Rhea: Everything is original vintage and retro, meaning mostly created in the 1970s and prior and mostly clothing. We tend to indulge in that era's sentiment—a boisterous color palette, crazy prints and really insane exaggerated details. Example, sleeve lengths. [Pulls a dress off the rack] I mean, what the heck is that?! Well, it's awesome [laughs]. That said, we want to also keep things wearable. So many of the things people are buying they're wearing to work and out and about, to go dancing. You can find stuff to wear on that special date one night or it's Aloha Friday and your aloha shirt sucks, so you come on in and get a new one that's better than your co-workers'. Cool stuff like that.
What would be considered collectible?
Rhea: A lot of the stuff in the store is specific to the Islands, made in Hawaii, '50s, '60s, '70s items. Because we buy-sell-trade here in the shop, we see really interesting stuff when someone's unearthing an estate. Vintage Tori Richard, really old Duke Kahanamoku and Kamehameha labels that aren't even around anymore, a lot of [former Hawaii department store] Liberty House, which was so prolific here.
The Hawaiian vintage selection really sets this place apart from vintage shops in other major cities.
Rhea: Absolutely, yes. Hawaiian vintage is so environmental because we're in Hawaii, the sun is always shining, it's perpetually summer. Because of that, so much of these vibrant florals and tropical prints, like an insane hibiscus color combination and pattern, we can just wear on the daily and right out of the store. We're so lucky to be able to do that.
What is the price range of the inventory you carry?
Jonathan Saupe: The majority of items found at our store are under $30. We try to keep it affordable, so there's quick turnover. Often items only have a lifespan of a day to a week before someone snags them. Sometimes a lot quicker—things we post to our social media sell in under a minute. The items we post online are a bit more expensive, so if you are deal hunting it's always best to come in the store.
---
Barrio Vintage, 1161 Nuuanu Ave., Honolulu, Oahu, barriovintage.com.