Q&A: Oahu illustrator Nick Kuchar on capturing the retro glory of Hawaii travel
The inspiration and creative process behind his popular posters.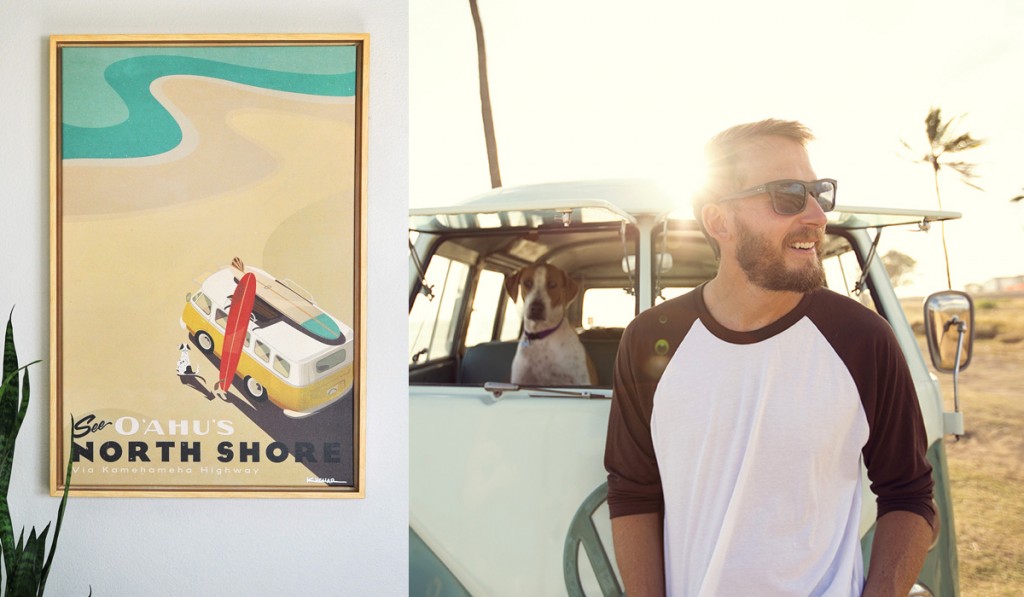 Florida native Nick Kuchar grew up drawing and surfing. When he moved to Oahu with his wife more than a decade ago, he found instant inspiration in the Island's natural beauty, plus, killer surf breaks. Kuchar started illustrating vintage-looking pieces for his home, but quickly realized it could be more than a hobby. Today, you can find Kuchar's rich retro-flavored prints, cards, totes and phone cases in local boutiques across Hawaii (and even in Japan and in Europe).
You spend your free time either surfing or drawing. When did you realize that you wanted to make a living being an artist?
I moved here from Florida about 12 years. My wife and I had just got married and we were looking for an adventure. I've been into drawing and painting my whole life. I always tell people my wife wanted some artwork for our house out here and we couldn't really find what we were looking for, so I started illustrating these vintage-style maps and travel prints. She's like, 'Hey these came out really cool, you should start an online store.' So, I did and maybe within a year a couple shops locally saw my work and started carrying it. It's been organic growth. It's been a real blessing that I have been able to do what I love.
What inspires you as an artist?
The scenery in Hawaii and the experiences out here. A lot of times if I have creative block, I can just go outdoors for a bit, or out for a surf session and it gives me inspiration or gives me a direction for something I've been working on. I'm also inspired a lot by old signage, old travel prints from the early 1900s airline industry and mid-century product design.
Yes, the outdoors are prominently featured in your artwork, from picturesque beaches, including the recent card of Waikiki Beach you made for HAWAIʻI magazine, to rugged coastlines. So is becoming one with Mother Nature integral to your creative process?
Yes, it's important for me to stay grounded and take the time to get outside. That kind of started my whole line of art. Sometimes I get cooped up in the office for a while just knocking out projects, but then I remember to get outside and stay true to that. I go anywhere the waves are breaking—surf sessions are great. I've been into hiking a lot more lately. Oahu is crowded, but there are trails where you can get off the beaten path and unwind a little bit. One is the Moanalua Middle Ridge. It is one place where I felt removed from the hustle and bustle of Oahu.
Any exciting new projects these surf sessions or remote hikes have inspired?
I just released a handful of prints and had a show at the Greenroom Gallery. I have a new Sunset Beach print that I'm really stoked about and I also have a series of smaller prints that highlight people taking surfcraft and watercraft with their cars different places. I'm going to have a bunch of summer events, like the Haleiwa Arts Festival and the Made in Hawaii Festival, and slowly keep adding to my design inventory.
What is a favorite piece of yours?
I came out with a Haleiwa print last year. That might be one of my favorites. It kind of captures the essence of Haleiwa and the culture up there.
---