Q&A with Big Island Scuba Instructor Keller Laros
Keller Laros tells us why Hawaii is one of the best places to scuba dive.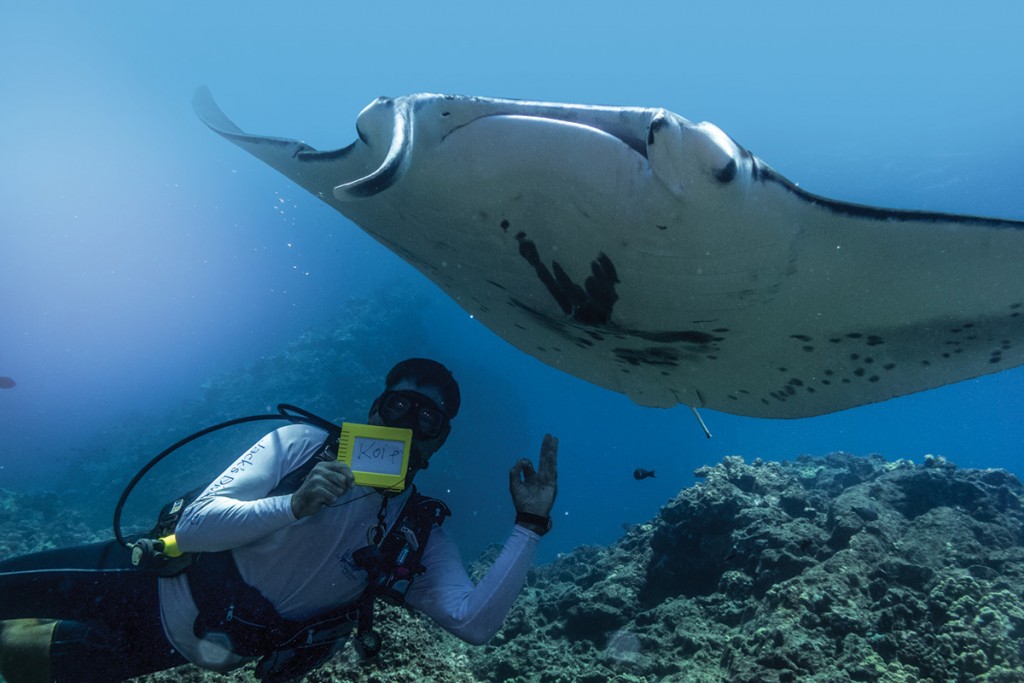 A scuba instructor since 1985, Keller Laros joined Big Island snorkel and dive company Jack's Diving Locker in 1991, and in 2012 also founded the Manta Pacific Research Foundation. Now a Professional Association of Diving Instructors (PADI) master scuba diver trainer, Laros has logged 12,600 scuba dives, and is famously known for disentangling a dolphin in a 2013 YouTube video that has more than 20 million views.
How did you get into scuba diving?
When I was at Lewis & Clark college in Portland, Oregon, I was a political science and history major and I needed a lab credit, and they offered a marine biology class where you get certified to scuba dive. … In 1985, I did my very first manta ray night dive, and I fell in love with them. Rather than going to law school, I became a scuba instructor and 33 years later here I am, still in love with manta rays, still scuba diving and still taking people diving.
How does diving in Hawaii compare to the rest of the world?
Hawaii's got a relatively small number of species just because it's the world's most isolated archipelago. If you go to places like the Caribbean or Indonesia, they might have 2,000 species of fish; in Hawaii, we've got about 450 different species of fish. What is really cool, though, is that 25 percent of our species are endemic, that is, they're only found in Hawaii.
Because the water is so deep particularly here in Kona, we see a lot of big species that you don't normally see elsewhere. I've seen humpback whales while scuba diving; I saw a whale shark the day before yesterday. … Our manta rays here on the Big Island are pretty unique. … We've also got lots and lots of spinner dolphins and bottlenose dolphins, and there's really unique underwater topography, 'cause of the nature of the Hawaiian Islands, such as arches and lava tubes.
How does Oahu compare?
They've got a number of really interesting shipwrecks that people can dive, and most of them are artificial reefs, with ships that have been sunk intentionally. By putting the structure on the bottom of the ocean, in an area that was otherwise sand, it gives fish and marine life the ability to colonize that. So these artificial reefs, these ships, then become very productive grounds for the ecosystem.
Have you been to Cathedrals on Lanai? What is that like?
It's a [natural] underwater structure, which is really cool. You go inside, and it's big. We have cathedrals over here, too. When you're inside, there's lots of skylights and beams of light shine down. It's absolutely spectacular. And that's one of the magical things about scuba diving.
Do you have a favorite dive spot?
I like Garden Eel Cove at Makako Bay [on the Big Island]; it's primarily where we do our manta ray dives. … Makako Bay is really cool because the point creates gyres, or mini ocean currents, and there tend to be a lot of plankton that gathers there, so the manta rays oftentimes feed there in the afternoon. … If you don't disturb manta rays, and you don't try to touch them or grab them or ride them, they're very comfortable with people.
For tour information, visit jacksdivinglocker.com. Learn more about the Manta Pacific Research Foundation at mantapacific.org.