Q&A with Craftsman John Reyno of Hawaii Modern
Oahu collector and craftsman John Reyno breathes new life into midcentury furniture.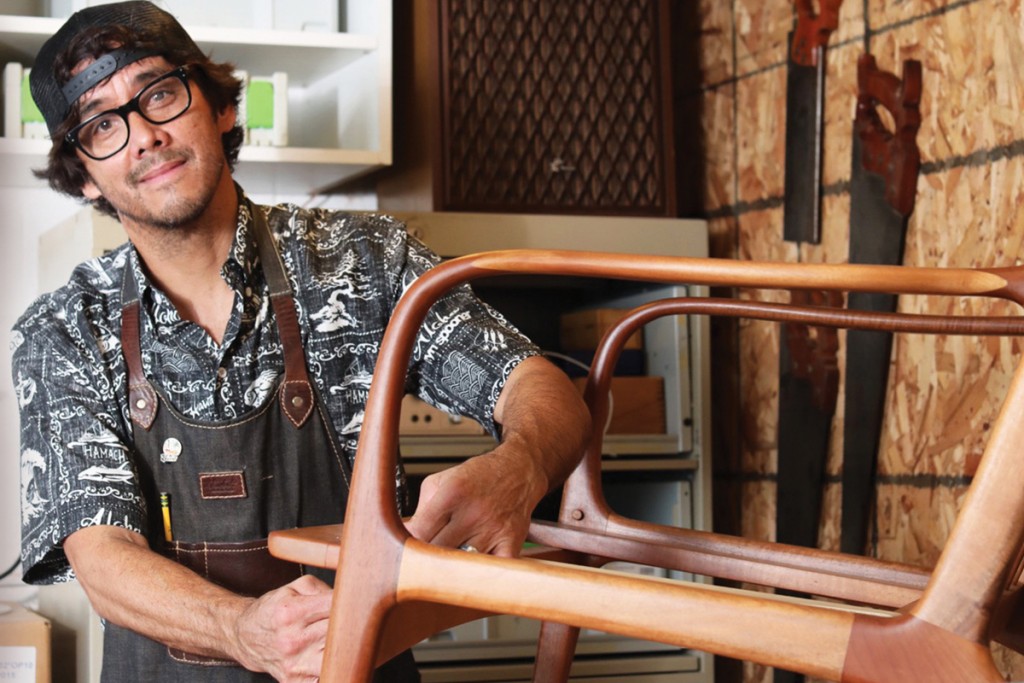 A welder by trade, John Reyno funneled his skills and enthusiasm for midcentury furniture into a new venture, Hawaii Modern. He buys mid-20th century furniture and objects, lovingly refurbishes and restores them and then sells them online. And this year, he opened a cozy shop in Kakaako in Honolulu, sharing his love of vintage furnishings with visitors and residents.
You began your career as a welder—you and your brother owned a business in California before you moved to Oahu. How did that trade morph into crafting vintage furniture?
When you work with your hands, whatever medium it is, whether it's clay or wood or metal or glass, you're coming up with an idea and you're making and you're translating it with your hands. A lot of people are surprised—how did I go from working with metal to furniture? My answer to it, it's really just problem solving. When you're a welder, you're taking something and making it out of metal and when you're working with wood, you're using a different tool but it's kind of the same process to get a different result. I was super passionate about furniture and midcentury design. … I just started doing it myself and realized that I'm good at it. I don't really restore for people, I restore for myself. I'm not trying to be a furniture restoration guy. I'm more of a collector that does the restoration incidentally to buy and sell pieces.
As a collector, would you say Hawaii is a hot spot for midcentury pieces? 
People are always surprised at how much midcentury stuff is here. That's probably one of the biggest comments I get on social media: "I can't believe how much cool stuff you find here!" But the thing is that everybody brought stuff here. First of all, Hawaii grew up in the '60s. It was the building boom and people were bringing stuff here, they were buying new houses and filling them with stuff. And a lot of times when military and others come (here), they'll bring a container of stuff and (when they leave) they don't bring it all back home so it just stays.
Where do you find stuff? 
It's endless. I'm at the point now where a lot of people call me and say, "Hey, I've got X piece, is it something you're interested in?" From the side of the road to Craigslist to people calling me, to knocking on doors. I've done that, I've literally knocked on someone's door and said, "Hey I saw this through the window, is it something you're interested in selling?"
How do you know if something is worth refurbishing? What do you keep an eye out for when you're scouring for new furnishings? 
It's quality. Rare doesn't mean valuable; it's only valuable if somebody is going to pay money for it. What I look for is something that I like. I don't care what it's quote-unquote valued at. I restore and pick it up because I like it. My thing is if I like it and if I get tired of it I can either sell it or give it away.
In the past, you've had successful pop-ups but this year you opened a store in Kakaako. What are your goals with it? 
I wanted a place where I can come and work on furniture and have some fun, but also have a place where I can showcase my work and people can just drop in and see what it is I'm working on and what cool pieces I have that I've just restored. … I think it'd be cool if I can educate people on what some of these pieces are so when they furnish their homes they can be stoked on all these great pieces that are out there.
Hawaii Modern, 527 Cummins St., Honolulu, Oahu, (808) 728-2040. Find him on Instagram @hawaii_modern.