Q&A with Hawaii Family Band Kapena
Once an electrifying Jawaiian music trio, Kapena is now a family band, focused on creating hapa haole music with a vision.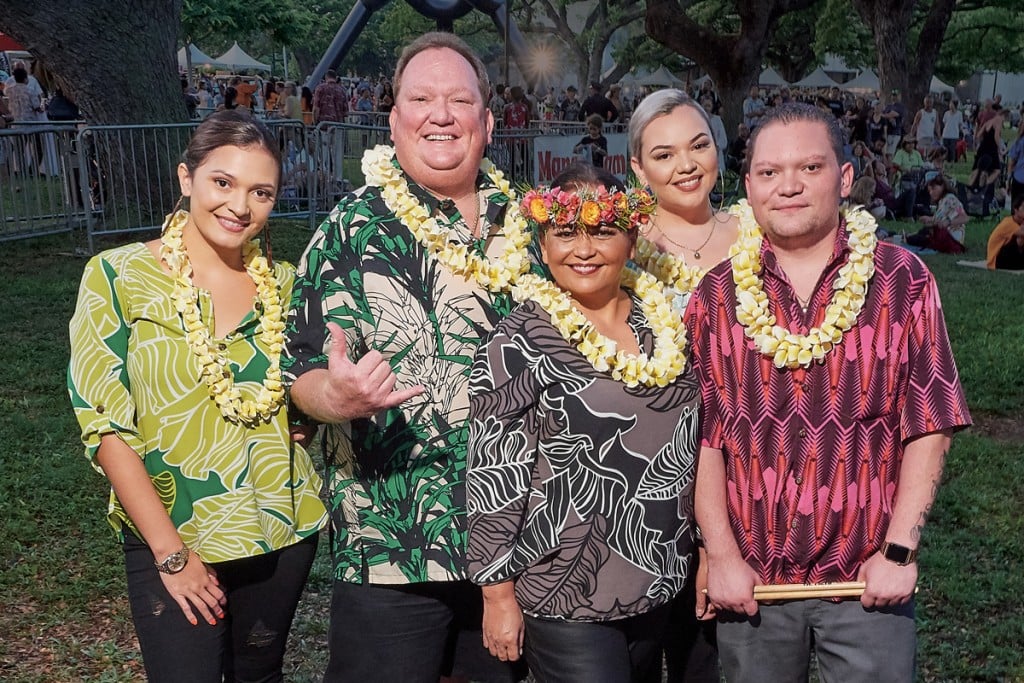 The band Kapena is already well known in Hawaii's music scene. Started by Kelly "Kelly Boy" De Lima and Timo and Tiva Tatofi in 1985, the group's harmonic vocals and Jawaiian (Jamaican-Hawaiian) jams rocketed them to stardom. Now, just over 30 years later, the group is still led by Kelly Boy, however, after the Tatofi brothers left to return to Tonga, De Lima's children, 30-year-old Kapena, 26-year-old Kalena and 23-year-old Lilo, took their place. Having played with their father on stage since they were young, the four De Limas changed the direction of Kapena by returning to its hapa haole (half foreign) musical roots, with Hawaiian style songs and English lyrics. The family band's new sound, style and vision can be heard on Kapena's latest album, "Palena Ole," which took home three 2018 Na Hoku Hanohano awards, most notably album of the year.
What's it like being in a family band?
Kalena: For my brother, sister and I, we grew up playing music together here at home and we learned music here from my dad, so we became really great friends. And that's made our sibling bond even stronger and, believe it or not, our music stronger, because we're a family unit. We grew up together and we've played music together since we left the womb.
Kelly Boy: And we enjoy performing together, playing together, just conquering our goals as a family. You can't beat it.
And when did Kapena, this family band generation, really begin?
Kalena: I don't think there's an official date. It's funny how it happens; we kind of all came in at different times. We started off performing in Waikiki. My dad started with my brother when he was 11, and then with me three years later when I was 11. This album is actually the coming-out album of Kapena as a family band, so yeah, it has been years since the group Kapena has come out and released a full album, but the significance of this album is also that it has the complete family as the band.
Kelly Boy: And I might add, for the years in between the original Kapena and this new Kapena, all these kids were doing was riding on the coattails of the old Kapena, playing all the old Kapena tunes and basically they never had an identity, they were just Kelly Boy's kids backing him up. But this album, they're writing their own songs, they're writing their own music, so that's the difference.
Can you tell me how, during this evolution into a family band unit, your sound has changed from old Kapena to this newest generation?
Kelly Boy: Kapena was old school. When we came out, we kind of started what is called the Jawaiian movement. We didn't name it, we just fell into that category for many years, and it was huge. With the new generation of Kapena, we're going back to our original roots, because originally, the old-school Kapena just wanted to play Hawaiian music. That was our first love.
Your album title, "Palena Ole," means "Without Limits" in the Hawaiian language. Can you expand on that a little more?
Kalena: It talks about how the group has stood the test of time; it's gone through so many transitions. And if you listen to the 30 albums my dad has put out, there's no limit to the music Kapena did. They did country, reggae, rock. So the album also talks about how there were no limits in the past, and that there are no limits in the future.
Kelly Boy: And the best is yet to come.
For more information, visit kapena.com or find them on Instagram @kapenamusic.