Q&A with Hawaiʻi Surfing Prodigy Jackson Dorian
Jackson Dorian, a young surfer from Hawai'i Island, is following in his pro surfer father's wake and rapidly gaining acclaim in the surfing world.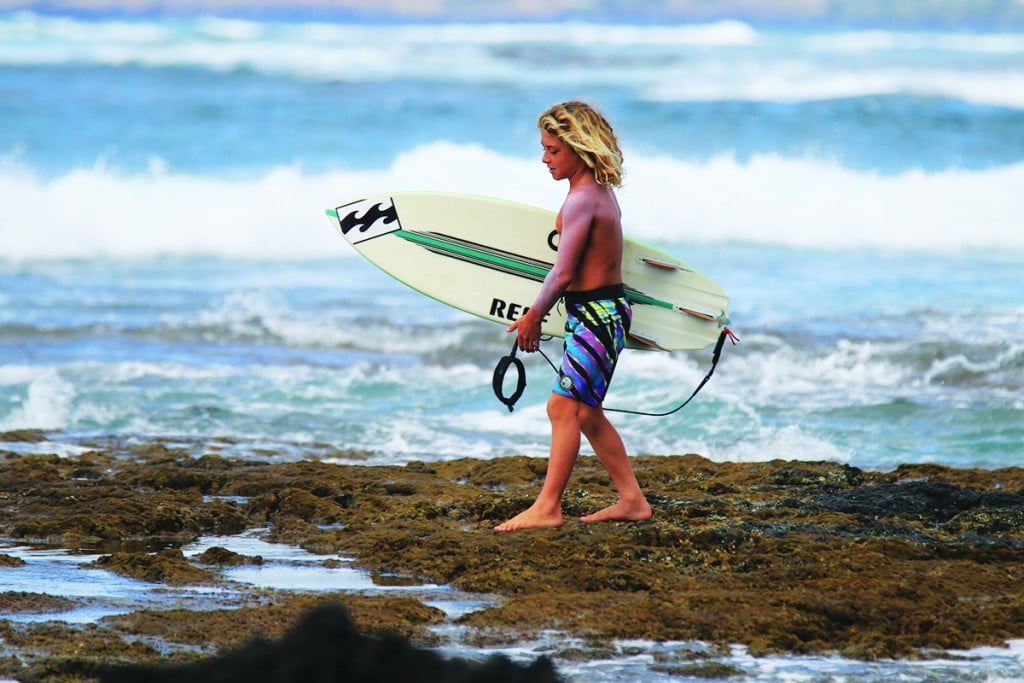 Jackson Dorian may only be 13, but he's already being compared to his famous father—and rightfully so. The young, diminutive surfer from Kona has lived a dream life already. With idyllic surroundings, home schooling and strong support from his family and friends, Jackson is in an enviable position for any kid. His dad, Shane Dorian, was one of the most accomplished surfers in the world for three decades, adding further to the aura surrounding Jackson. This kid is confident and knows exactly what he wants in surfing—and life.
You're the son of a surfing legend, but now you're creating your own path in the sport at a very young age. What are your goals in surfing?
Well, I just started winning some contests, and I'm trying to work my way up to become the world's best someday. I've surfed in my dad's keiki contest the past few years and done well in those. I won my division this year. But I want to surf on the [World Championship Tour] with all the best guys. That's really my ultimate goal. To be world champion someday is the highest on my list. I have the best teacher in the world to do it—my dad.
You already have considerable sponsorship from surfing heavyweights like Billabong, Slater Designs and Reef, among others. How does that feel?  
The support of my sponsors has helped me quite a bit. I am fortunate they all have such confidence and trust in me. That alone makes me have more confidence. It feels so good to be supported and I think it will help me a lot obtaining my ultimate goal. My friends are stoked for me.
You have been on numerous surf trips with your father and learning from him firsthand. What are some of the places you have traveled to? 
It's been really cool. My dad has taken me to Japan, Australia, Fiji and the Maldives. He teaches me how to surf each location differently.
You also snowboard and skateboard. How do those two sports help you with your surfing? 
I've only snowboarded a little bit, but that was so fun and I look forward to doing that more. When I was younger, I was actually driven to become the best skateboarder, not surfer. We have a little ramp at our house. I still skate today. I think it helps my surfing, especially my air game, a lot.
Do you feel pressure living up to what your father has accomplished in professional surfing? 
We have talked about that. He said to just be myself and whatever happens will come naturally. I don't want to be a surfer just because of my dad. To me he's my coach and surfing buddy.
Are you proud being from Hawai'i Island and representing your home? 
Absolutely, we have such a cool vibe here on the Big Island. I have so many friends, uncles and aunties that like to surf here, especially at Banyans. I love surfing there. Kona is such a tight community. The waves are good and it's always super fun. I love it here at home and can't think of anywhere else I would rather be.
Follow Jackson on Instagram @jackson_dorian.