Q&A with Maui chef Alvin Savella, aka 'The Kitchen Assassin'
As chef de cuisine at The Banyan Tree, Alvin Savella is making waves in Hawaii's food culture with his sense of humor and fine-tuned gastronomy techniques.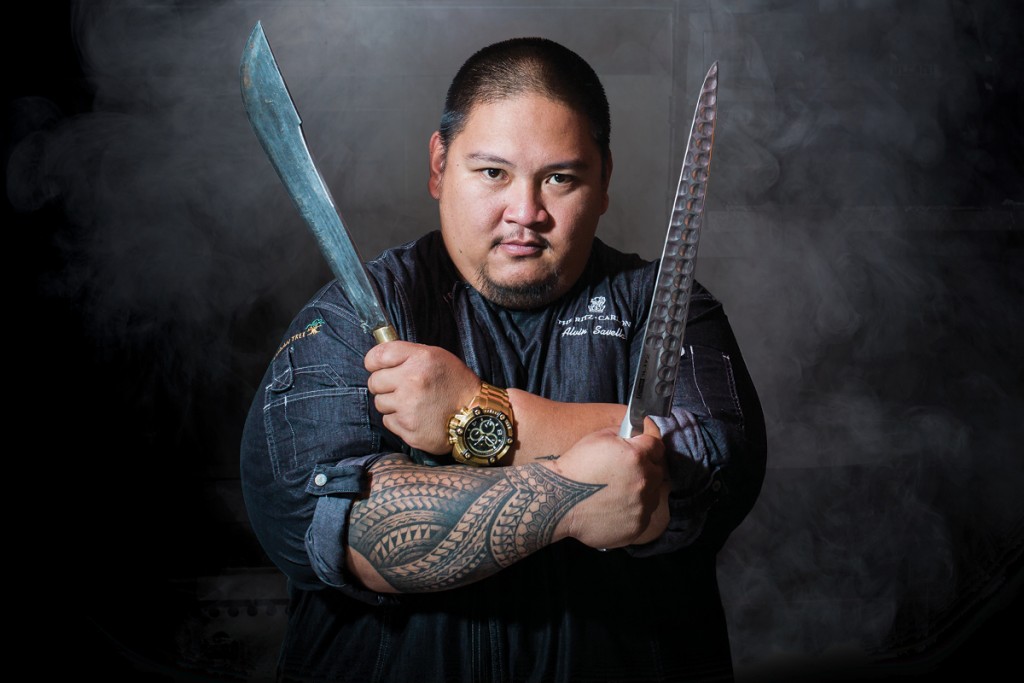 Alvin Savella is slaying the Maui restaurant scene by using humor—and his tweezers—to give diners the ultimate experience. A Maui native and chef de cuisine at The Banyan Tree at The Ritz-Carlton, Kapalua, Savella has been creating dishes using fine-tuned gastronomy techniques. Throughout his 15-year career, starting at The Ritz-Carlton, Marina Del Rey, to the Westin Kaanapali Ocean Resort, this award-winning chef, known widely as "The Kitchen Assassin," is Maui's rising culinary star.
How would you define your cooking style?
I always like to describe it as a little bit suspenseful, with a few surprises here and there. Growing up in Hawaii, I learned a lot of that Pacific Rim style and, being in a Filipino family, a lot of my base style is from Pacific Rim and Filipino cooking. I left Hawaii in 2003 and went to culinary school out in Southern California and I worked at several different places there. I picked up a lot of techniques and styles from the different people I worked with and I applied what I learned out there to what I knew growing up. I think now it's just a whole combination of everything I learned throughout my 15-year career.
What kinds of dishes can Banyan Tree diners expect to find on the menu?
One of the most popular items that people come back for is the octopus. The octopus that I do has been my signature item that everybody has known me for. We do a lobster ramen, also. Ramen has become so mainstream. I remember eating it all the time when I used to come home from school. No one was home, there's no food, but there's always Top Ramen packets. [We] always took that basic packet and me and my brother put a ton of different other stuff in there to make it complete. So, we do a version at The Banyan Tree that has become very well known on the island.
You seem to put a lot of delicate touches on your food presentation, such as flowers, herbs and greens. What inspired you to plate this way?
You start to look at different images [on Instagram], and putting a lot of these delicate touches is just some things that I've seen looking at other people's food—and it's not me trying to copy them. I see pictures, I see images of their food and I try to re-create different foods, different plates, using different ingredients from what other people were using.
People always talk about "a chef and their knife," and on your Instagram profile you claim to be a knife collector, yet I only see pictures of tweezers. Would you say that's your favorite or just your most commonly used kitchen implement?
As much as we use knives, and as much as I love collecting them, I always have a set of tweezers on me. I can't just carry around my knife. When I started working at The Ritz, no one was doing tweezer work with their food and they were wondering, "What are you doing with tweezers?" And then they noticed that it was actually easier to pick up small herbs and it's always been something that went hand-in-hand with me, and the image of me. It's funny because everyone after, like, one or two months later, started to carry a set of tweezers on them. It was almost like a trend.
Find Savella online at instagram.com/thekitchenassassin, and at The Banyan Tree, Ritz-Carlton, Kapalua, One Ritz-Carlton Dr., Kapalua, Maui.