Q&A with Tony Nelson, Bartender at Duke's Waikīkī
Nelson has slung drinks at Duke's Waikīkī on Oʻahu for more than 20 years—and has stories to prove it.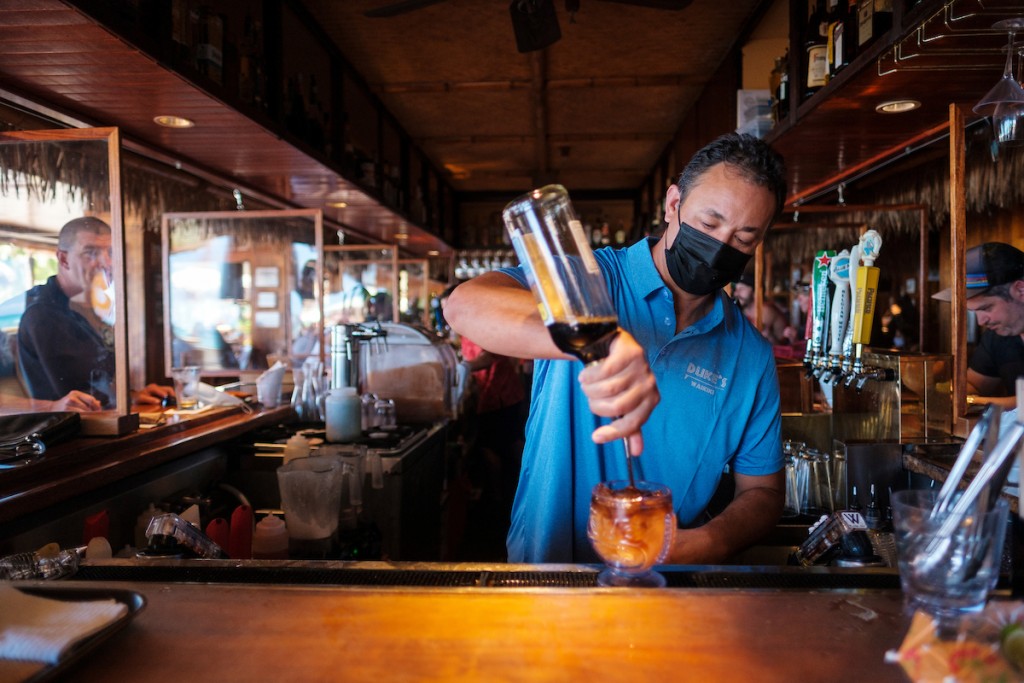 The plan was to move from San Diego to Oʻahu for a couple of years to surf before starting medical school. But like so many others with similar ill-fated plans, Tony Nelson wound up never leaving. He got a job at Duke's Waikīkī in 1997 as a bar host, then quickly worked his way to bartender. Nelson, now 50 and father of two, is still working his dream job at the iconic restaurant, which swept several categories in the 2021 Readers' Choice Awards, including Best Bar, All Islands. "This is where everyone hangs out," he says. "Famous people, ordinary people—for me, that's the wow factor."
What was Duke's Waikīkī like when you first started working here 24 years ago?
The culture here was pretty amazing. Everyone I grew up looking at in magazines was here. There were all these professional surfers, legendary Waikīkī beach boys, all hanging out. These cool old-timers would tell the most fantastic stories and they welcomed you. Right away you became family. And I was right in the middle of it. I felt like a kid on Christmas morning. I thought, "I'm never leaving."
How hard was it to get a job here?
I literally put in four to five applications before I got hired. I got this job with persistence. My roommate worked here and he would go to work in an aloha shirt and shorts and he was around all these beautiful women and surfers. It was the job to have. Every week we get hundreds of applications. It's a well-sought-after job. You have to go through three different interviews, sometimes four. I wanted to work here because it was the world I wanted to live in.
How has the restaurant changed in the past 20 years?
Duke's has changed only in the sense that it's meeting demands. It still has that same ambiance and iconic feeling, but there's been so much business here and we needed to expand.
What makes Duke's Waikīkī so popular?
Hands down, it's the people. The customers and the people who work here combine in a way like no other. You could be standing next to a movie star or a professional surfer, sitting at a bar next to someone famous and never know it and the guy on the other side of you is from Montana and you all talk like you've known each other forever. It's a really cool thing. … I've met lifelong friends here, people I still keep in touch with. They're like family. They come over to my house to barbecue, they babysit my kids. I met my wife here [in 2002]. It's a cool, unique thing.
What's the most popular cocktail?
The mai tai is the No. 1 cocktail. Our Lava Flow is our top blended drink. But you know, we have this coconut mojito that you don't really see anywhere else and it sells as well as the Lava Flow. We used to grow mint and basil on the roof of the hotel, but we couldn't keep up with demand. When people drink it for the first time, they say, "Oh my God this is the best drink I ever had."
What's your favorite food item on the bar menu?
At least once a week I eat the fish tacos. It's our No. 1 best-seller at the bar. It's delicious and healthy. It's that or the poke taco—a wonton [shell] with our poke and an avocado-wasabi aioli. It's pretty fantastic.
You must have tons of stories about all the celebrities who hang out at Duke's. Any favorites?
Sean Penn would come in and sit with the employees and talk for hours, and then they'd all go with him to another bar after their shift. Eddie Vedder [of Pearl Jam] used to sit at the bar and then we'd all go to [the University of Hawaiʻi at Mānoa campus] and play Frisbee golf at 3 in the morning. They're just normal people and they feel at home here.
What do you love about your job?
I enjoy this job. I enjoy the environment I'm in when I'm working. I tell my kids: Find something you enjoy to do every day and call it work—but it's not really work. My job is to pour drinks and talk to people, to make sure everyone leaves with a smile on their face. I work on the beach, surrounded by legendary Waikīkī beach boys and surfers and famous people and ordinary people, people on vacation or celebrating weddings and anniversaries—and I get to be part of that.
This story was published in the March/April 2021 digital issue of HAWAIʻI Magazine. Read it here.