Q&A with ukulele virtuoso Jake Shimabukuro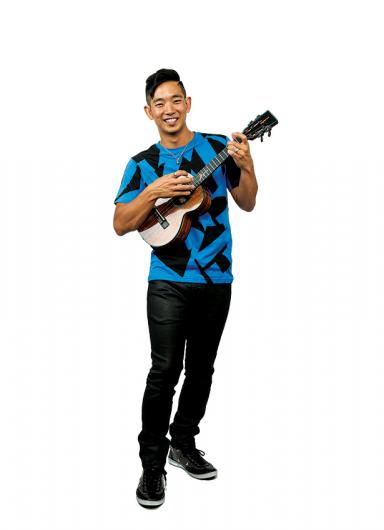 Ukulele virtuoso Jake Shimabukuro has seemingly done it all. He's toured the world, been the subject of an award-winning documentary, performed on national television and shared stage and studio time with the likes of Yo-Yo Ma, Bette Midler and Jack Johnson. His most recent album, 2012's Grand Ukulele, was a collaborative project with veteran British producer/engineer Alan Parsons (Alan Parsons Project, Pink Floyd's Dark Side of the Moon) and his next album is set to release in October 2015. Last year, he reunited with members of his first band, Pure Heart, for a one-time live performance—the trio's first in a dozen years. Up next for the 38-year-old limit-pushing ukulele master? Raising his two-year-old son, composing new music and sticking close to home.
You're cutting back on touring this year and spending more time here at home in Hawaii. What else are you working on for 2015?
"I'm doing the same number of shows but just trying to not be away so much. I love performing and I love touring. It's my passion. And my family has been very supportive. We have two very enthusiastic grandmothers who love to watch [our son], Chase, so it's good. … I'm also working on a new record that should be coming out in late summer. The focus [of it] is more on the ukulele and the evolution of the instrument, so I'm going to be recording traditional Hawaiian pieces and doing some really 'out there' stuff … I'm doing a lot of writing for this record and doing a lot more original pieces. But it's not easy. Some people can just write stuff, like, in their sleep, and just come up with great music. Not me."
Is there a project this year you're really excited about?
"I'm doing some collaborating with the [Hawaii Symphony Orchestra] and working with composer [and retired University of Hawaii music professor] Byron Yasui. The symphony commissioned him to write the first-that-I-know-of ukulele concerto in a true classical form. I'll be the one who gets to play it [in June 2015 at Oahu's Neal S. Blaisdell Concert Hall]. This is a really big deal to me, and I'm very excited about it. Dr. Yasui was one of my professors and teachers, so for me to be able to do this with him and the symphony, it's really special."
What do you still love about the ukulele?
"I first picked up an ukulele 34 years ago and I'm still learning new things on it. It's interesting. The ukulele is such a simple instrument. It's only got four strings, two octaves, that's it. But even with just that, there are so many combinations of notes and combinations of techniques and tones that you can get out of the instrument. It's just never-ending. It blows my mind. I think when I'm in my 90s, I'll still be able to play and discover new things."
Visit jakeshimabukuro.com to see a schedule of his current tour dates, and to preorder a copy of his new album, set to release in October 2015.