Rainbow of Hawaii Island agriculture, cuisine showcased at 4th annual Puna Culinary Festival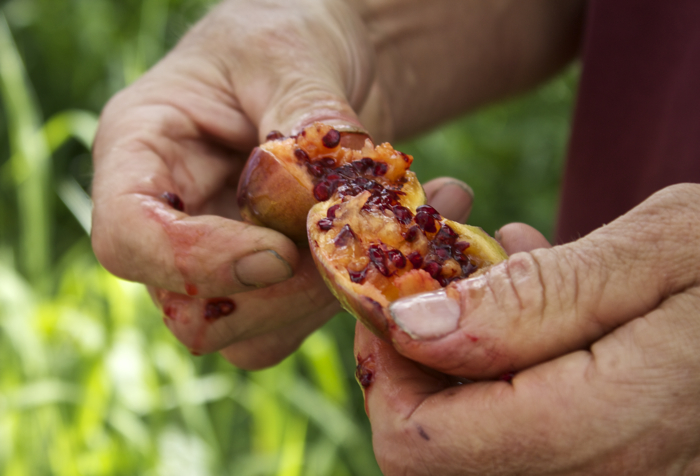 Purple sweet potatoes, leafy greens, big red-orange mangoes and bright yellow lilikoi (passion fruit) cream cake await at the fourth annual Puna Culinary Festival next week from Sept. 21 to 28 on Hawaii Island.
The festival promises a week of foodie-forward events such as locavore markets, cooking classes, tastings, tours, workshops, films and more within the agriculturally diverse region of Puna, south of Hilo. Situated on the easternmost portion of Hawaii Island, the Puna District includes the eastern flank of Kilauea volcano and is blessed with a unique blend of growing climates and multicultural influences on its agriculture.
Photo: Puna Culinary Festival
The event officially kicks off on Sun., Sept. 21 with chef Kenny Drotar's "Hawaiian-Style Kalua Pork Dinner" featuring the imu (underground oven)-baked Hawaiian food favorite smothered in Puna-grown-banana BBQ sauce, and served with sides like Molokai purple sweet potatoes in coconut milk and locally-grown pohole (Hawaiian fiddle-head fern) salad. The feast takes place from 6 to 7:30 p.m. on the dining lanai (porch) of the Kalani Retreat Center.
Many of the fest's events will be hosted at the Kalani center on remote Kalapana-Kapoho Road along the Puna coast. Our advice? Find it on Google Maps before driving.
This year's lineup also includes three excursions that each visit several area food producers and farms. Learn about local mushroom growing and cultivation from Hamakua Heritage Mushroom Farm; meet the family that founded Hawaiian Vanilla Co., the U.S.'s first commercially-grown vanilla bean farm (and enjoy a four-course vanilla inspired lunch); try locally grown coffee from Hilo Coffee Mill's tasting bar, and more. Shuttles will be offered for field-trips (note that additional fees apply).
The festival's official closing event is the "Pupupalooza Appetizer Competition" from 3 to 5 p.m. on Sat., Sept. 27. All festival attendees are invited to taste and vote for the best pupu (appetizer) from Puna. If you'd like to enter your pupu in the competition, be sure to reserve your spot by tomorrow, Fri., Sept. 19.
Photo: Puna Culinary Festival

Proceeds from some of the festival's events will be donated to the Hawaii Island Food Bank. For more information about the festival, or to see the full schedule of events, click here.
Puna Culinary Festival
Sept. 21 – 28, Kalani Retreat Center and various locations, Puna, Hawaii Island
Visit punaculinaryfestival.com for more information and event schedule.