Rare photos of Hawaii's bygone "Boat Days" on display at The Royal Hawaiian in Waikiki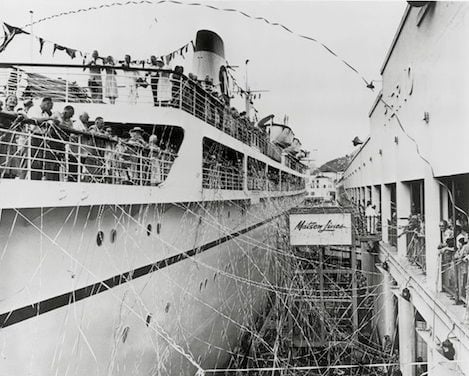 During the early decades of the 20th century— before the advent of commercial airlines — visitors from the U.S. mainland made their way to Hawaii by way of sea voyage.
The Royal Hawaiian, a Luxury Collection Resort, is now partnering with Matson Navigation Company to commemorate that bygone era with Boat Days, an exhibition showcasing rarely seen photographs of visitors traveling to Oahu on Matson ship liners. The archived photos feature passengers arriving in Honolulu and visiting The Royal Hawaiian between the late 1920s through the late 1940s.
The exhibit, which opened earlier this summer, will be on display on the walls of the resort's Coronet Lounge until Jan. 31, 2013. It's open to the public, and there's no admission fee.
Starting in the mid-1920s, visitors began arriving at Aloha Tower on Oahu's south shore aboard Matson passenger ships and vacationing at The Royal Hawaiian enjoying Waikiki Beach. Among Boat Days highlights: a "Hula Boat Day" greeting of passengers arriving at Aloha Tower, the Royal Hawaiian Band playing music at Aloha Tower, original Royal Hawaiian luggage tags, and a variety of Matson travel posters.
Matson Navigation Company was instrumental in the development of tourism to Hawaii and the South Pacific. A fleet of Matson Lines cruise ships, the most famous being the S.S. Lurline, traveled from the mainland to Hawaii from the 1920s to 1960s. Matson built The Royal Hawaiian in 1927. The venerable "Pink Palace of the Pacific" debuted as a six-story, 400-room structure fashioned in a Spanish-Moorish style, popular during the period and influenced by screen star Rudolph Valentino.
The Royal Hawaiian attracted celebrities, financiers, and heads of state until World War II. In January 1942, the hotel was leased to the U.S. Navy as a rest and recreation center for those serving in the Pacific Fleet. Five years later, after undergoing renovation, the hotel re-opened to the public. Since then, The Royal Hawaiian has undergone various upgrades, the most recent was completed in November 2010.
Matson photographers took thousands of snapshots of the celebrities and others who traveled on its ships and vacationed in Waikiki. Matson Navigation Company archives encompass a vast collection of photographs and artwork from Matson Lines passenger and hotel era, 1920s to 1960s.
For more information about history tied to Matson and The Royal Hawaiian, click here and here.