Recipe: Chicken Adobo Wilted Salad
From the book "A DASH of Aloha: Healthy Hawaii Cuisine and Lifestyle"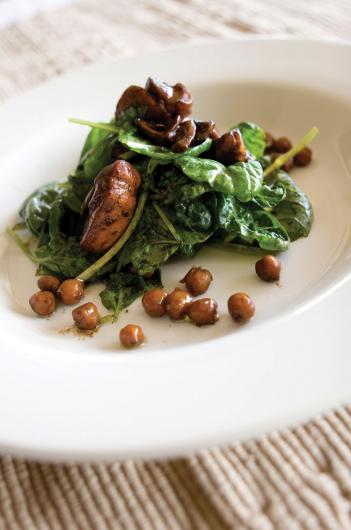 The best parts of A DASH of Aloha occur after page 47.
That's when this new Hawaii-centric guide to healthy eating habits and physical activity—put together by Kapiolani Community College's much-lauded Culinary Arts Department—steps out of its brief educational mode and into some very appealing recipes.
Macadamia nut butter and lehua honey muffins. Tofu lemongrass curry. Shiso pesto-marinated opakapaka. Molokai sweet potato-lemongrass bisque. Loco moco fried rice. (For the uninitiated, loco moco is a favorite Hawaii comfort food—typically, white sticky rice, topped with a homemade hamburger patty, fried egg and brown gravy. Good stuff.)
There are more than 70 recipes in all in the book. Each emphasizing cooking with low fat, farm fresh, locally-grown ingredients, for a healthier diet.
DASH, or Dietary Approach to Stop Hypertension, is an eating plan designed by the National Heart, Lung and Blood Institute. The plan encourages reduced fat cooking using more fruits, vegetables, whole-grain products, fish, poultry, nuts and low-fat dairy. Lean red meats and sugar are copacetic, in moderation.
The book starts out with an easily digestible description of the DASH eating and exercise plan, before digging into its collection of recipes. Created by the instructors and students of KCC's culinary school—which has graduated many of the state's top chefs—the recipes match the DASH ethos with ideas, ingredients and tastes largely familiar to Hawaii palates. (See loco moco fried rice, above.)
Each recipe even carries a nutritional label—yes, just like the one on every box of Pop Tarts—for an accurate reading of calories, fat, cholesterol, sodium, etc. therein.
You can purchase A DASH of Aloha here.

Chicken Adobo Wilted Salad
8 oz. chicken thighs, boneless, skinless and cut into bite-size pieces
8 oz. chicken tenders, fat-free, cut into bite-size pieces
1 can garbanzo beans, rinsed, drained
6 cloves garlic, sliced thin
4 oz. mushrooms, halved
½ cup balsamic vinegar, plus extra for seasoning
1 tsp. soy sauce
4 each bay leaves
10 each peppercorns
2/3 cup chicken broth, low-salt
1 tbsp. extra-virgin olive oil
6 cups baby arugula
1. Add all ingredients (except chicken broth, olive oil and arugula) in a pot with a cover.
2. Bring to a boil, reduce to medium heat.
3. Cook, partially covered, until liquids are evaporated (about 10 minutes).
4. Add chicken broth, scraping the bottom of the pot.
5. Remove from heat. Add olive oil and more vinegar, if desired.
6. Top salad greens with hot chicken mix and toss to combine.
7. Serve immediately with crusty rolls.
Serves: 6
Calories per serving: 210
Calories from fat: 50