Recipe: Hawaii-Style Furikake Chex Mix
How to make this satisfying—and utterly addictive—local snack.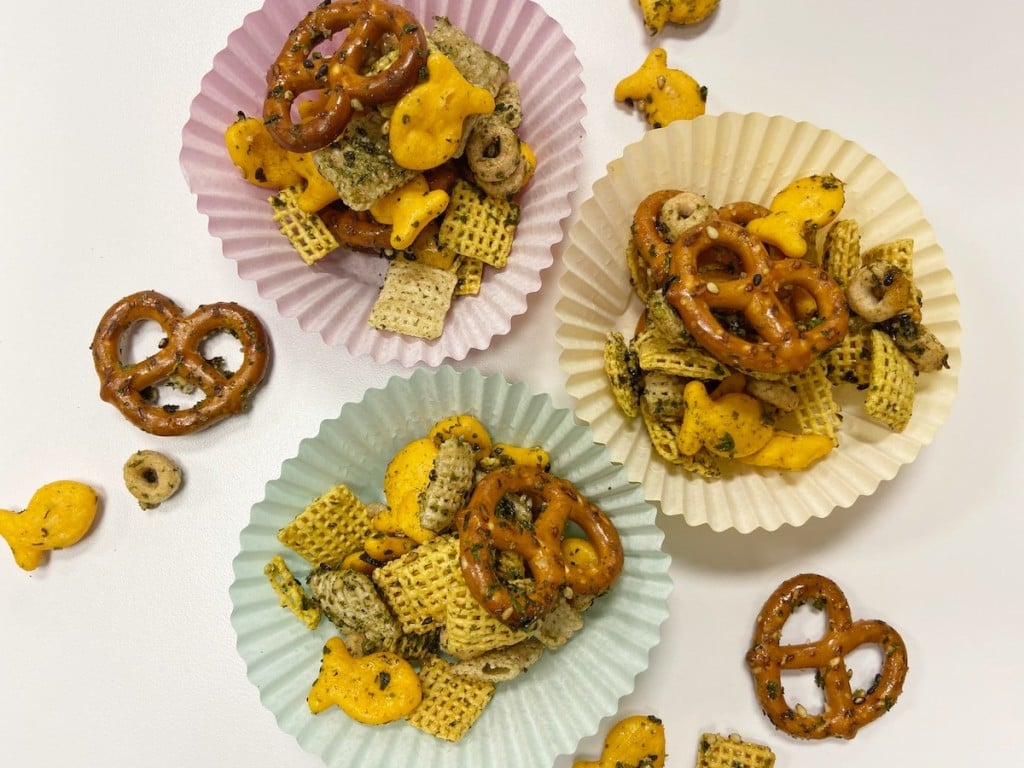 Every year someone in some Hawaii office brings this Chex Mix to share, most often during the holidays. Instead of the sweeter mixes—with thick layers of sugar or frosting coating cereal, pretzels and peanuts—this version is a little more savory with soy sauce (or shoyu, as we call it in the Islands) and furikake, a dry Japanese seasoning consisting of seaweed, toasted seseame seeds, sugar and salt.
It's easy to make—though the furikake might be difficult to find; check your Asian markets or ethnic aisles in the supermarket—and really, really hard to stop eating. Trust us.
Hawaii-Style Furikake Chex Mix
Ingredients
Half a 12-ounce box of Rice Chex cereal
Half a 12-ounce box of Corn Chex cereal
2 to 3 cups of Cheerios
2 to 3 cups of Goldfish Baked Crackers (any size or flavor is fine)
2 to 3 cups of pretzels (any shape)
Optional: Cheetos, roasted peanuts, Honeycomb cereal, Fritos, Bugles—really anything you want.
For the syrup:
1/2 cup butter
1/2 cup light corn syrup (or sub with agave or honey)
1/4 cup vegetable oil
1/4 cup white sugar
1 to 2 T. soy sauce
A splash (or more) of Worcestershire sauce
Salt to taste
1 bottle nori goma furikake
Directions
Preheat the oven to 250 degrees.
In a pot over medium, melt butter and add corn syrup, oil, sugar, soy sauce, Worcestershire sauce and salt, stirring until the sugar is completely dissolved. Remove from heat.
In a very large bowl—or maybe two bowls or pans—combine all the dry ingredients. Mix well.
Add the syrup to the combined dry ingredients and toss well. Make sure everything is well coated. Then add the furikake seasoning and toss until everything is evenly coated. Transfer to either lined baking pans or foil pans and bake for about an hour. Remove from oven and cool completely on racks. Store in an airtight container.