Recipe: Hawaiʻi-Style Lilikoʻi Butter Mochi
This popular island dessert with a twist is a hit at every gathering.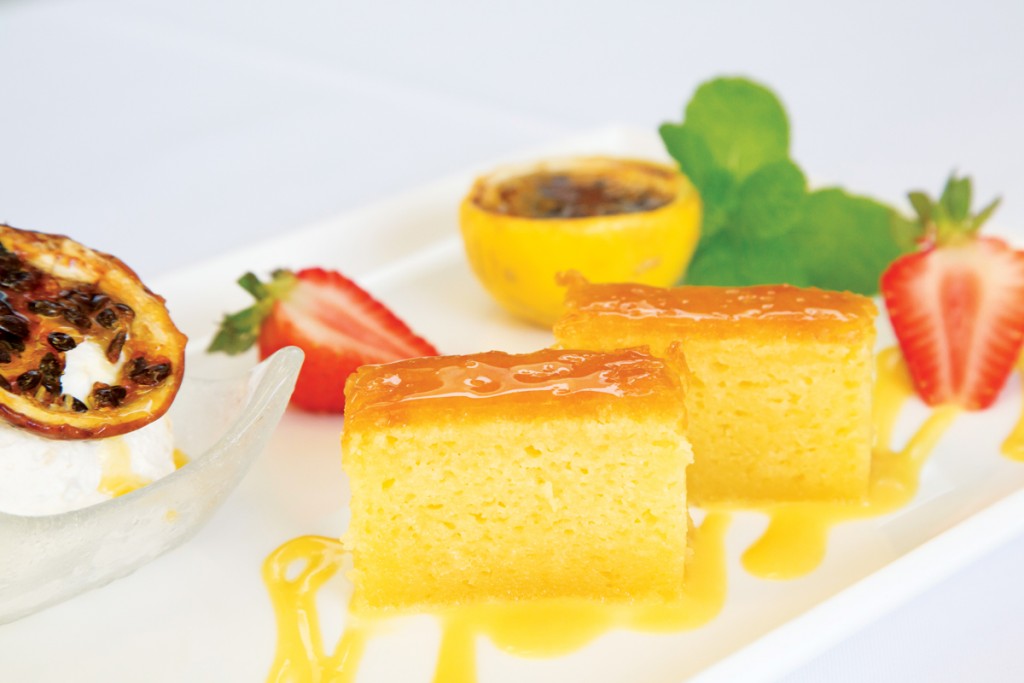 Lilikoi grows on a climbing vine with exotic fringed blossoms fit for a fairy-tale garden. Spanish missionaries in its native South America used it to symbolize the Passion of the Christ to their converts, with parts of the elaborate flower representing the disciples, crown of thorns, nails and crucifixion wounds. This "Passion fruit" was brought to Hawaii from Australia in the 1880s, and inherited the name of the Lilikoi district on Maui where it was grown. Inside the yellow or purple fruit is a gooey orange pulp whose tart flavor is popular for shave ice, jams, juice and cakes.
"Although lilikoi (passion fruit) can be found from June through January in many forests of Hawaii, it is most abundant in July and August and October and November. It's very tart and has a lot of seeds. To make fresh lilikoi purée, warm the pulp (which liquefies it a bit) and strain it through a fine sieve. For this recipe, ready-made purée is just as good. The great thing about this mochi (rice cake) is that it can be made ahead of time and reheated in the microwave before you glaze it."
 -Chef Ralf Bauer
Hawaii-style lilikoi butter mochi 
 Ralf Bauer, Executive Chef at the Sheraton Princess Kaiulani
1 lb. mochi flour
3 c. sugar
1 Tbsp. baking powder
½ c. butter, melted
5 eggs
1 Tbsp. vanilla extract
12 oz. coconut milk
3 Tbsp. lilikoi purée
Mix all ingredients together, and bake for 1 hour at 375°F in 10-by-14-inch pan. Let cool slightly. While still warm, glaze with a mixture of 2 tablespoons of lilikoi purée and 2 cups of powdered sugar. Cut with a plastic knife (it won't stick to the mochi). Serve warm with vanilla ice cream and slices of assorted fresh fruit. Yield: 24 pieces.