Recipe: Hawaiian Paella
Rice and dishes such as these have shaped the culture of the Hawaiian Islands.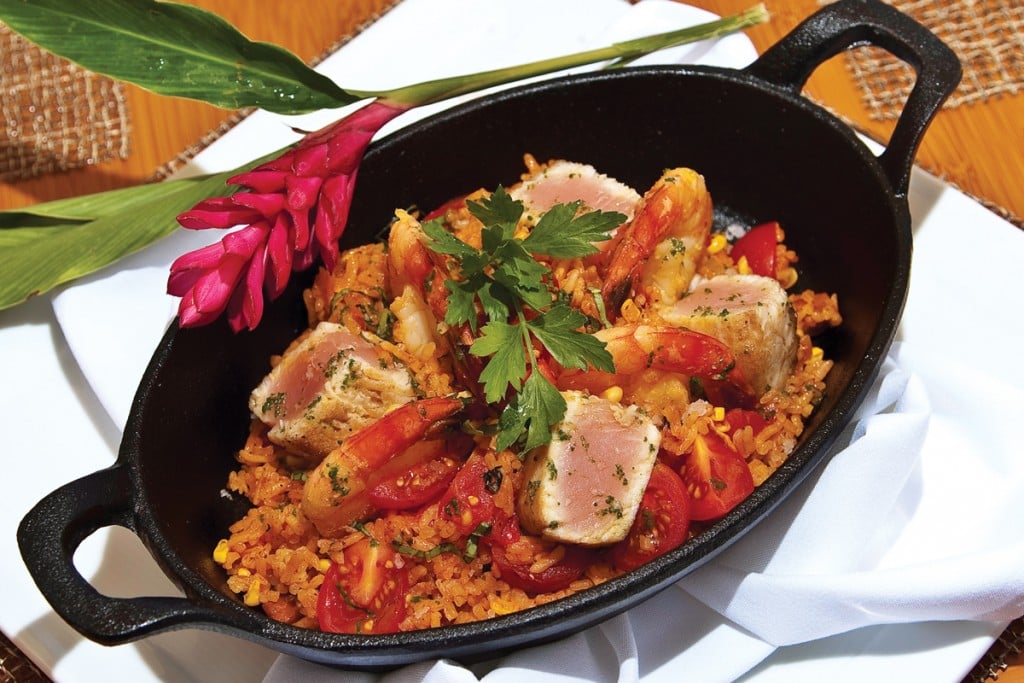 From "two-scoop" plate lunches to high-end cuisine, rice is beloved in the Islands. This recipe, and reminiscences from longtime Island residents like the one below, can be found in The Hawaii Book of Rice, along with legends, trivia, history and more.
Hawaiian Paella
Chef Leanne Kamekona, executive chef of the St. Regis Princeville Resort
2 Tbsp. olive oil
1 c. basmati rice
2 c. short-grain rice
2 Tbsp. Maui onion, diced
1 Tbsp. fresh garlic, minced
1 tsp. fresh ginger, minced
1 c. Portuguese sausage, sliced
8 fresh shrimp (16/20 size)
1 c. fresh fish (mahimahi, ono, opah,  shutome or ahi), cubed
4 c. chicken or fish stock
1 Tbsp. basil, chopped
1 Tbsp. annatto seeds or paste
2 ears whole sweet corn, thickly sliced with the cob
3 roma tomatoes, quartered
1 Tbsp. butter
Sea salt and white pepper to taste
A few cilantro sprigs
Heat olive oil in a large braising pan and sauté both types of rice until golden brown. Add onion, garlic, ginger, Portuguese sausage, shrimp and fish. When the shrimp and fish are seared, remove them from the pan. Brush other ingredients that may be sticking to them back into the pan. Add stock, basil and annatto to pan. Reduce heat and simmer until rice is cooked (15 to 20 minutes). Stir in corn, tomatoes, and seared shrimp and fish. Simmer for 10 more minutes. Finish with butter, salt and pepper. Garnish with cilantro sprigs. Serves 6