Recipe: Hawaii's Hula Pie dessert
This Island favorite is a mountain of pure dessert indulgence that impresses the heartiest eater.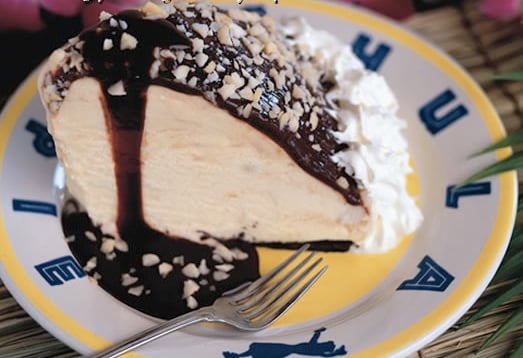 A HAWAII Magazine reader asks via email:
We had the Hula Pie at Duke's. Would you have the recipe?
You ask. We answer.
Hula Pie has been a longtime staple of TS Restaurants (which owns five eateries in the Islands, including the popular oceanside Duke's Canoe Club Waikiki.) It's a favorite dessert with Island visitors; so much so that the TS Web site devotes a whole page to how to eat a slice. (Hint: try a fork.)
The recipe (and reader question) became a subject of fascination for our always-inquisitive HAWAII Magazine team, especially when the staff at Duke's didn't return repeated phone calls on the subject. (Update: They've finally promised us the recipe, but it hasn't arrived yet. We'll share it when we get it.)
Perhaps no one wants you to know just how simple a concoction Hula Pie is. There's no baking, and you can find most of the ingredients ready made: chocolate cookie pie crust, macadamia nut ice cream, hot fudge, whipped cream, chopped mac nuts.
Once you pile all this stuff dizzily high, however, the Hula Pie turns into a mountain of pure dessert indulgence that impresses the heartiest of eaters.
On the next page is our recipe, which we think is identical to the "real" thing. Try it for yourself and let us know what you think.
Hula Pie
Ingredients:
1 9-inch chocolate cookie piecrust
1 half gallon macadamia nut ice cream (Seems like a lot of ice cream, but you'll be piling it high.)
4 ounces chocolate fudge topping
1 shot of espresso or strong coffee
6 ounces macadamia nuts
Whipped cream
1. Bring fudge topping to room temperature.
2. Scoop ice cream into prepared pie shell, smoothing it into a rough dome, or bombe, as high as you'd like.
3. Warm espresso or coffee and mix into chocolate. Use a warmed knife to spread topping even over ice cream bombe.
4. Freeze until ready to serve.
5. Cover top of pie with a layer of whipped cream and chopped macadamia nuts before serving.
Can't find macadamia nut ice cream in your local store? Just substitute good vanilla ice cream—soften it just a little and mix in chopped mac nuts. We actually prefer this option to store bought mac nut ice cream, as the flavor is more balanced and the texture of the nuts will remain firm, not soggy.
If you'd prefer to make your own pie crust, too, simply mix chocolate wafer crumbs (about a cup and a half) with a little sugar and about ¼ cup melted butter. Press the mixture into a pie pan.
But don't put down your fork just yet! Dessert's not over. Here's the recipe for a macadamia nut pie we really like:
---
Roy's Macadamia Nut Tart
While we'd never turn down a slice of Hula Pie from Duke's, one of our favorite macadamia nut pies comes from renowned Hawaii chef Roy Yamaguchi. His take on the dessert is similar to a classic pecan pie. The ice cream's not missing from this one. We just serve it a la mode.
Yamaguchi's recipe was originally published in the September 2000 issue of
Bon Appétit
Magazine. If you want to try the real thing (pictured, right, in the restaurant version), it's available at many of his restaurants, and served on the
prix-fixe
menu of his flagship East Oahu location.
Ingredients:
3/4 cup (packed) golden brown sugar
1/2 cup dark corn syrup
3 large eggs
3 tablespoons unsalted butter, melted
2 teaspoons vanilla extract
1 frozen 9-inch deep-dish piecrust
2 cups roasted unsalted macadamia nuts
Vanilla ice cream (optional)
1.Preheat oven to 325°F.
2.Whisk sugar, corn syrup, eggs, butter and vanilla in large bowl to blend.
3. Fill piecrust with nuts.
4. Pour sugar mixture over nuts in piecrust.
5. Bake pie until center puffs slightly, about 55 minutes. (It can be prepared 1 day ahead. Cover and refrigerate. Let stand 2 hours at room temperature before serving.)
6. Serve with vanilla ice cream, if desired.
We like topping our tart with a drizzled swirl of melted chocolate. Some might think that optional, or a bit much. We don't eat dessert with those people.