Recipe: How To Make Hawaiʻi-Style Bibingka
Learn how to make this tasty Filipino rice cake by Isabelle "Bella" Toland, the new chef of the Banyan Tree Restaurant at the Ritz-Carlton, Kapalua.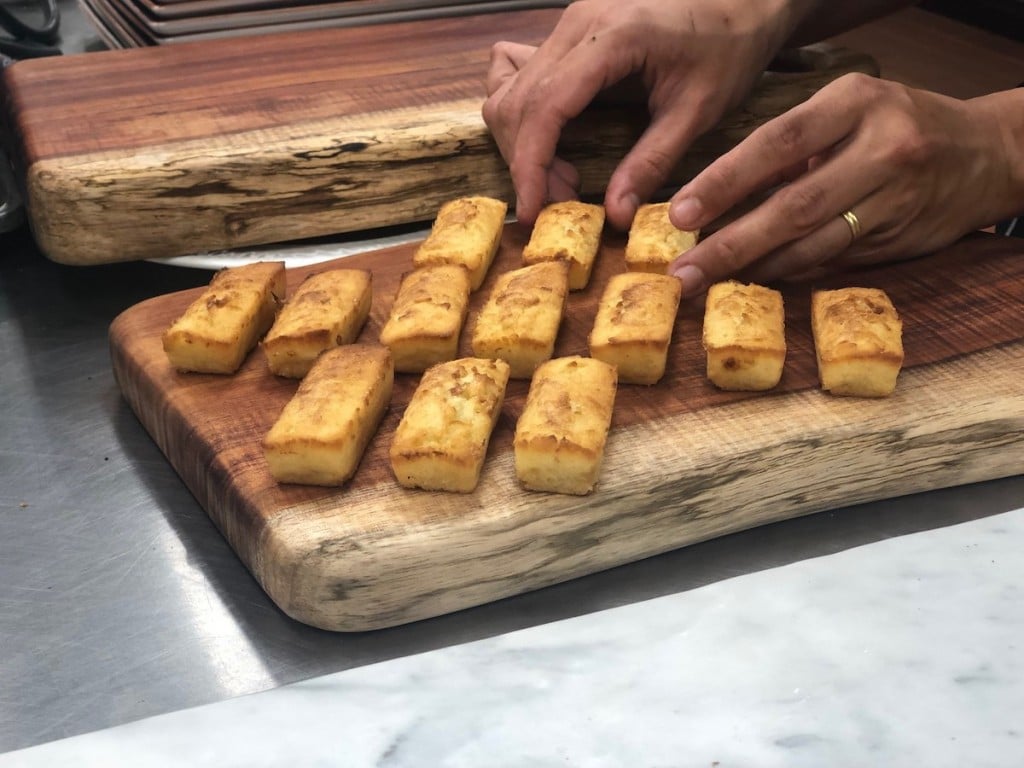 One of the benefits of Hawaiʻi's multicultural population is the diversity of food you can find in the Islands.
Immigrants who came to work on sugar plantations a century ago brought the food they ate in their home countries with them to Hawaiʻi. This explains why you'll find rice (Japanese), kalbi (Korean), chow mein (Chinese), pork adobo (Filipino) and malasadas (Portuguese) at the same potluck!
One such dish is bibingka, a sweet Filipino dessert made with rice flour and coconut. Its texture is similiar to mochi (Japanese rice cake), but this version is buttery and coconuty with a crusty edge that fans fight over.
While it's traditionally served during Christmas, this dessert is eaten year-round in Hawaiʻi. You'll find it at parties, potlucks and office get-togethers.
Isabelle "Bella" Toland, the new chef of the Banyan Tree Restaurant at the Ritz-Carlton, Kapalua on Maui, shares how she makes the bibingka she serves at the restaurant. (Toland, who was born in France but lived in the Philippines, draws inspiration for her dishes from the flavors and ingredients from both cuisines.)
This dessert would have been served at the 2020 Kapalua Wine & Food Festival, which was scheduled to be held in early June at the Ritz-Carlton, Kapalua. The festival was canceled due to the COVID-19 pandemic. The 2021 festival is scheduled for June 10 to 13, 2021.
Bibingka
Ingredients:
1 lb. sweet rice flour
2 1/2 cup sugar
1 tsp. baking powder
3 cups coconut milk
5 eggs, beaten
1 tsp. vanilla
1 cup coconut flakes, plus extra for topping
Soft butter and brown sugar for the pan
Directions:
Preheat oven to 400 degrees Fahrenheit. Combine rice flour, sugar, baking powder. In a separate bowl combine coconut milk, eggs and vanilla extract. Combine wet and dry mixtures. Fold in coconut flakes. Butter your desired pan. (Toland prefers smaller pans, like cupcake pans.) Then sugar your pan with brown sugar. Fill the pan or molds 3/4 of the way. Sprinkle some coconut flakes on top. Bake for 15 to 30 minutes until golden brown. Use a toothpick or skewer to test center. Pull and remove from mold. Cool on a rack out of mold to ensure crunchy corners.