Recipe: Making a "Wheel of Fortune" Free Spin cocktail
The cocktail menu for your next summer evening cookout is finally complete.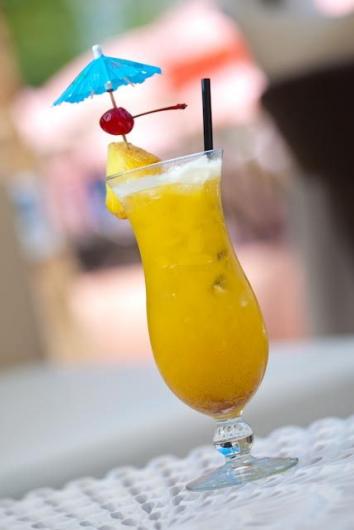 The cocktail menu for your next summer evening cookout is finally complete!
Here's the final recipe in our HawaiiMagazine.com-exclusive collection modern tropical cocktails with a fresh-made twist.
You'll find eight more original cocktail recipes in our Contemporary Tropicals: A Guide to the Best in Island Libationsfeature, in the July/August 2009 issue of HAWAII Magazine.
All of our tropical cocktails were created by Royal Hawaiian Hotel master mixologist Joey Gottesman, who was crafting cocktails using fresh, natural ingredients rather than packaged or bottled mixes in Hawaii long before the modern-day cocktail trend took hold around the world.
For our last cocktail in our online recipe series, we're presenting a fresh tropical fruit-infused vodka cocktail refreshing enough for that summer cookout with friends or an evening in front of the TV with Pat and Vanna.

Free Spin
Gottesman created this cocktail for the Wheel of Fortune golf tournament on the Big Island, while the popular game show was filming a month of shows there last year. It's also an improvement on the classic chi chi—hold the sweet coconut cream, add fresh mango and pineapple instead. The result is less heavy, and twice as refreshing. If you wish, you can still add coconut cream. We wouldn't, though.
Place these ingredients in a blender:
1½ oz. vodka
2 oz. fresh pineapple
1 oz. mango puree
2 oz. pineapple juice
1 tsp. Secret Spice mixture (see recipe below)
Add ice and blend until smooth. Pour contents into a hurricane glass. Garnish with a skewered pineapple wedge and cherry.
Secret Spice mixture:
1 cup white granulated sugar
1 cup brown sugar
3 tsp. cinnamon
Mix ingredients in a bowl until blended evenly.