Recipe: Ulu Rissotto from Humuhumunukunukuapuaa Restaurant
Chef Mike Lofaro's recipe focuses on breadfruit, a Hawaiian staple.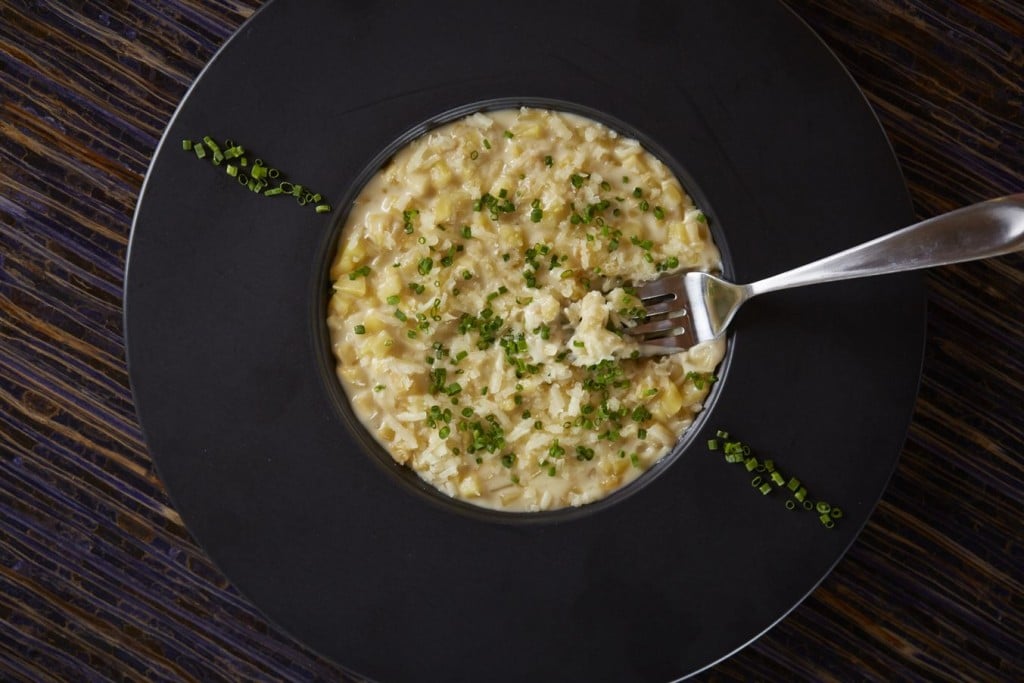 Presented by Grand Wailea, A Waldorf Astoria™ Resort
ULU RISSOTTO:
Serves 4

1 ulu – Steam for 1 hour; cool, peel and mince, then deep fry until light golden brown
½ cup Ulu stock
½ cup Heavy cream
2 ounces Grated parmesan reggiano cheese
2 ounce Crème fraiche
Lemon juice and Zest
Chopped Chives
Reduce ulu stock and cream by half and season. Add fried ulu and cook until slightly mushy, fold in all but ½ ounce of cheese and finish with crème fraiche, lemon juice and zest to taste. Plate and garnish with leftover cheese and chopped chives.
Ulu Stock:
Combine the following
Skins from 1 ulu
2 onions
6 garlic cloves
1 cup white wine
2 gallon of water
Reduce for 2 hours to make 1 cup of stock

About Ulu (breadfruit)
Ulu, as it is called in Hawaiian, was one of the staple food crops the Polynesians brought with them on canoes as they sailed to the Hawaiian islands. A member of the fig family, Artocarpis Altilis (breadfruit) is believed to have originated in Java. Although named breadfruit, it is a highly starched vegetable high in calcium, potassium and vitamins A and B. To Hawaiians past and present, ulu is an iconic, cultural symbol of abundance. Some consider ulu the next super food that can save the world from hunger. Hawaiian legend tells of the deity Ku who saved his family from starvation by burying himself in the ground and emerging as a healthy breadfruit tree.
Recipe courtesy Chef Mike Lofaro
Chef de Cuisine of Humuhumunukunukuapuaa at Grand Wailea, A Waldorf Astoria Resort