Red Barn Farmstand connects growers with the community
Holoholo Farm connects the community with growers through veggie subscriptions, a farmstand and more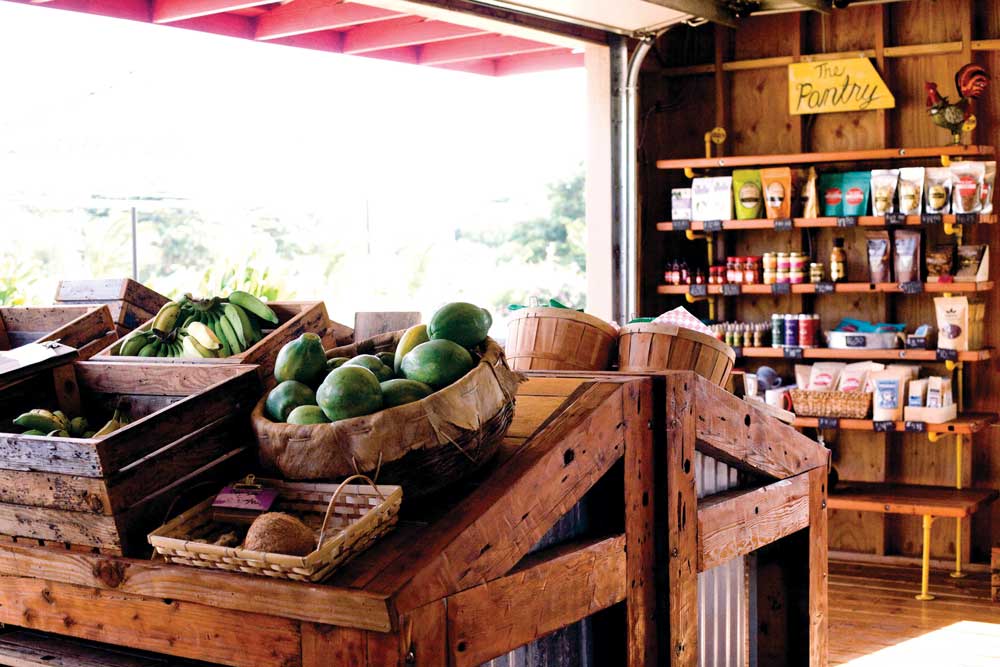 Even by farmer standards, the women at Holoholo Farm, Jill Nordby and Jamie Sexton, have a lot going on. First, there's their subscription service, which aggregates fruits and vegetables from farms around Oahu to deliver 2,000 pounds of produce weekly to 300 subscribers. Plus, they have a six-acre organic farm in Haleiwa, where they grow their own produce. Late last year, they opened the Red Barn Farmstand in Haleiwa, an outdoor café and market with picnic tables and bales of hay for seats. On top of all that, they run the adjacent mobile kitchen, renting it out to other farmers and using it themselves to make wraps and beet hummus for the farmstand. And then with their spare time, they host school kids to show them what a farm looks and tastes like.
Like most things, it had all started out relatively small and simple. Jill Nordby began the subscription service in 2012 out of her garage in Hawaii Kai. Her focus had always been on getting kids to eat more vegetables: Of the 22 drop sites, 16 are schools. She and Sexton worked with farms on the North Shore, Waimanalo, and Twin Bridge Farms in Waialua, but they sensed a demand for more locally-grown and diversified produce. "What if we have our own farm?" Nordby wondered. So they submitted a business plan to Kamehameha School's Mahi Ai Matchup competition and won first place: $25,000 in startup money and six acres in Haleiwa, rent-free for five years.
Landing right in the middle of the North Shore, in one of Oahu's main agricultural areas, probably had something to do with the projects piling up. Elisabeth Beagle, one of the twin farmers that Nordby and Sexton had brought on to manage the farm, says, "our farm developed differently than the business plan imagined it would. Most simply, the business plan we wrote envisioned a six acre production farm. … We thought that we would operate the farm with profits as our top priority. … As we developed a deeper understanding of our community we realized that our initial plan—to focus on production—didn't reflect the needs and opportunities we saw in our neighborhood." Hence the student visits and educational outreach and large projects such as a grant from the USDA's Farmers Market Promotion Program to develop a mobile kitchen which farmers could share to make value-added goods. Then, when Twin Bridge Farms offered the women Red Barn Farmstand as a place where the community could gather and pick up affordable, local produce, they just couldn't say no.
In some ways, they have since scaled back: From growing novelty crops like amethyst and yellow beans, tomatillos, and mouse melons (round cucumber relatives that look like tiny watermelons), the new farm manager Kellie Gutheil-Lee has decided to focus on herbs for the six acres. They will supply the subscription boxes, and any excess will be sold at other markets. But Nordby and Sexton are experimenting in other ways, particularly at Red Barn Farmstand. In addition to fresh produce and grab-and-go food, it stocks products like poi from Maunawili, Voyaging Foods' pancake mix made with taro flour, and Haleiwa Plantation's noni leaf tea. The stand is "a perfect outlet for small farmers—they can bring what they have, and we can meet face to face," Nordby says. They recently debuted a monthly Farmers and Friends Fridays, with a lunch menu featuring one of Holoholo's partner farms and an opportunity to talk story with the farmer. When it comes to thinking of ways to connect producers with customers, Holoholo just can't stop.
For more information on Holoholo Farm, visit
holoholostore.com
.