Rediscovering the Art Form of Hawaiian Kapa
Made from the fibrous inner bark of the wauke, kapa clothed early Hawaiians for centuries before Westerners arrived in the Islands.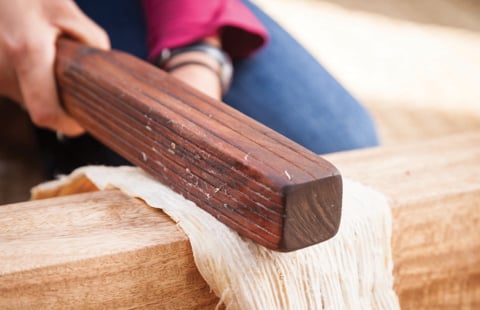 "I think you can go thinner," says Lisa Schattenburg-Raymond, leaning over my work with a critical eye.
I nod seriously, like a good apprentice, but feel a flash of annoyance.
I've been pounding my scrap of kapa for more than an hour. My back is sore from sitting cross-legged on a lauhala (pandanus) mat. My forearms are tired from the repetitive motion of lifting the small but heavy hohoa, a round, wooden mallet used for beating kapa. I'm ready to be done.
But as I regard the narrow strip of soft, wet bark before me, draped across my wooden anvil like a limp lasagna noodle, I feel a small, warm glow of satisfaction abating my resignation. Earlier this morning, it was a wauke plant, a tall, straight paper mulberry sapling that, for the past 18 months, had grown under the Kahului sun in a small grove at the Maui Nui Botanical Gardens. Now, using only my hands, simple tools and patience, I've transformed it into a useful object: cloth.
I roll my neck and give my shoulders a quick rub before picking up the hohoa again with dutiful fortitude.
"My mantra is, 'Four more hours,'" says Schattenburg-Raymond encouragingly, as the other women with us in the hale (house) at the botanical gardens chuckle over their work.
Made from the fibrous inner bark of the wauke, kapa clothed early Hawaiians for centuries before Westerners arrived in the Islands. Pounded into long, papery sheets, and often stamped with geometric patterns or stained with colorful dyes made from native plants, kapa was traditionally used for clothing and blankets, and also played an important role in many religious rituals. Similar bark cloths are still produced by indigenous peoples across Polynesia.
With the arrival of Western culture, fabric and fashions, kapa making all but disappeared in Hawai'i by the turn of the 1900s. But small groups of artisans throughout the Islands, like the Maui ones I'm learning from today, are working to bring it back, rediscovering the lost art form one clue at a time, in a learning process that's almost as slow and painstaking as that of making kapa itself.
"It's so difficult because it takes really specialized equipment, which is hard to come by," says Schattenburg-Raymond, a renowned Maui kapa maker and instructor, whose works have been shown in multiple exhibits of the craft statewide. She is also informal leader and organizer of a Maui group of kapa makers. "You have to grow your own plants. It takes a year and a half to two years before your first harvest. It's not for everyone."
Schattenburg-Raymond learned traditional kapa making through a combination of word of mouth, trial and error, and research. She travels regularly to the Bernice Pauahi Bishop Museum on Oahu to look at the centuries-old early Hawaiian kapa in its collection, studying their construction, watermarking and repairs, attempting to mentally deconstruct how the pieces were made.
"As a practitioner, it's just mind blowing … how they made something so fine and so perfect. Literally, some of these pieces are almost see-through," she says. "When it's wet, it's like tissue paper, so delicate. How they made these big pieces that are so strong and so fine is hard to imagine."
A horticulturalist and, until 2010, decade-long executive director of the Maui Nui Botanical Gardens, Schattenburg-Raymond was initially fascinated by the mostly plant- and nature-derived dyes used by early Hawaiians to color kapa. Through conversations with practitioners, she soon turned her attention to kapa making.
"I'm so interested in native plants, and it was an amazing application of all that knowledge into something creative," says Schattenburg-Raymond. "Being at the botanical garden and having all these resources right at my fingertips was just such a rare opportunity."
Kapa makers share knowledge and techniques among themselves, but with her tireless research and devotion to learning the craft, Schattenburg-Raymond has been leading the way.
"A lot of us are just kind of Lisa Raymond groupies. I always say I'm like the kid who copies her homework at school," says Denby Freeland-Cole, a Maui kapa artist, laughing.
A soft tapping sound fills the hale as Schattenburg-Raymond positions a strip of fresh white bark over a smooth anvil stone, and begins beating it gently with a smooth hohoa. As the other women take up their beaters and set to work, the plink, plink, plink of their hohoa against stone strikes high and low notes much like music, creating a gentle, arrhythmic dissonance that's pleasantly meditative.
After a few moments of contemplative tapping, they begin to chat in the easy, comfortable way that has passed the time of women at their busywork for thousands of years. Since the beating of kapa and proper interweaving of dyes on cloth can often take months to result in a finished piece, talk is plentiful. Conversation on the morning I visit turns to the recent Merrie Monarch Festival and, of course, what everyone was wearing.
"Nobody was wearing kapa this year," Schattenburg-Raymond tsk-tsks. She notes approvingly, however, that one halau hula (hula troupe) colored its garments with natural dyes.
A high point of the modern kapa-making movement occurred in 2011, when artisans from around the state collaborated to dress a halau hula competing in the festival. But while seeing their work in living motion was a thrill, the project ultimately proved a reality check for artisans, who realized the delicate, papery fabric was easily torn.
"We still haven't really figured out how to make it wearable like it was back when it was worn (as clothing)," Schattenburg-Raymond says. "But we're making progress. We're getting better and better as we go.
"I swear, I learn a new, awesome thing every month that changes my perspective on it. It's a living thing at this point."