Refueling Hawaii's ag industry with pongamia
An experimental crop may help Hawaii reach its renewable energy goals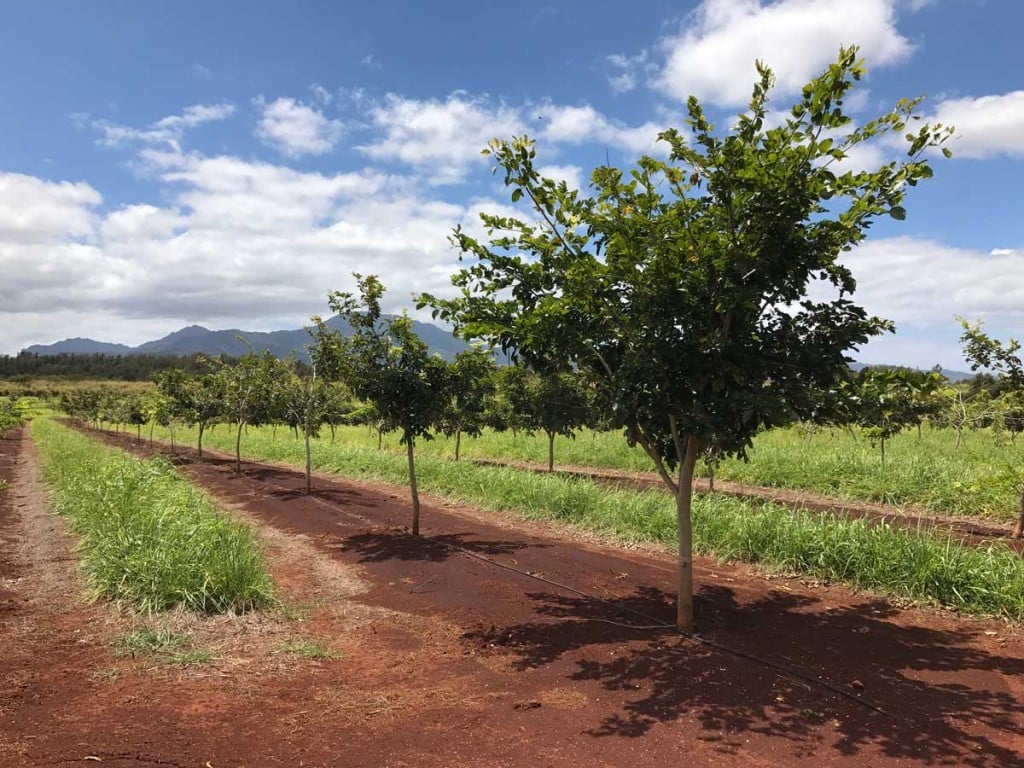 On the North Shore of Oahu, a 200-acre orchard of 10-foot-tall trees on former Waialua Sugar lands stand poised to shake up Hawaii's ag scene. Planted in 2015, the experimental plot holds hundreds of pongamia (also called Indian beech), trees native to Asia. The planted acreage is experimental not because pongamia are new to Hawaii—you can see towering specimens that were planted on the grounds of UH Manoa in the 1950s, and in backyards throughout the state—but because this is the first time these trees are being farmed.
"There's no book on how to grow pongamia orchards," says William Kusch, Hawaii project manager for TerViva, the company credited with identifying the plant as a potentially viable crop and the one behind the North Shore plantings. "We looked at dozens of potential alternative crops and pongamia just stood out and was far more compelling and attractive than the rest," he says.
So, what about this unassuming tree makes it so great as a crop? As it turns out, a lot. While inedible for humans, its seed pods can be squeezed for oil that can be converted into biofuel and the leftovers used to create plant proteins and seedcake that can feed livestock. Its byproducts are nutrient dense. According to TerViva, pongamia produces 10 times the amount of oil per acre that soy does and three times the amount of plant protein.
What's more, says Kusch, the trees are hardy. "Everywhere we've planted, the pongamia trees have taken off and been thriving," he said. They're able to grow in deserts and even in thick clay. This makes it an easy replacement crop for existing farms with failing or unprofitable harvests. In Florida, TerViva has partnered with citrus growers to plant pongamia where heritage crops have been destroyed by a devastating fungus. The company says pongamia only require a quarter of the water needed to grow similar crops like soy. And, since pongamia is a legume, it can grab its own nitrogen—the most rate-limiting and in-demand nutrient for a plant's metabolism—from the otherwise unusable bounty in the atmosphere; in short, it can help feed and fertilize itself.
"We always joke that it's too good to be true," says Dana Cotter of Elemental Excelerator, a nonprofit that helps fund and mentor promising energy technology start-ups in Hawaii. TerViva has been affiliated with the accelerator since 2014. "We wanted to help them prove out their idea and produce scale-able results," says Cotter. "One of the reasons we love them is the company's multi-faceted downstream market potential. And, it's a great opportunity to bring jobs back to the Islands."
It's also a great opportunity to help meet the state's goal of 100 percent renewable energy by 2045. "We've established that oil from pongamia works great when you convert it to biodiesel, and we've also demonstrated that we can convert pongamia oil into jet fuel," says Kusch, "We will never be able to supply all of the liquid fuel demand out here, but we can [meet some of the supply] for renewable liquid fuels that are currently in very high usage in the state." According to Kusch, TerViva has been in talks with Pacific Biodiesel on Hawaii Island to possibly use its facilities as a processing plant. He says that with the equipment that company already has, TerViva is already able to make biodiesel in Hawaii from pongamia, once orchards here are producing seedpods.
TerViva recently inked a partnership with Maui's Alexander & Baldwin to plant the first neighbor-island plot of pongamia on former sugarcane land. Planting is expected to take place later this summer. Kusch says the two companies have a basic plan for ensuring the Maui crop is profitable—selling off the oil, seedcake and shells (plant protein)—but some of the details, including exactly where in the state the crop will be processed, are still in discussion. There's no rush, he says, since the trees take four years to mature. One thing is certain, says Kusch, "everything that we grow here will be processed and used in Hawaii."