Remember Those Ornaments2Remember?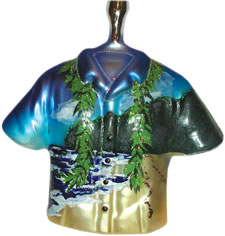 We celebrated HAWAII Magazine's 25th birthday with a special giveaway from Ornaments2Remember.

We asked you to tell us how you brought Hawaii home for the holidays. You didn't hold back. Some of you even wrote poems!

Our ballot box filled up quickly with entries like these two:

"Each year we have the ceremonial hanging of the Hawaiian Christmas tree ornaments including an ukulele, Santa in a canoe, and Santa enjoying a mai tai."
—Patricia Armacost of Beaverton, OR
Hawaii your goal—money is slow
Get our magazine—it puts on a show
There's hula girls—hunky men
Great food—it deserves a ten
—Brian Hahn of State College, PA


Congratulations to the 25 lucky winners who received a limited edition HAWAII Magazine 25th anniversary ornament, specially designed by Ornaments2Remember.

Jessica Takach of Westbrook, ME
Carol Hawk of Orangevale, CA
Lisa LaBerge of Tijeras, NM
Patricia Armacost of Beaverton, OR
Donna Schneider of Upper Marlboro, MD
Kathy Powers of San Antonio, TX
Susan Santoro of Maumee, OH
Elaine Powell of Palm Coast, FL
Gail Roser of Grants Pass, OR
Sherri Patrick of Orange, CA
Kris Keikai Kegerize of Sioux City, IA
Lee Bacon of Vista, CA
Kimberle Byrd of Kalamazoo, MI
Tracy Reigle of Cardiff by the Sea, CA
Clara Meeks of Eugene, OR
Harry Inouye of Torrance, CA
Adeline Andres of Harvard, MA
Karyn Gaulin of Fanwood, NJ
Robert & Carol Kreager of Sioux Falls, SD
Lisa Zaret of Cincinnati, OH
Kika DePonte of San Jose, CA
Lisa Lewis of Streetsboro, OH
Brian Hahn of State College, PA
Joyce Rodrigues of Swansea, MA
Janus Danis of Simi, CA

Check out ornaments2remember.com for special keepsakes for all occasions!