Remembering Elvis Presley's "Aloha from Hawaiʻi via Satellite"
It was a performance like no other.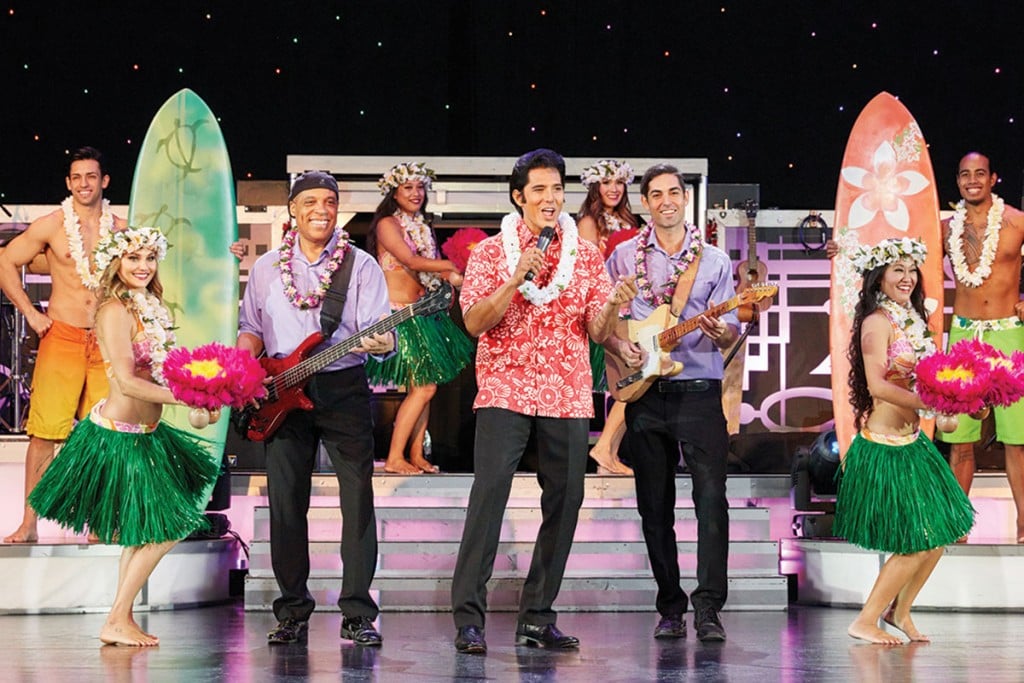 It's January 14, 1973.
Elvis Presley takes the stage at the Honolulu International Center—now known as the Neal S. Blaisdell Center—to make history. Wearing a gem-studded white jumpsuit and a hip-length cape, Presley performed a 22-song set and said aloha, in a way only the king of rock-and-roll can, not just to the hundreds of fans in attendance, but to the world.
"Aloha from Hawaiʻi via Sattelite," was one of the most significant live performances by Elvis Presley for a multitude of reasons. Using—at the time—cutting-edge satellite technology, the show was the first live satellite broadcast to feature a single performer in history. (The 1967 Our World black-and-white television special was the first live international concert presented via satellite.) It was seen by an estimated 1.3 billion people at the time of its showing and the soundtrack of the show reached number one on Billboard's Hot 100. It was a true spectacle in every sense of the word. And it all came from Presley, and his want to entertain "all his fans throughout the world," according to his manager Colonel Tom Parker.
Produced by Pasetta Productions—owned by Marty Pasetta, who had previously done specials for the likes of prominent performers such as Bing Crosby, Don Ho and Glen Campbell—and distributed via RCA Records and NBC, Presley and his manager were paid $900,000 (equivalent to $5.25 million after inflation) to do the show. Pasetta, who had recently seen Presley perform live in Long Beach, California, at first was not convinced he could produce an hour-and-a-half special with the king. Not only was his stage presence lacking in later years, but he'd put on some weight.
And so Pasetta went straight through to Presley to talk about his qualms and ideas for a grandiose stage—one with a band placed on a riser behind Presley, who would be low and closer to the audience, as well as with flashing neon signs that read "Elvis" in a multitude of languages. Presley was impressed by Pasetta's frankness and after a four-hour meeting, left for his home in Graceland excited to work with the producer. Increasing his schedule of karate, adjusting his diet and taking weight loss pills, Presley lost over 25 pounds in a month's time.
Another issue arose during the production of the show however, Pasetta couldn't charge audience members a ticket fee—as they were technically considered a "television live audience." The solution came from Honolulu Star-Advertiser writer Eddie Sherman, who contacted Presley's manager with the idea of taking donations from those who wanted to attend the concert and using that money to help fund a benefit cancer research program at the University of Hawaiʻi, dedicated to local singer-songwriter Kui Lee who had passed in 1966 due to lymph gland cancer. (The show ended up exceeding its planned donation goal of $25,000, $145,700 in today's economy, and raised roughly $75,000, or $437,200 post inflation.)
Of course, you can't forget about the suit. Oh, the suit. Created by Presley's costume designer Bill Belew, the only thing the king asked for was a costume that would say "America" to international viewers. After playing around with the idea of outlining a map of the U.S.A, or using the flag as a design, Belew landed on the bald eagle to represent the country. Producing the suit took Belew's entire staff, as it contained over 6,500 individual stones and gems embroidered onto the costume.
Finally, it happened. Elvis took the stage, fans cried, shouted and cheered, and for 90-minutes, the king of rock-and-roll was truly on the top of his game. Delivering passionate performances of some of his hit songs like "Hound Dog," "Love Me" and "An American Trilogy," Presley also paid homage to Kui Lee by performing Lee's "I'll Remember You," before ending the set with "Can't Help Falling in Love." It was, truly, a good day to be an Elvis fan. And while the show had been marketed as being broadcasted "live to the world," in reality it was only shown live to audiences in Asia and Oceania. The United States of America didn't even see the performance on television until April—to avoid programming conflicts with the Super Bowl VII and Elvis on Tour which was playing in cinemas at the time.
Regardless of the marketing hype, "Aloha from Hawaiʻi via Sattelite" is truly one of Elvis's greatest performances. At the time, it was a technical marvel and for those in the audience, an unforgettable experience. And it happened right here in Hawaiʻi.