Renowned Hawaii artist and historian Herb Kane dies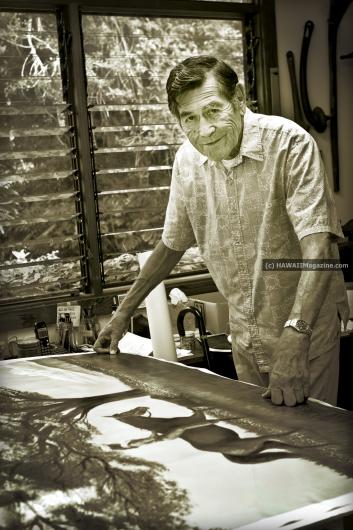 "Every brushstroke and every word has brought and will forever bring wisdom, beauty, inspiration and understanding."
That was a quote by Hawaiian artist, historian, author and founder of the Polynesian Voyaging Society, Herb Kawainui Kane, posted on his website this morning.
Kane died quietly last night in his longtime Big Island hometown of Kona at age 82.
Dozens of people left comments, shared stories and offered condolences on the website of the beloved and revered Kane.
Daniel K. Akaka Jr., the son of the U.S. senator, posted on the site: "Herb Kane was a titan and a giant amongst Hawaiian historians … His work will continue to inspire generations of students of Hawaiian culture and those who love Hawaii."
Kahu Wendell B.K. Davis of the Kahikolu Congregational Church at Kamehameha Schools Hawaii, wrote that Kane's artworks "will forever be a blessing to Hawaii and its people."
Kane had gifted the church with a painting of the Chiefess Kapiolani defying Hawaiian fire goddess Pele.
"He is a master teacher as his paintings have been an instrumental part of our curriculum in teaching the many students at Kamehameha Schools Hawaii to see our culture through faith and our faith through culture," Davis also wrote.
Kane was born in 1928 in Minnesota, and raised on the Big Island, in Hilo and Waipio Valley, and also in Wisconsin. After as stint in the Navy, he settled in Chicago earning a master's degree from the School of the Art Institute of Chicago in 1953. He would spend 14 years in Chicago as a graphic artist before returning home to the Islands, settling in rural south Kona.
Above all of his life's endeavors, Kane was, at heart, an artist. And a great one, at that. His signature canvases—grand, detailed depictions of historic moments and events in ancient Hawaii history and Hawaiian culture—won Kane worldwide acclaim over his lifetime. His paintings can be found on seven U.S. postage stamps, including one commemorating the 50th anniversary of Hawaii statehood in August 2009.
His works have been on display at various museums, both in Hawaii and nationwide, coveted in private collections and published in various books and periodicals. Kane's well-known painting of Pele is on display at the Big Island's Hawaii Volcanoes National Park.
Kane's extensive research and longtime interest in Polynesian canoes and voyaging culminated in 1975 with his work with the Polynesian Voyaging Society. Kane helped design and build the research and educational non-profit's Hokulea, a traditional Polynesians double-hulled voyaging canoe best known for its inaugural 1976 voyage from Hawaii to Tahiti without modern navigational instruments.
The Hokulea has since traveled more than 110,000 miles to such places as New Zealand, Tonga, Micronesia and Japan.
Kane was selected as a Living Treasure of Hawaii in 1984, and received an honorary fine arts doctorate from the Art Institute of Chicago in 2009.