Rent a Prius for $8.45 an Hour with Hui Car Share
All you need to drive with this Oahu-based car share program is your phone, a credit card and a valid drivers license.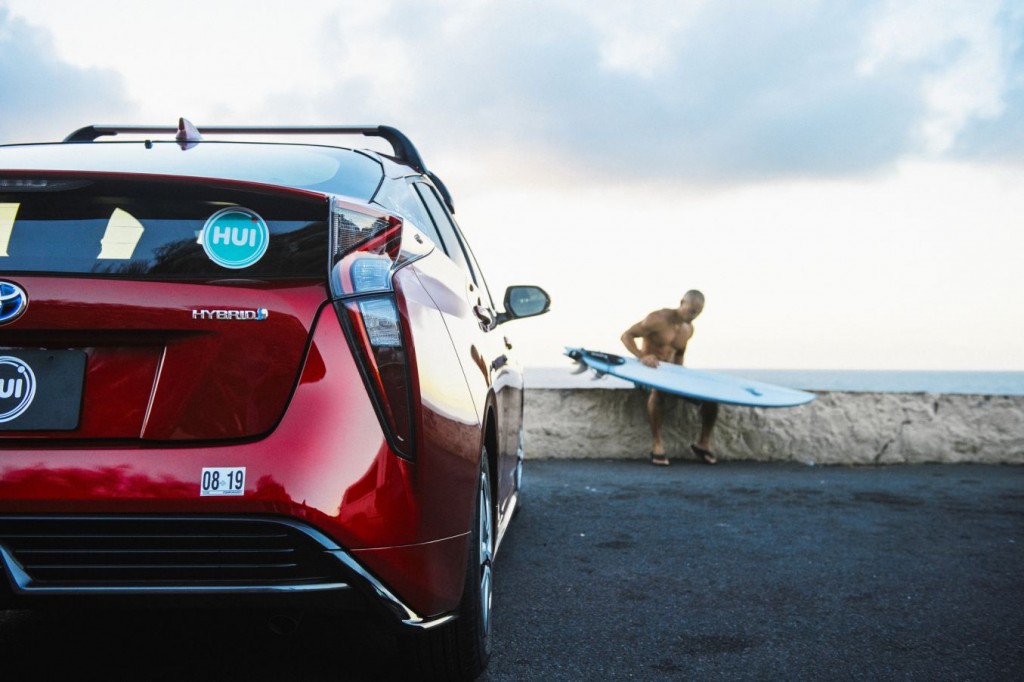 Technology never ceases to amaze me. When Uber and Lyft first started their services, I was astonished by the fact that I could call for a ride at any location with just an app. Now I'm in the Pioneer Square parking garage in Downtown Honolulu, unlocking a Prius with my iPhone, which I reserved and paid for all with the easy-to-use Hui Car Share app. Turns out, the future is now.
Hui Car Share is a 24/7 car-sharing program that launched early last year. It allows residents and visitors to rent cars by the hour, at any hour, which is great if you're not fully committed to renting (or if you live here, buying) a car. Also, gas is paid for and insurance is covered. So how does it work? Hui Car Share has placed numerous cars at stations throughout densely populated areas in Honolulu, such as Waikiki, Downtown, Kakaako and Ala Moana. After going through a validation process, where you take a picture of yourself next to your driver's license, you can reserve one of these cars and pick it up from their assigned stations via the Hui Car Share app on your phone.
I decided to try the service out for myself and reserved a car for only $8.45 for an hour at the Pioneer Square parking garage, a few blocks away from where I work. As I entered the garage, I asked an attendant where the Hui Car Share stall was located and he pointed me in the direction of a shiny Toyota Prius. (There are other makes and models to choose from, and prices may vary.) My phone, which still had the Hui Car Share app open, synched to the car via Bluetooth and I was able to unlock the car. After unlocking the vehicle, I spent a solid five minutes looking for the keys, only to remember that cars as new as this can be started all at the push of a button.
Although I didn't find any keys in the car, I did find a number of handy, useful accessories left by Hui Car Share. A phone charger, which had cables for every type of phone, from Androids to iPhones, was conveniently available for use. A limited-use credit card to use for gas was also in the center console, and it took me a while to realize that if you use Hui Car Share, you don't have to pay for gas. That's crazy. A mount for your phone was also already set up, so you don't have to keep looking down at your lap for directions while driving.
With no real destination in mind, I drove to Ala Moana Center to run some errands. Parking the Prius, I hit the "End Reservation" button on the app on my phone, which nearly ended my whole trip. Luckily, the app gave me the option to rethink my decision and I hit the "Lock" button instead. (The car gave me a reassuring beep beep.) After trying on some sunglasses, grabbing a coffee and buying a cardigan at the mall—you know, errands—I walked back to my car only to realize I had 10 minutes left, not nearly enough time to return the Prius back to its assigned station at Pioneer Square. Fortunately, this predicament was easily solved, as the Hui Car Share app allows users to extend their rental periods by increments as small as 15 minutes; meaning I only have to pay for a fraction of what an hour would cost me.
Back at my assigned station—there are roughly 35 stations on Oahu, with each having two to five vehicles, and you have to return the car to the station from which you retrieved it—I park my car, lock it and end my reservation. And it's over, just like that. I didn't have to wait in any lines, sign any forms or give anyone my debit card. Instead, my debit card is automatically charged through the app, I get an email of my receipt and I'm on my way.
For more information, visit Hui Car Share's website.