Restoration work begins at historic Pearl Harbor air control tower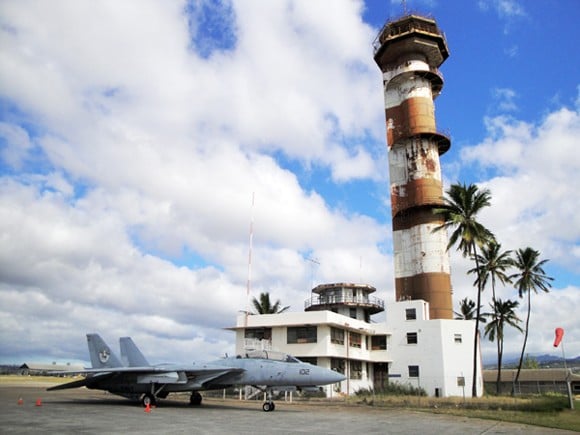 "Air raid Pearl Harbor. This is no drill."
Those were the first words broadcast from the Ford Island Field Control Tower at Pearl Harbor on the morning of Dec. 7, 1941, as hundreds of Japanese fighters, bombers and torpedo planes attacked the Oahu naval base.
For nearly seven decades, the historic landmark has stood guard over Pearl Harbor and Ford Island, 441 acres of land situated in the harbor's East Loch. And over the years, the control tower, which is located near the hangers that now house the Pacific Aviation Museum, has been slowly deteriorating.
The tower's steel stairs, landings, ladders, beams and other areas are experiencing severe corrosion and, in some areas, need complete removal and replacing. Visitors are not allowed in the tower or its former operations building, which once housed an aerological center and observation deck.
The first step in reversing the tower's decades-long decay was taken this morning with the official launch of a stabilization and restoration project aimed at keeping the tower standing tall on the Pearl Harbor skyline for years to come.
Kickstarting the project is a recent $3.8 million allocation from the Department of Defense. The Pacific Aviation Museum is seeking donations from supporters to help fund the remainder of the tower's estimated $7.5 million restoration.
Construction of the 158-foot control tower began in early 1941. At the time of the attack on Pearl Harbor, the tower structure had been completed without a portion of the platform on the top. Of the more than 70 aircraft on the ground at Ford Island on the morning of the attack, 33 were destroyed. Despite this, the Ford Island air base remained operational throughout the attack. The base was officially deactivated in 1962.