Rihanna in Hawaii for work, some play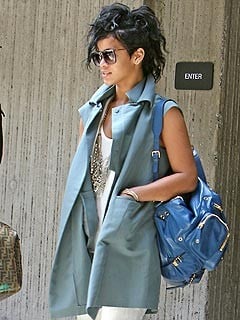 Pop star Rihanna arrived clandestinely in Hawaii yesterday, reportedly for some vacation time and to record tracks for her next album.
Apparently eluding notice from the frenetic paparazzi corps permanently camped at Los Angeles International Airport, Rihanna was photographed by fellow travelers as she arrived in Honolulu looking relaxed and happy.
Rihanna, 21, smiled and laughed while being filmed walking through Honolulu International Airport and waiting for a ride curbside with a friend. (Click here for video from celeb gossip Web site TMZ.com.)
In between downtime at an unnamed Oahu hotel, Rihanna will reportedly be recording tracks at Avex Studios in the east Honolulu suburb of Hawaii Kai—the same studio used by hip-hop artist Kanye West to record tracks for his recent 808s & Heartbreaks album.
West and hip-hop producer/musician Jay-Z—the latter, the former CEO of Rihanna's record label Def Jam—have also been spotted on Oahu in recent weeks. Could the three be collaborating here on Rihanna's next album? Stay tuned.
UPDATE, 4/3/2009: Turns out the R&R-in-Hawaii forecast was wrong. After a couple of days of work in Hawaii, Rihanna was spottted in New York City late Thursday night (4/3) and back in her home island of Barbados today. Ah, to be young and jet set!