Road Tripping Maui's Kahekili Highway: What to Do, Eat and See
Find an art gallery, scenic views and maybe the best banana bread on Maui along this twisty road through Kahakuloa Village.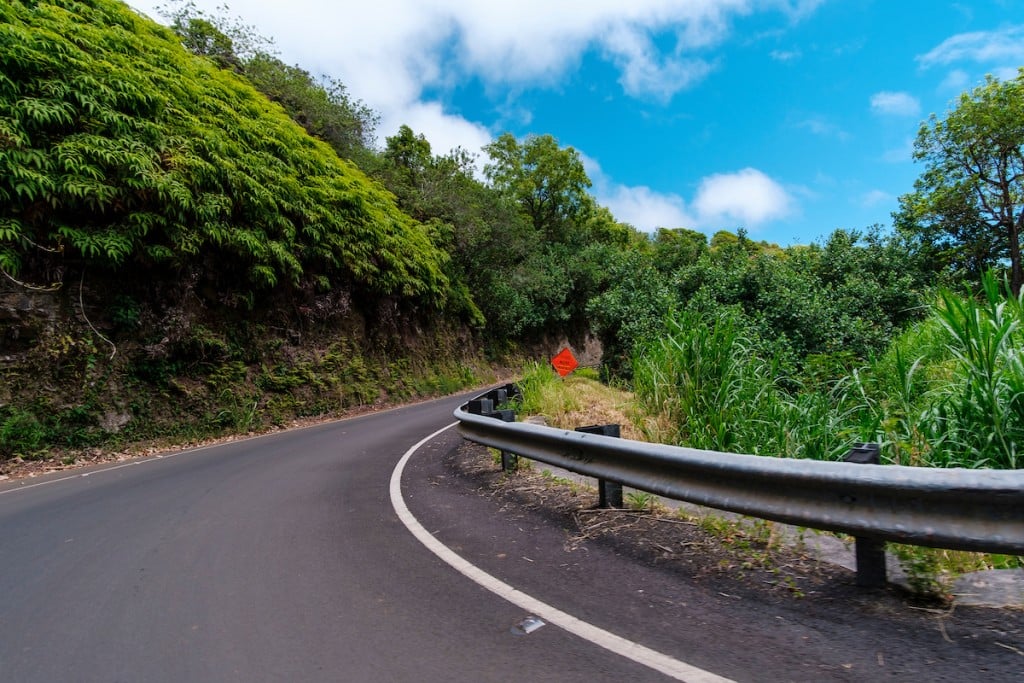 Kahekili Highway, which stretches from central Maui to the island's north-western tip, is truly the road less traveled. Known for its winding cliffside roads and very narrow stretches of pavement, this highway matches the white-knuckle driving experience of the Road to Hāna. But, like the Road to Hāna, there are so many awesome things to see, do and eat along the way, from eccentric art galleries, panoramic outlooks and some truly exceptional banana bread. If you think you're up for the drive, check out this guide to Maui's Kahekili Highway.
Pōā Pūlehu Maui
View this post on Instagram
If you're starting your road trip from Kahului, as many visitors do, grab a bite from Pōā Pūlehu Maui—you'll need it. Dealing out delectable plates of Hawaiian BBQ housed in burgers and sandwiches, a hearty meal here will surely keep you fueled up for the long drive ahead. But don't eat too much, or the road's winding nature might make you feel queasy. Instead, save some grub for one of the many scenic outlooks dotted along the highway—more on that later! Open from 11 a.m. to 4:30 p.m. daily, closed on Sunday and Wednesday, 2644 Kahekili Hwy, Wailuku, (808) 381-3330.
Turnbull Studios
An eclectic collection of prints, sculptures and paintings from over 30 local Maui artists, Turnbull Studios is a true gem of an art gallery located along Kahekili Highway. First opened by Bruce Turnbull, the entire building is made with salvaged material and is filled with grand wood-carved sculptures made by Bruce's son, Steve Turnbull.
Inside the studio, most items are for sale—and you can touch them too, it's actually encouraged!—and are truly unique items to take home, with an entire section of the shop dedicated to "funky" pieces of art. Open daily from 10 a.m. to 5 p.m., 5030 Kahekili Hwy, Wailuku, (808) 244-0101.
So Many Lookouts!
Along the Kahekili Highway there are also tons of scenic lookouts to pull over at and take in the views. It's a unique perspective of Maui's north-western coastline, and the view you get of its many valleys and beaches makes this drive especially worthwhile. And while this should be obvious—don't stop in the middle of the road to take pictures! There are plenty of dirt pull-offs that are safe and won't impede traffic.
Julia's Best Banana Bread
When people ask where the best banana bread is on Maui, Julia's Best Banana Bread often comes up in discussion—it's right in the name. And if Julia's is in contention for being the best on Maui, an island known for its oh-so-ʻono banana bread, then it's also in contention for being the best in the world. And it's not just the banana bread that's awesome, from dried mango to cashew clusters, coconut candy and macadamia nut shortbread cookies, everything here tastes delicious and is all made in-house by Julia and her ʻohana (family). Open from 9 a.m. to 5 p.m., 7465 Kahekili Highway (mile marker 13), Kahakuloa, juliasbananabread.com.
READ MORE: Julia's Best Banana Bread Really is the Best
Kahakuloa
One of the only communities you'll find dotted along Kahekili Highway, Kahakuloa is a great town to stop and stretch your legs—and you'll see most of it in under an hour! From shave ice stands to plate lunch vendors, as well as the pristine Kahakuloa Beach, there's just enough to do here while not leaving visitors with the paralyzing fear of having too many options.
Honolua Bay
What should be your final stop, Honolua Bay is truly one of the best beaches on Maui, especially during the summer season when the bay is calm and the waves are non-existant. Be sure to take your snorkeling kit with you on the drive, as you'll want to use it here! Past Honolua Bay are a number of other fantastic Maui beaches as well, if Honolua is looking too busy.