Julia's Best Banana Bread Really is the Best
People love Julia's, and if you make the drive down to Kahakuloa, you'll understand why.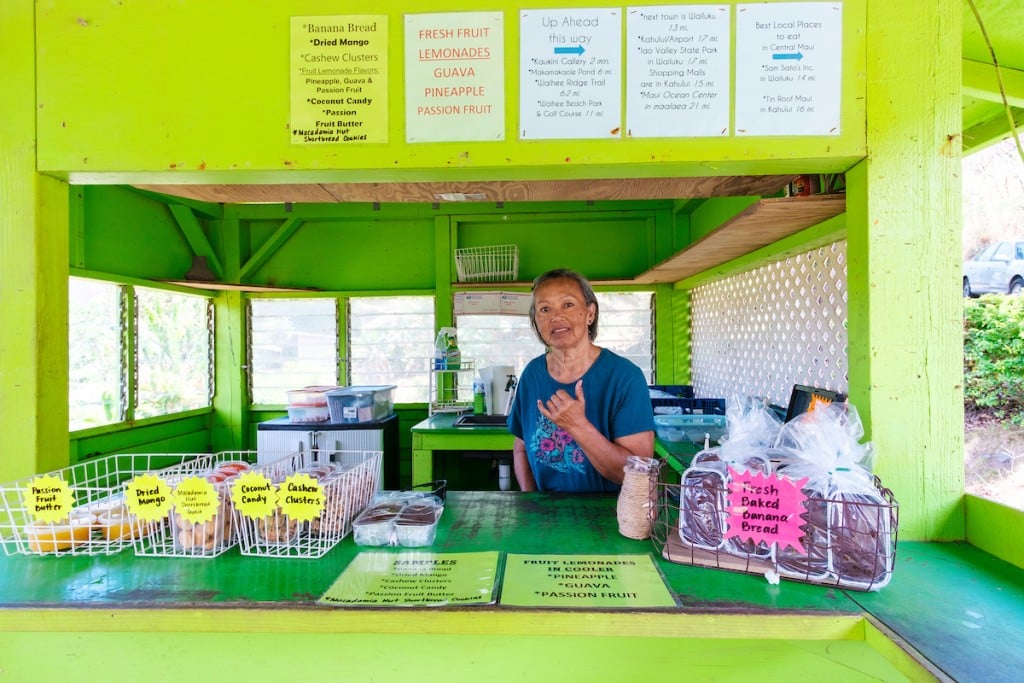 From her shaded treehouse bakery, Auntie Julia watches the cars roll by. Her establishment is quaint, a small green treehouse perched along Kahekili Highway, located in the hard-to-reach town of Kahakuloa, but her product—succulent loaves of homemade banana bread—is famous.
When people ask where the best banana bread is on Maui, Julia's Best Banana Bread often comes up in discussion. And if Julia's is in contention for being the best on Maui, an island known for its oh-so-ʻono banana bread, then it's also in contention for being the best in the world. But in true local demeanor, Auntie Julia doesn't let the fame get to her head. She keeps her eyes on the road.
Built "sometime in the 90s," Auntie Julia's little green treehouse is where she sells her world-famous loaves—all hand-baked at her certified home kitchen. Below, a field grows kalo (taro) and is maintained by Julia's family, a mix of nieces, nephews and daughter who, along with Julia, own the land. It's a great place to spend the day, listening to the leaves above rustle in the wind and watching the slow-paced life of Kahakuloa mosey on by. But if you've got places to be—as many of us do while on vacation—be sure to at least stop for a loaf. You won't regret it.
Moist and soft in texture, but rich in flavor, Julia's Best Banana Bread really is that, the best. But how did Auntie Julia concoct such a perfect recipe? Well, it was actually given to her.
"I remember always tasting this banana bread from a teacher at our meetings," says Julia, who in a past life worked as a substitute teacher and teachers" aid at Waiheʻe School. "It was so ʻono, so finally I asked her for the recipe one day."
And that was that, a teachers' meeting, a simple question and a shared recipe was the impetus for her beloved award-winning banana bread.
After perfecting the loaf, Auntie Julia began selling it exactly where she is now—but her old stand didn't even have a roof! Fortunately, a friend who was good with his hands built her a little green treehouse, and she's used it as her storefront ever since. And while we can't stop raving about the banana bread—you'll know why if you've tried it—there are other food products available at Julia's Best Banana Bread.
From dried mango to cashew clusters, coconut candy and macadamia nut shortbread cookies, everything here tastes delicious and is all made in-house by Julia and her ʻohana (family). A great add-on is the passion fruit butter, which goes so well on a slice of banana bread or used as a sweet dip for one of the previously mentioned snacks. And if you're thirsty, Julia's sells fruit lemonades in three flavors; guava, pineapple and lilikoʻi.
And don't be afraid to do what we locals like to call "talk story." For Julia, it's meeting new customers—and chatting to return visitors—that makes her day, all in her quaint little treehouse along Kahekili Highway.
Open from 9 a.m. to 5 p.m., 7465 Kahekili Highway (mile marker 13), Kahakuloa, juliasbananabread.com.