Rodeo Competitions Preserve Big Island's Unique Paniolo Cowboy Culture
At the Panaewa Rodeo Stampede and other Hawaii rodeos, traditional ranching techniques become an entertaining sport.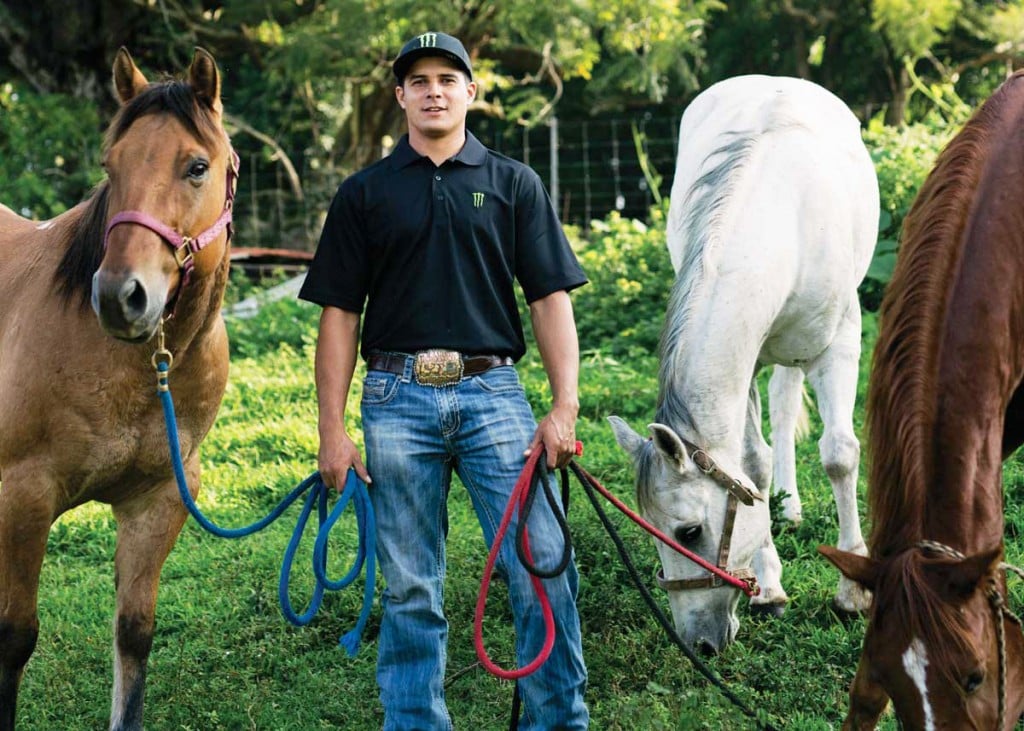 The steel gate kicks open and a calf darts from the roping chute into the open arena. It barely gains a 10-foot lead before 30-year-old Kalai Nobriga is after it on his champagne-colored horse, his lasso whirling over his head.
In what looks like a single fluid motion, he releases and lands the lasso, skids his horse to a stop while stepping from it, and runs the length of the rope until he gets his arms around the calf. He lifts it, turns it on its side and drives it to the dirt. Pinning it with his knee, he collects its legs and, in a flash, knots them together with a piggin' string.
It all happens in 10 seconds.
Tie-down roping, or calf roping, is Nobriga's favorite rodeo event. He likes how a quick time depends on so many variables coming together perfectly.
"It's a team sport," he says. We're sitting at a weathered picnic table a few yards from the rodeo arena on the South Kona ranch his family has had for generations. "I can't be that fast if that horse isn't working for me. And he can screw me," he says, snapping his fingers. "Just like that."
Kealakekua Bay is just 5 miles south of the shady spot where we sit. That infamous bay where Capt. James Cook's life came to a violent end in 1779 is also where fellow British explorer George Vancouver offloaded the first pipi (cattle) to Hawaii 14 years later, gifting Kamehameha I five California longhorn heifers and a bull.
In turn, Kamehameha enacted a kapu (ban) that made killing the animals a crime punishable by death. It took 20 years for the kapu to be lifted, long after the destructive pipi ahiu (wild cattle) population had exploded, but just long enough for the economic potential in hunting and beef production to become clear.
Nobriga began roping from horses when he was 8 years old, but had rodeoed in kids' events since he was 5. He competed all four years in the National High School Rodeo Finals, a weeklong event on the continental U.S. that annually draws the 1,500 top competitors from the U.S., Canada and Australia.
"When I graduated from high school, I wasn't sure what I was going to do. But people were calling me to ride (train) their horses."
He started his own company, Kalai Nobriga Performance Horses, and now trains and sells horses by profession. When he's not training horses, he's training the next generation of cowboys and cowgirls, from keiki contenders to high school hot shots. But he reminds me that he never stopped competing after high school.
When I ask him about his goals for 2018, he tells me he recently purchased his Professional Rodeo Cowboys Association permit and just did his first few PRCA-sanctioned events.
"I'm in the California circuit, so I at least want to make it to their finals, and try to make the National Finals Rodeo top 15 in any of the events," he says. The NFR is the Super Bowl of rodeo, the big time. "I'm hoping 2018 is a good year."
Nobriga's year begins at the Panaewa Rodeo Stampede, where he's a six-time All-Around Cowboy winner. Held in Hilo each Presidents Day weekend for the past 26 years, the event has a reputation for being the most fun and spectator-friendly rodeo in the state, closer in style and energy to the professional rodeos on the continental U.S. Thousands turn out to the Panaewa district of Hilo each year for three days of festivities, which is a far cry from the early days when the only ones who showed up were the cowboys. All they wanted to do was rodeo, and they were going to do it whether or not anyone watched them.
Event organizer Nancy Cabral remembers how the Panaewa Rodeo Stampede turned a corner a few years ago when she and her husband, "Big" Al Nobriga, brought in a professional announcer and a star rodeo clown: Buster Barton and JJ Harrison. In the rodeo world, having a professional announcer and a clown can be the difference between an afternoon of friendly competition and an entertaining show.
"Bringing them down really made the event the place to be on Presidents Day weekend," Cabral says. "The clown and the announcer come with these skits and jokes. Now that they've been coming for a few years they know all the cowboys and they like to tease them. It's a really good time."
In 1832, Kamehameha III invited Mexican vaqueros, expert horsemen with lots of cattle experience, to the Islands to teach their trade to the Hawaiian cattle hunters. The term paniolo (cowboy) is a Hawaiianized pronunciation of the word español, or Spaniard. These paniolo taught the Hawaiians to ride and rope, and passed on their herding and livestock traditions.
"We have two events—the poo waiu and double mugging—that are done nowhere else in the world," Cabral says. "These events are unique to Hawaii because of our terrain and our history."
Influenced by vaquero ranching methods, paniolo developed the poo waiu technique to catch pipi ahiu roaming through densely forested terrain. The animal was lassoed and tied to a tree, often a Y-shaped section of a tree called an amana. It was left overnight and retrieved in the morning after it had exhausted itself. It was then led back to a central corral. Present day rodeos re-create the amana by placing a large Y-shaped post at the center of the arena that competitors must use to lash their roped steer.
In double mugging, two paniolo work as a team—a roper on horseback and a mugger, or wrestler, on foot. The mounted paniolo ropes the steer while the grounded paniolo wrestles it. Together, they put the animal down on its side and one of them lashes three of the steer's legs together with piggin' string.
"A rodeo is a re-enactment of life in the field," says author and former Parker Ranch veterinarian Dr. Billy Bergin, who's written several books on the paniolo. "You see guys like Kalai developing and perfecting these ranching techniques. For many competitors whose ancestors were paniolo, rodeo competition brings history forward and is a constant re-enactment of what their great-grandparents did as their vocation."
In this light, events like the Panaewa Rodeo Stampede are just as much about preserving Hawaii's unique paniolo heritage as they are about competition and entertainment.
"If rodeos like ours can't convert those techniques of poo waiu and double mugging from being a vocation to being a sport, we totally lose our paniolo history," Cabral says. "I mean, think about what a huge part of our whole island culture hula has become. It was almost extinct, right? And if it weren't literally for Dottie Thompson (credited with revitalizing hula through competition at the Merrie Monarch Festival), it might only exist in a museum."
Nobriga recognizes the cultural significance in preserving these paniolo methods, though he's more interested in talking about competition. Before I leave the ranch, Nobriga wants to make sure I mention his students, some of whom are now competing at the college level and doing well. He swells with pride when he presents his vision of a not-too-distant future, when the NFR grand entry is filled with riders carrying the Hawaiian flag, an unspoken statement of Hawaii's paniolo heritage.
Panaewa Rodeo Stampede 
February 16-18, 2019. $8 presale, $10 at the gate, free for children (12 and under), 800 Stainback Hwy., Hilo, Hawaii Island, (808)937-1004, hawaiirodeostampede.com.