Sail from Maui to the Island of Lanai on this Unique Day Trip
Spend the day exploring Lanai by catamaran.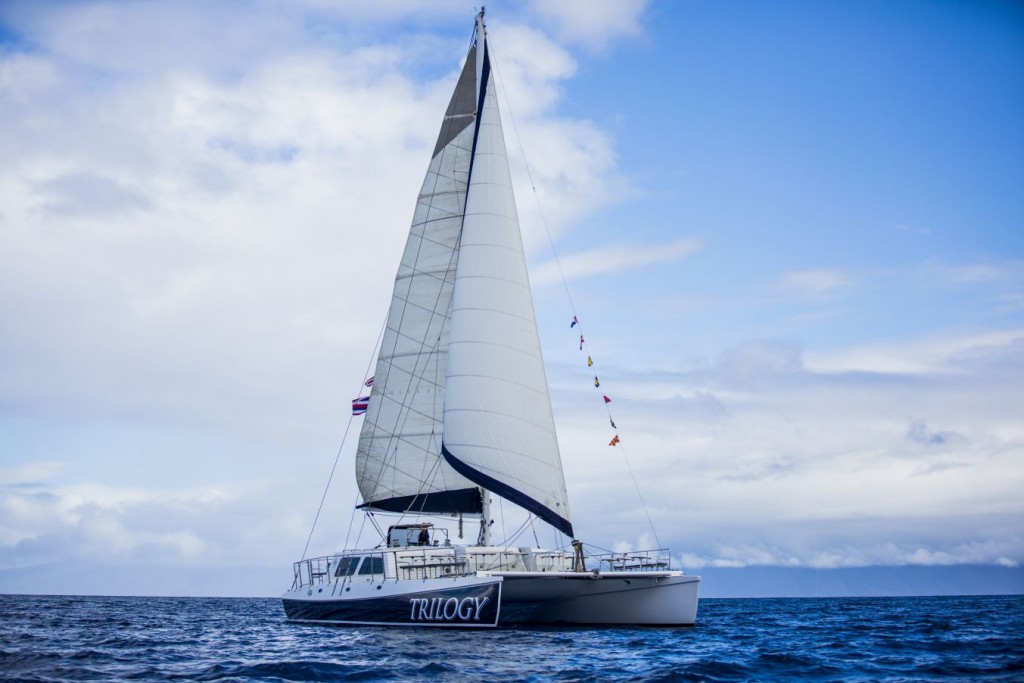 Just over 16 miles from Maui, the sleepy island of Lanai seems a world apart.
One of the least visited and smallest Hawaiian Islands, it retains a unique charm and character—tall red cliffs fronting the tropical blue sea, Norfolk pine-lined thoroughfares and a down-home feel—not found anywhere else. There's not a lot to do here aside from soaking it all in, which is exactly what catamaran sailing company Trilogy's Discover Lanai cruise was designed to take advantage of.
"Back in the ʻ70s, my grandfather, father and uncle took six guests at a time [to Lanai] on the catamaran that they built," says Trilogy's director of marketing LiAnne Driessen. "They wanted to share this idyllic day of sailing among friends, and to travel to another island to just hang out." The tour takes hundreds of passengers to the remote island each month, but still retains the feel of a family gathering—there's even a seaside kiawe wood barbecue lunch with chicken marinated daily using a recipe from one of the company's founders.
While Trilogy is not the only company running regular Lanai cruises and snorkeling tours, it is the only one with permission to take guests to the golden crescent of Hulopoe Bay on the island's south side thanks to a decades-old arrangement with community leaders. The offshore marine sanctuary restricts motorized traffic, ensuring pristine reefs and excellent snorkeling.
Visitors can choose to spend their 3 1/2 hours on Lanai lounging in the sun, snorkeling, trying snuba (which allows you to stay underwater breathing air from tanks at the surface), watching for the giant pod dolphins that call the inshore waters home, or touring the tiny cluster of shops and homes of Lanai City—the island's only population center—with a local resident. In total, the tour is eight hours.
If you're still not convinced, consider this: The morning cruise across the ocean is scented with warm, home-baked cinnamon rolls. According to Driessen, "They have more of a following in some ways than our snorkel tours do."
---
Trilogy's Discover Lanai tours run from Lahaina Harbor Monday through Friday (excluding holidays) from 10 a.m. til 6 p.m., with an additional special Sunrise Tour from 6:30 a.m. to 2:30 p.m. offered during the busier summer months. On weekends, the company offers the Lanai Seafari, a similar cruise and snorkeling experience away from Hulopoe Bay per the agreement with the local community. Tours utilize the company's 64-foot Trilogy I and 55-foot Trilogy IV catamarans and are restricted to 55 passengers, $220 per person, sailtrilogy.com/tour/lanai.