Sample Kauai's Lush Bounty on a Tour of Kunana Dairy
Meet the goats, try freshly made products and gain a deeper appreciation for Hawaii's ranchers.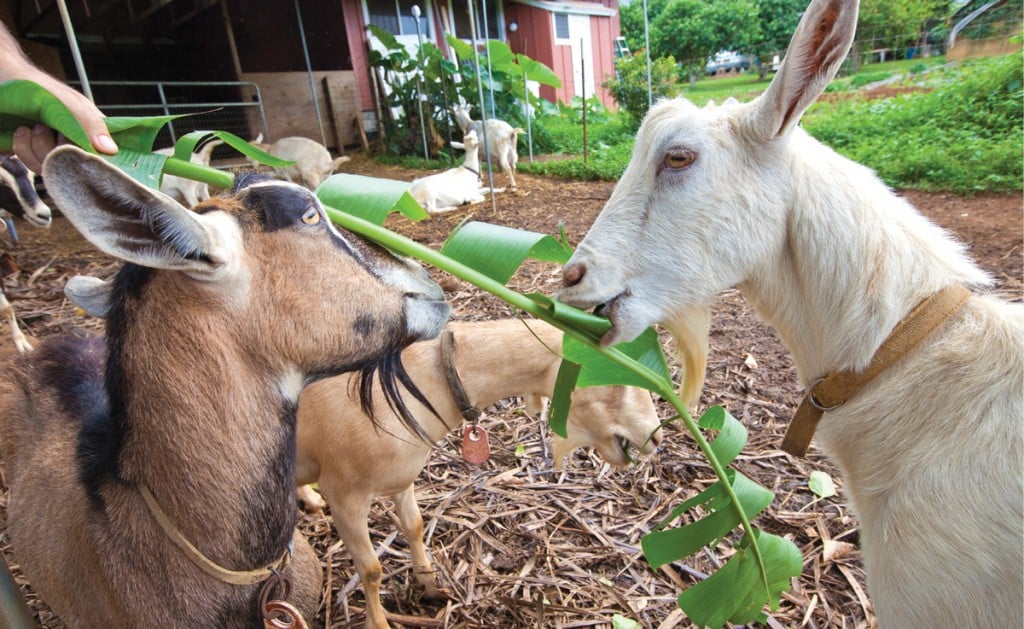 Ryan Wooton has a big family: his parents, Bob and Louisa; his wife, Sarah; his brother, Troy; and 80 goats, each of which has a name (Oprah, Precious and Charlotte, to mention a few).
The Wootons own and operate Kauai Kunana Dairy, the only dairy on the island. They all pitch in to make goat milk soap, shampoo, lotion, conditioner and eight varieties of gourmet cheese (including marinated artichoke and sun-dried tomato) on site.
Flourishing on the Wootons' 15-acre property are fruits, vegetables and herbs— more than 100 varieties all told—from basil, broccoli and bananas to thyme, tatsoi and tangerines. In addition to the cheese and beauty products, the family sells free-range chicken eggs; certified organic produce; and a host of items made from them, including pestos, salsas, sauces, vinaigrettes, juices, cookies, breads, pastries, candy and granola. Products vary, depending on what's in season.
From the dairy's hives come honey and beeswax (for lip balm, lotion, salve and soap). The bees are raised without the use of chemicals or antibiotics. On a two-hour tour led by Ryan and Sarah, you'll see the gardens, orchards, beehives and quarter-acre jungle that's home to 70 free-range chickens. You'll learn how the goats are milked and how the cheese and other products are made.
For many visitors, the stop at the three goat pens is the best part of the visit. Pregnant goats are in one pen, "milking mamas" are in another and the third is home to little ones no more than 10 weeks old (you might even get to pet and take a photo with them). The friendly goats trot to the fence to greet you and nibble on leafy branches you hold out to them. The tour includes samplings of the dairy's cheeses; oatmeal raisin cookies; and mango, banana or pumpkin bread with honey.
You can also taste whatever catches your eye as you walk through the grounds (lemon, lime, lychee, tamarind, soursop and pomegranate are among the fruits in season during the spring and summer). When you leave the dairy, you'll have a full stomach and a deeper appreciation for the farmers and ranchers who produce the food you eat.
Kauai Kunana Dairy
Tours of Kauai Kunana Dairy in Waipake, Kauai, are offered Wednesday mornings. Call for specifics and driving directions. The $45 cost includes tastings of cheese, fruit, honey and other products in season. Children under 12 are $20, and must be accompanied by an adult. Advance reservations are required. (808) 651-5046, www.kauaikunanadairy.com.