Scenes for sequel to box-office blockbuster "The Hunger Games" will be filmed on Oahu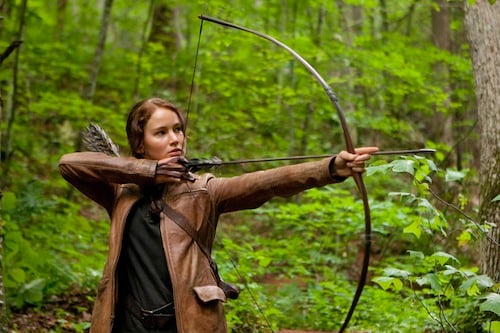 Filming of the second big-screen installment of The Hunger Games, based on the triology (young adult novels) penned by Susan Collins, is slated to get under way on Oahu by the end of the year.
In recent Hawaii news reports, Oahu's film commissioner has confirmed that the Lionsgate Entertainment production titled The Hunger Games: Catching Fire will film on the island but declined to disclose planned locations.
Scenes for the sequel starring Jennifer Lawrence (pictured) as protagonist Katniss Everdeen are also being shot in Atlanta. Lawrence was nominated for the Academy Award for Best Actress for her starring role in Winter's Bone (2010).
Among the actors likely to join Lawrence in Hawaii: Josh Hutcherson (Peeta Mellark), and new cast members Sam Clafin (Finnick Odai) and Jeffrey Wright (Beetee).
The Hunger Games contends with issues tied to totalitarian government oppression. The story is set in a dystopian future in the nation of Panem, where many children between ages 12 and 18 are forced to take part in a lottery that selects participants for the Hunger Games, a televised event in which participants fight to the death. The last survivor is declared victor. In the first film, The Hunger Games (2012) Katniss and Peeta are selected to participate in the Hunger Games.
In Catching Fire, a Hunger Games event is set in a tropical arena complete with shoreline waves, beaches and a rainforest inland area.
The Hunger Games, which reportedly cost $78 million to produce, was a huge box-office hit, reportedly grossing $685 million worldwide. It was filmed in North Carolina. Catching Fire is scheduled for release in November 2013.