Scenes from jam-packed Waikiki Beach world premiere of Hawaii Five-0's second season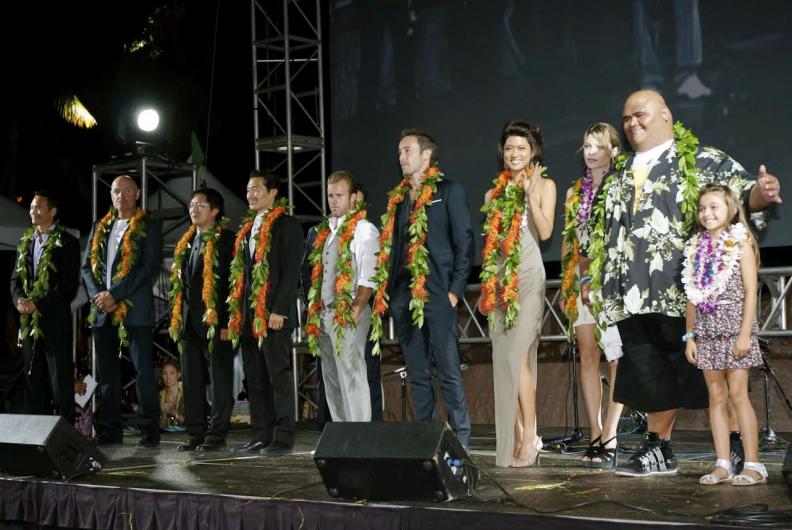 Scads of beachgoing photographers were snapping shots at sunset on Saturday at the shoreline in Waikiki, but few noticed the picturesque orange- and purple-tinted clouds above glistening waves.

Turns out, it's hard for even a quintessential Hawaii sunset shot to compete against the photogenic cast members of
Hawaii Five-0
.
As the actors walked a red carpet — rolled out on the sand — at the world premiere of the CBS show's sophomore season, they were greeted by fans who had started gathering on the Oahu beach earlier during the day. (Some reportedly stretched out on beach towels before dawn.) According to a newspaper report, police estimated that the crowd was about twice as large as last year's 5,000 attendees.

Last year, there was some speculation as to whether primary cast members Alex O'Loughlin, Scott Caan, Grace Park and Daniel Dae Kim could pull off of the much-anticipated redux of the Hawaii-filmed classic television show. And this year's screening seemed to prove that they had indeed succeeded.
Fans cheered when each actor's arrival was announced and called out to favorite characters. When Mark Dacascos heard: "Wo Fat, over here!" he happily stepped off the red carpet and hopped over a hip-high barricade for some photos. Terry O'Quinn (pictured, above), also stepped into the sand to accept a lei and shake hands with fans. O'Quinn, who won an Emmy for his enigmatic John Locke on ABC's Lost, has joined the cast for its second season to play a Navy Seal Lt. Commander who trained Steve McGarrett (O'Loughlin) and served with his father in Vietnam.
Other cast members at the event included:
Masi Oka
,
Lauren German
,
Taylor Wily
and
Teilor Grubbs
. Also on the red carpet were the show's executive producers
Peter Lenkov
and
Roberto Orci
.
Before the screening of the season's first episode, which will air in some 200 countries on Mon., Sept. 19, CBS Television President David Stapf told the crowd that Hawaii Five-0 is the top new drama on TV. He also thanked Hawaii's residents for embracing the show. "This is probably the most local show in the world," Stapf said. "We shoot every single scene in Hawaii."
So, what happens during the new episode? We won't pass along spoiler details, but here a few general tidbits. Early on, there's a fairly lengthy action sequence with rapid-fire flying fists and power-packed kicking. And, yes, McGarrett and the Five-0 team are returning to their rule-bending ways.
HAWAII Magazine was on the beach for this fun event. For a peek at what we saw, check out our photos on the pages that follow.
---
Dacascos plays villain Wo Fat, who framed McGarrett in the shooting death of the governor in the last episode of the first season.
German will make her Hawaii Five-0 debut in the second episode of the new season.

Kim meets up with Five-0 disbanded team members and reunites with fellow Lost alumnus O'Quinn in the premiere episode.
O'Loughlin and other actors were wowed by the jam-packed turnout for the premiere, held in Waikiki's Sunset on the Beach venue.

When an emcee announced: "We have received word that Alex O'Loughlin is enroute to Waikiki," loyal fans from the star's Australian home and elsewhere whooped and chanted his name.

Before the screening got under way, O'Loughlin and others tied to the show expressed thanks to the crowd for their continuing support of Hawaii Five-0.
Park told reporters that she's pleased with Hawaii Five-0's second season story development.

Scott Caan and other actors mentioned that, thanks to a growing cast, they're enjoying a bit more free time for surfing, golf and other popular Hawaii pursuits.
Oka, who appeared in the first season as Dr. Max Bergman, will be more prominently featured in the second season.

Wily, who plays the proprietor of Wailoa Shave Ice and confidential informant, pauses for a family photo on the carpet lined with local, national and international media.
Shortly before the screening got under way, Polynesian dancers perform to the show's instrumental theme song — essentially a shortened version of the original.
After the cast and others were seated before the huge Sunset on the Beach screen, fire dancers lined up on the red carpet as part of the "Polynesian Spectacular" that preceded the show.