Scenes from Pearl Harbor Day's 70th anniversary ceremonies on Oahu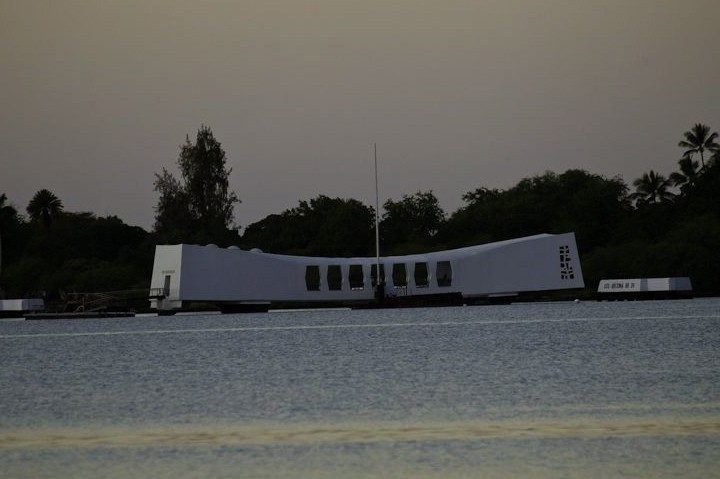 Shortly before a commemoration ceremony marking the 70th anniversary of Pearl Harbor Day got under way Wednesday morning, survivors, military officials and others gathered in full view of the USS Arizona Memorial.
National Park Service officials, who has set up 2,800 chairs for the event, describe the memorial as the "final resting place" for many of the 1,177 crewmen who lost their lives on Dec. 7, 1941. The number of American casualties that day totaled more than 2,300 sailors, soldiers and civilians.

HAWAII Magazine attended the commemoration. You'll find photographer David Croxford's photos from the Dec. 7 milestone anniversary event on this page and the four that follow.
After the arrival of military and government officials, special guests and others, the morning's event started with a Hawaiian blessing (pictured, above). At 7:55 a.m. — the exact time the Japanese aerial attack began on Dec. 7, 1941 — a 10-second whistle sounded from the USS Chung Hoon (DD93), prompting all in attendance to pause for a moment of silence to reflect on the day that propelled America into World War II.
Minutes later, the 199th Fighter Squadron (Hawaii Air National Guard/19th Fighter Squadron, U.S. Air Force) roared above the Oahu harbor for a "Missing Man Flyover" (pictured, above) A Joint Service Color Guard (U.S. Pacific Command) then presented and posted flags. (pictured, below).
Following a "Pass-in Review," conducted by the USS Chung Hoon (pictured, above), the national president of the Pearl Harbor Survivors Association stood for a "return salute," which was likely the group's last at a Pearl Harbor Day anniversary event.
Founded in 1958 with 28,000 members of the military who had been on Oahu the morning of the attack, the association's membership had dropped to 2,700 earlier this year. Citing the passing of members and declining health among those who are now either approaching 90 years old or are older, the association's board has voted to fold the group.
Both Rear Admiral Frank Ponds, commander, Navy Region Hawaii and Naval Surface Group Middle Pacific and Paul DePrey, superintendent of the National Park Service's World War II Valor in the Pacific National Monument (both pictured, above), offered remarks during the commemoration.
On the morning Dec. 7, 1941, Herb Weatherwax (picture, above), then serving in an infantry regiment at Oahu's Schofield Barracks, was at his family's home in Honolulu. As he returned to his station, Weatherwax saw the USS Arizona engulfed in flames. Alfred Benjamin Kameeiamoku Rodrigues (pictured, below), who was serving in the U.S. Naval Reserves, had just completed an early morning watch at Pearl Harbor and was sitting down to breakfast when Imperial Japanese fighter planes reached the area. Recollections of both survivors – now volunteers at the national monument – are featured in "Faces of Pearl Harbor," in HAWAII Magazine's December 2011 issue.

Toward the end of the commemoration event, military survivors were recognized during wreath presentations. They stood as wreathes were presented at their respective ships — USS Utah, USS West Virginia, USS Oklahoma, USS California, USS Nevada, USS Arizona, USS Tennessee and USS Pennsylvania — and at battle sites including Wheeler Field, Hickam Field, Bellows Field, Schofield Barracks, Ewa Mooring Mast, and the Naval Air Station.

The 70th Anniversary Pearl Harbor Commemoration, which started as the day's first burst of light was shining on the waterfront Pearl Harbor visitor center (pictured, above) wrapped up at about 9:15 a.m. with a "Walk of Honor," during which Pearl Harbor survivors, WWII veterans and others passed through an honor cordon, patriotic music and a tug boat water tribute.