Schoolwork Comes Alive with the Help of Artists in the Schools
For over a decade, this Hawaii State Foundation on Culture and the Arts program has been giving students greater access to an arts education.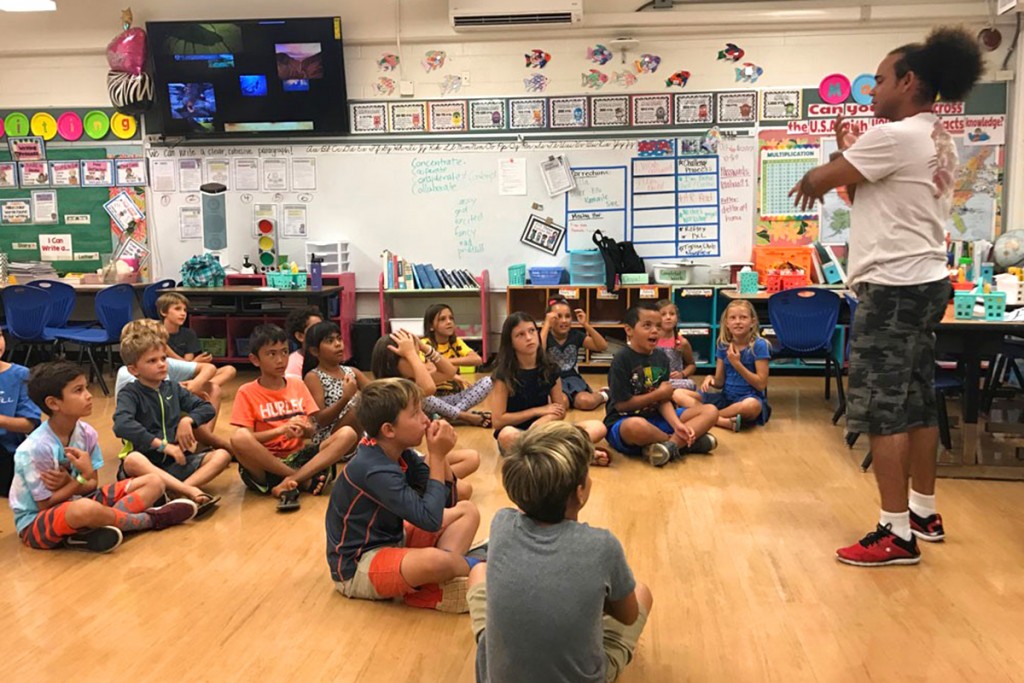 What if art instruction, which in many public schools has gone the way of the dinosaur, was brought back into the classroom – with the express purpose of bolstering core curriculum areas like math and science?
Artists in the Schools, a Hawaii State Foundation on Culture and the Arts program, is doing just that. For over a decade, the program has increased Hawaii teachers' capacity to teach core subjects and meet DOE-mandated standards, all while giving Hawaii students greater access to an arts education.
For the 11th straight year, the Hawaii Community Foundation has matched AITS funding, with total contributions equaling more than $2 million. During this 2018-19 school year, HCF-matched funds of $265,538 enabled qualified teaching artists and nonprofit organizations to conduct art residencies in 44 public and charter schools, reaching 2,628 students and 500 teachers.
"Honolulu Theater for Youth is a dual-mission organization; we're known for children's productions, but we also do outreach to the community, bringing arts-based learning to almost 30 schools every year," says Daniel Kelin, HTY's Director of Drama Education. "With public funding always less than what schools need, the AITS program wouldn't happen without the additional support from the Hawaii Community Foundation."
A unique feature of the AITS program is tailoring each art residency to a school's needs. For example, in one classroom studying the Polynesians' first migration to Hawai'i, HTY's arts-based approach was to create a "documentary." Students played the roles, faced the problems and made their decisions.
"The kids must choose what to do when they ran short of resources, if it caused a rift in the community, whether to stay or leave, not knowing what will happen if they just sail off into the ocean, or land in an entirely new place," says Kelin. "They must work through their own choices first, before they learned what the Polynesians decided to do. In this way, students are more interested in learning the material. They are primed and motivated to find out the true history because they've 'lived' it themselves."
The same can be said for social sciences, language, science, reading and writing: insert the student into the subject, live it as if they're the character, and they want to learn the result. But one big difference, says Kelin, is the classroom dynamic.
"With arts-based education, suddenly students are out of their chairs, interacting with peers, balancing creative thinking with critical thinking," he says. "Students who've never been high achievers are engaging other parts of their abilities, expressing themselves. Teachers and administrators who never had arts-based experiences themselves are excited to incorporate artist-based strategies on their own. It might be only a five-minute experience, but they're engaging their students and making the subject come alive."
To support Artists In the Schools, visit: hawaiicommunityfoundation.org/give/artists-in-the-schools