Scientists Capture Video of Minutes-Old Humpback Whale Calf as Annual Migration to Hawaii Begins
While whale counts are down in the Islands, populations around the world are doing well.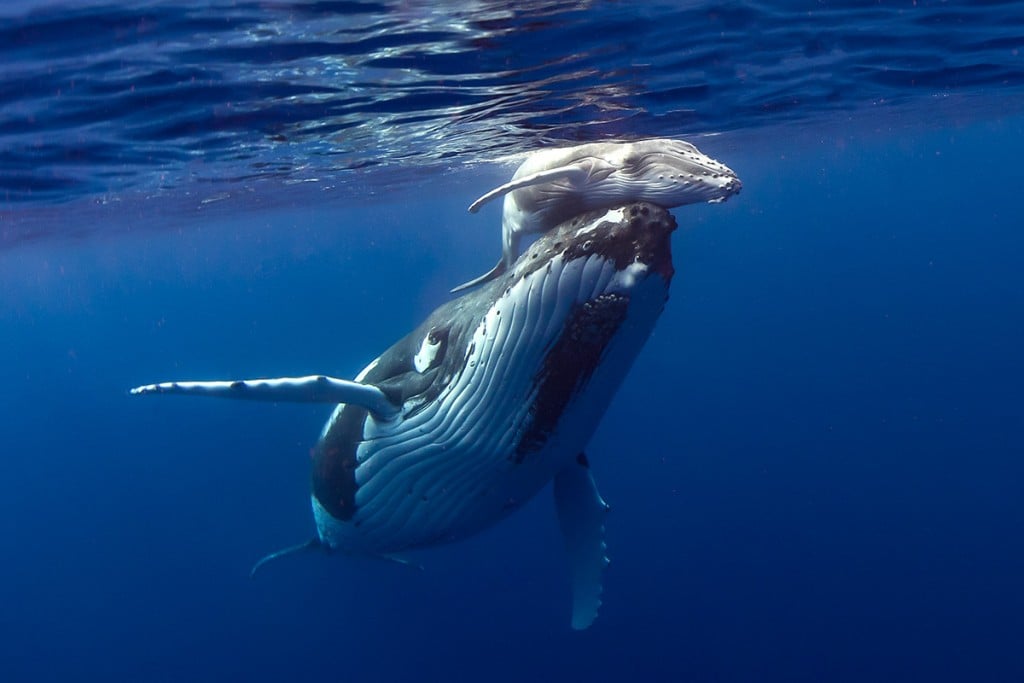 Every fall and winter, humpback whales migrate to Hawaii to mate and give birth. Their presence doesn't go unnoticed. Measuring up to 60 feet in length and weighing up to 40 tons, these marine mammals are hard to miss. And, yet, they can be quite shy when it comes to their reproductive activities in Hawaii waters. Word among whale enthusiasts is that a live birth has never been witnessed by humans. Or if it has, it has never been reported, much less documented on video.
Last month, Lars Bejder came close. Very, very close.
Bejder is the director of the Marine Mammal Research Program at the University of Hawaii at Manoa. He and his crew were in a boat a few miles off Lahaina, Maui, when they got a call from a local boat operator reporting a commotion in the water followed by a flush of blood. Bejder motored over and launched an aerial drone. The subsequent video they captured spread across social media last week in a warm, feel-good flourish.
"I've been doing this for 25 years, and that's the closest I've gotten to witnessing a birth," Bejder told me. "It was pretty phenomenal."
Bejder started incorporating drones into his field research five years ago. Suddenly, he had a whole new view of whales. "You don't really know what's going on [in the water] from a boat, but when you get the drone up and you get a perspective looking straight down, you really get a unique view that we haven't had before, and the details are quite amazing."
Drone technology, applied to conservation research, appears to have come at the perfect time. In 2016, after 43 years of protection under the Endangered Species Act, Hawaii's distinct population of North Pacific humpback whales was delisted. Humpback whales in Hawaii are no longer considered endangered.
The same year, however, something unimaginable happened. After years of increasing numbers of humpbacks migrating from their feeding grounds of Alaska, concerns of noticeably fewer whales—and especially mother and calf pairs—in Hawaii began stirring among whale-watching tour boat operators, the general public and scientists.
According to Rachel Cartwright in a news report from the Hawaiian Islands Humpback Whale National Marine Sanctuary, counts of mother and calf pairs in 2017 were down over 50 percent from just three years prior. Last year, the group recorded an additional drop of 35 percent.
Meanwhile, Marc Lammers, research coordinator with the national marine sanctuary, was recording adult male whale song underwater. (Only adult males sing.) Starting in 2016, he's recorded lower decibel levels, indicating fewer males present or a decrease in singing by males.
For two decades, the sanctuary has conducted a citizen science project on the last Saturday of every January, February and March, with trained participants recording the presence and behavior of humpbacks from designated shore-based spots around Kauai, Oahu and Hawaii Island. Since 2016, these citizen scientists have recorded declines in whale counts. For comparison, in January 2015 across Kauai, counters tallied an average of eight whale sightings per 15-minute count period. In January 2016, the average dipped to six. The average in January 2019 was three.
Concerns about the health and well-being of humpbacks aren't just contained to Hawaii's breeding waters.
Christine Gabriele leads the humpback whale population monitoring program at Glacier Bay National Park in Alaska, where humpbacks have regularly come to feed. In 2016, she reported fewer whales, including fewer calves. Perhaps more concerning: The humpbacks that did show up appeared noticeably thinner.
This is where Bejder's research comes in. Basically, he's using high-end drone technology to measure the size of whales, both in their feeding grounds off Alaska and breeding grounds off Hawaii, to determine their overall health. The technology is so exact that data is recorded to the millimeter. Baleen whales, like humpbacks, produce some of the fastest-growing offspring among mammals. To support their growth, lactating females can lose hundreds of pounds a day. (Bigger southern right whale mothers can lose up to a ton of fat a day.)
At this point, scientists don't know exactly what's happening—whether the drop in numbers of humpbacks in Hawaii is a normal blip or a disconcerting indicator about the state of our ocean. But what most researchers agree on is that the likely culprit is food. As climate change warms waters off Alaska, the availability of humpback whale food sources—particularly krill—decreases. Krill's abundance depends on a narrow temperature range; their productivity drops as water temperature rises. It could be fewer humpbacks are migrating to Hawaii, because they cannot pack on enough energy stores to sustain them on their journey. It could be that fewer numbers in their traditional feeding grounds indicate they are traveling elsewhere to find food. It could be the warmer water temperature has created some kind of disease mortality event. It could also be that the population has reached its carrying capacity and is leveling off to a naturally sustainable size.
What is hopeful, according to the Hawaiian Islands Humpback Whale National Marine Sanctuary, is that other humpback whale populations elsewhere in the world are doing well.
With fewer humpback whales in Hawaii these days, it's more important than ever to give them wide berth, especially mothers and calves. They are still protected by the Marine Mammal Protection Act that prohibits operating an aircraft within 1,000 feet of a humpback whale, approaching within 100 yards, or approaching a humpback whale by interception (i.e., placing an aircraft, vessel, person or other object in the path of a humpback whale so that the whale approaches within a restricted distance). The regulations also prohibit the disruption of normal behavior of a humpback whale. (FYI: Researchers like Bejder must undergo rigorous scientific processes to obtain the special permits necessary to do their work.)
"There's a whole contingency of researchers trying to look at this," Bejder said. "There was a big meeting about two months ago among all of us. I think it's too early in the season to say whether numbers are up or down [for 2019], but we're paying close attention to it."
Follow the work of the Marine Mammal Research Program on Twitter @MMRP_UH and Lars Bejder @lbejder.